---

The MatrikonOPC Server for Lonworks
The MatrikonOPC Server for Lonworks uses the Lontalk protocol to access data from devices and routers on any Lonworks network. For building automation professionals integrating Lonworks networks with HMI's and historians, this OPC Server enables fast and easy access to their data.
For more information about the MatrikonOPC Server for Lonworks visit www.matrikonopc.com
---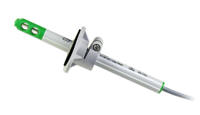 Air velocity transmitter for 0.2 to 20 m/s (40 to 4000 ft/min)

The new miniature air velocity transmitters, series EE575 and EE576 of E+E Elektronik, allow accurate measurements of flow in air and gases. The EE575 measures velocities up to 20 m/s (4000 ft/min). The EE576 is specifically designed for the measurement of low flows up to 2 m/s (400 ft/min). Applications for these transmitters are found in HVAC systems, handling and controls for intake and exhaust of air and laminar flow monitoring. Equipped with a newly developed sensor head and utilizing the proven E+E hot-film element, already tested a million times in the automotive industry, these transmitters are less sensitive to dust and dirt than conventional hot-wire elements.
For more information visit www.epluse.com
---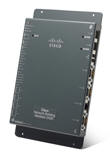 Cisco Network Building Mediator
Reduce Energy Consumption and Carbon Footprint
Elevate your network to a platform for sustainability. The Cisco Network Building Mediator provides:
- Any-to-any connectivity: building, IT, and clean-tech systems
- End-to-end convergence: efficiency, conservation, and de-carbonization
- Extensive platform: third-party applications supported
For more information visit http://www.cisco.com/en/US/products/ps10454/index.html

---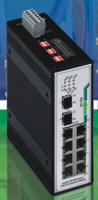 WAGO Industrial Ethernet Switches with Alarm Output
WAGO Corporation's 852 Series Ethernet switches offer an alarm contact, enabled via dip switch, to signal an error condition on the switch. This feature is standard on both managed and unmanaged switches (non-ECO versions). The power input connector on the switch has two dedicated alarm circuit connections that can be wired to any warning device, such as a PLC or pilot light. Error conditions that can be monitored include port link failure (cable disconnect, network disruption, etc.), power supply disruption/disconnect, or power supply voltage out of specified range (9...48V).
For more information visit http://www.wago.us
---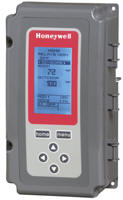 Honeywell Adds New Options to T775 Electronic Standalone Controller
The T775 Electronic Standalone Controller, recognized industry-wide for its versatility, valuable built-in features, energy efficiency, and competitive price, offers contractors and building owner's functionality they count on. Among the new features is the controller's continuous pump option for boiler applications. This feature can help save energy during cool weather by continuously operating the boiler pump when below the adjustable warm weather shut down temperature. Other enhancements include more digital input options for setpoints, an override feature and domestic hot water on demand. In addition, a new universal T775U model allows independent control of both a temperature sensor and a universal sensor for humidity, carbon dioxide, air pressure or other sensor input via 0-10Vdc or 4-20mA input.
For more information visit www.customer.honeywell.com


RLE Technologies announces the release of the FDS-Wi

RLE Technologies announces the release of the FDS-Wi, a wireless solution designed for easy integration with facility monitoring and management systems. The convenient wireless design helps reduce installation costs associated with hard-wired sensors and systems. The FDS-Wi comes equipped with 418 and 900 megahertz radio receivers capable of receiving signals from standard transmitters sensing temperature, humidity, motion, power, dry contact, analog (4-20mA), 0-5VDC, and 0-10VDC signals. The FDS-Wi integrates these signals to facilities monitoring systems in the form of SNMP, Modbus TCP/IP, Modbus RTU, and BACnet/IP. The FDS-Wi can receive signals within 100 feet (30.48m) of open air space with the 418 Mhz frequency and up to a quarter mile (402.34m) of open air space with the 900 Mhz frequency.

For more information visit www.rletech.com.
---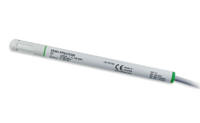 E+E Elektronik GmbH Humidity Transmitter in Probe Design with 4 – 20mA Output
The new transmitter of the series EE061, in the form of a slim probe, allows for the precise measurement of the relative humidity in air from 0…100 %RH. The main challenge in the development was to deal with the heat generated by the current output. The latest microprocessor technology in combination with excellent temperature compensation and a special design of the electronics have solved this problem. The EE061 unifies outstanding measurement accuracy with a compact design and a 4 – 20 mA current output. The electronic board integrated in the probe is protected from external influences by a potting compound of very high quality and therefore usable from -40 to 60 °C. In combination with the for years now proven quality of the E+E coating of the humidity sensor, is the transmitter insensitive to dust, dirt and condensation. The EE061 allows for stable long term measurements in demanding applications like outside, in stables, storage rooms, or greenhouses.
For more information visit www.epluse.com
---

Hirschmann Wireless Networking Spreads Its Wings to 300 Mb/s
Hirschmann brings reliable industrial-grade WLAN networking with BAT-Rail access points. With built-in maximum security and redundancy, the dual-radio APs support 802.11a/b/g for the widest compatibility with wireless devices. With the APs now supporting the latest 802.11n wireless data rates up to 300 Mb/s, you get enhanced performance, enhanced security, and significantly improved noise immunity. All with low-power consumption allowing them to be powered by PoE. We also offer ATEX-compliant APs for hazardous environments. Learn more about Hirschmann wireless solutions

---
---


[Click Banner To Learn More]
[Home Page] [The Automator] [About] [Subscribe ] [Contact Us]