---
HAPPY BIRTHDAY, BACnet!

20 years of sustainable investment in building automation

Dortmund, Germany / Atlanta, GA, USA: April 4th, 2014. – BACnet International and the BACnet Interest Group Europe (BIG-EU) are celebrating two BACnet anniversaries in 2014 and 2015: 10 years DIN EN ISO 16484-5 and 20 years ANSI/ASHRAE 135! In that time the open communication standard has become an unprecedented enabler of sustainable building automation.

To bring the powerful message of BACnet benefits to a wider audience, a global anniversary roadshow is intended in 2014/2015. BACnet International and the BIG-EU are supporting a call for sponsors that enables MarDirect to organize the global event. Initial planning focusses on 12 modern cities in America, Europe and Asia. All locations would include a state-of-the-art exhibition and provide the latest information about open communication in building automation, the development of standardization, interoperability of BACnet devices, the BTL Mark and European Certification as well as information about BACnet vendors and suppliers.

From Ithaca, New York to the world

BACnet plays a significant role in building automation projects all over the world. The BACnet International and BIG-EU associations represent major global manufacturers, integrators and user companies. The associations are committed to educating users and suppliers about the value of BACnet solutions.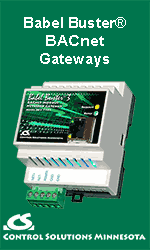 The open communication protocol was created to connect the proprietary building automation devices and control systems of Cornell University, Ithaca, New York. Under the umbrella of ASHRAE, the protocol, now developed and known as protocol for Building Automation and Control Networks (BACnet) became ANSI standard in 1995.

In 2003-2004 it was published as DIN EN ISO standard. Today more than 720 vendor IDs have been distributed, more than 600 devices - classified in 9 profiles - "speak" BACnet and comply with the requirements of the standard.

The 10/20 anniversaries of the BACnet standard is a unique chance to reflect the benefits of BACnet for sustainable buildings in terms of construction, retrofitting and integration in smart grids.
---


[Click Banner To Learn More]
[Home Page] [The Automator] [About] [Subscribe ] [Contact Us]