---
Achieve Unprecedented Time & Labor Savings with Patent-Pending KMC Connect Lite™

The revolutionary new KMC Connect Lite™ is a patent-pending mobile application, available now for iOS* and Android, allowing for fast, simplified configuration of KMC Conquest™ controllers via Near Field Communications (NFC) technology, even while the controllers are still boxed and unpowered.
To learn more:
Watch our Connect Lite video series on YouTube
or visit the Connect Lite page on our website.

---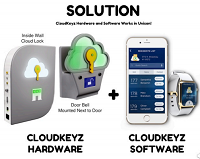 CloudKeyz Brings Technology Evolution To Commercial Keyless Entry
Cloudkeyz provides new secure access entry capabilities to consumers, HOA, commercial real estate owners, corporate delivery services and first responders with a leap forward in hardware and software technology. CloudKeyz groundbreaking "Keyless Mobile Cloud-Based Secure Access Entry" platform is light-years ahead of the old analog green screen, dial-by-number-pad "Property Names Directory" systems that we have all experienced to be a problem. CloudKeyz utilizes the latest cloud security, GPS enabled, RF, mobile communication backbone that is specifically designed for "multi-family commercial or gated communities." There is a distinction to be made; most Keyless Entry solutions on the market provide access to the "Home Door" of a personal residence... CloudKeyz solution is focused on the "One Door" that provides access to many, that is, secure access entry to manage "Community Common-Area" doors,gates and garages."
For more information visit http://www.cloudkey.com

---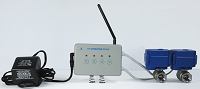 The Detection Group Scalable water detection systems for any multi-story building or campus

Long-Range, Long-Lived Wireless Sensors
Compact, free-standing water detectors typically are placed on every floor to provide full coverage for any structure. Connected on a secure, reliable, long-distance channel, they maintain constant contact to detect water immediately.

Automatic & Remotely Operated Shut-Off Valves
To protect critical equipment or inaccessible areas, fully automatic valves will stop water at the source. Shut-off can be triggered by any sensor in a group, or by a single sensor that is connected directly to the valve.

Cloud Management
View and manage a portfolio of properties from a single web interface. All in-building devices are connected to the secure cloud server for continuous monitoring. A web portal offers remote access to provision, manage, control and report on every connected device. Leverage the Internet of Things (IoT) to track the specific location of a leak.

Immediate leak alerts
For more information visit http://www.thedetectiongroup.com/system
---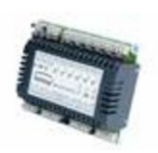 Sontay Makes Addition to its Range of I/O Modules

Sontay, renowned manufacturer and leading distributer of sensing, measurement and control devices for intelligent buildings, has revealed the latest addition to its existing Smart Communication range, the SC-IO-24 I/O Module. This new I/O Module offers the ability to take inputs from standard field devices and transmit them over BACnet or Modbus protocols. It is also a cost effective solution for expanding I/O on an existing controller.

For more information visit http://www.sontay.com

---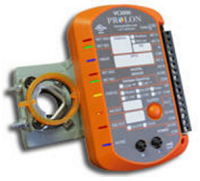 ProLon VAV Zone Controllers
The ProLon VC2000 and C1000 series VAV zone controllers are designed for variable air volume zoning systems. The built-in microprocessor offers precise digital control to maximize performance. The outputs and control sequences are all fully configurable, either locally or remotely, using free software or from the T1000 electronic room sensor. The on-board brushless actuator of the VC2000 provides electronic feedback on damper position. When in a network, ProLon VAV zone controllers can share information such as the occupancy state, the demand, the supply temperature and more.
For more information visit http://www.prolon.net/products.html

---
---

[Click Banner To Learn More]
[Home Page] [The Automator] [About] [Subscribe ] [Contact Us]