---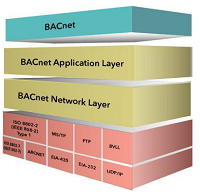 Cimetrics - uBACstac - BACnet Protocol stack for small devices
The Cimetrics uBACstac saves man-years of development when your company needs to develop low volume or high volume BACnet-compliant applications that run on small devices with or without OS! BACstac with source code will provide you with example programs and reference ports to three hardware platforms with or without Free RTOS - ATmega, ARM-7, Cortex-M4.
Many Building Automation and Controls manufacturers use a Cimetrics uBACstac protocol stack because of our reputation for delivering high-quality software and excellent technical support. Cimetrics does the heavy lifting of testing the uBACstac on different hardware platforms and implementing the new Addenda approved by the BACnet Committee in a timely fashion. We keep our customers UP-TO-DATE with the latest BACnet features and make sure that the code is compatible with a growing number of hardware platforms.

For more information visit http://www.cimetrics.com
---
Updated BDT Contemporary Controls
The popular BACnet Discovery Tool (BDT) has several new features available for download. This latest version of BACnet Discovery Tool, 2.13, has several new features. Some of these new features are specific to our line of Cube I/O BACnet Modules, but can be used on other BACnet devices which support the functionality. This release provides an enhanced BACnet software tool for device discovery and configuration.

For more information visit http://www.ccontrols.com
---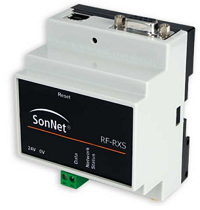 Sontay Introducts BACnet Compatible Wireless Receiver
Sontay, the expert in field control devices, is making seamless integration with Building Management Systems (BMS) easier and quicker with the launch of the RF-RXS-B SonNet Wireless BACnet Receiver. The new RF-RXS-B receiver automatically maps data from SonNet end devices into BACnet objects, which are transmitted via the vendor independent BACnet IP communication protocol. The receiver collects data from all other devices on the wireless network, including measurements from sensors, link quality, battery levels for all battery powered devices, hours run for all devices and the current status of all devices. There is also an easy to use web browser interface that can be used to configure the RF-RXS-B receiver if required.

For more information visit http://www.sontay.com


---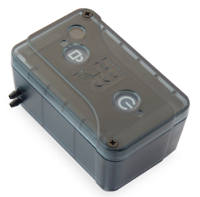 Wireless Carbon Dioxide (CO2) Sensor for use with Paragon Robotics Data Logging Systems in building and room indoor air quality (IAQ) applications.
Paragon Robotics Model SC75 Wireless CO2 Sensor for room environment monitoring applications for indoor air quality (IAQ) in schools, offices or hospitals. By placing SC75 sensors in building spaces, ASHRAE IAQ performance can be easily monitored and verified to insure healthy environments.The SC75 precisely monitors the CO2 concentrations in range of 0 to 5000 ppm (5%). The SC75 offers a dual-mode power option, allowing the sensor to use an AC wall adapter for best performance, or up to 4 months operation using the built-in battery at a slower sample rate.

For more information visit http://paragonrobotics.com/business/view-products/sensors/sc/77/
---
Douglas Lighting Controls Introduces Next Generation Lighting Control Unit
Douglas Lighting Controls, a member of the Panasonic family of companies, today announced the introduction of its next generation Dialog® Lighting Control Unit (LCU) to manage centralized facility or multi-facility lighting applications. The LCU Controller is located in a relay panel and acts as the main processor of the Dialog Lighting Control System, which includes wall switches, dimmers, daylight and occupancy sensors, control cards and other peripheral devices. By connecting switches and sensors to the LCU via the 2-wire network, control over the entire floor is centralized while still providing the capability for individual room control. The LCU's 6.25" x 3.75" touchscreen interface can be used for adding or changing system settings; a web browser permits direct access from a laptop or remote access over the Internet; and its USB port can be used for memory backup. Other features, such as quick diagnostic checks via on-controller LED and native BACnet capabilities, make the LCU an integral part of any high-performance Building Management System.
For more information visit http://www.douglaslightingcontrols.com
---

SmartStart LTE Router New Intelligent 4G LTE Router & Gateway
The SmartStart™ LTE Cat.4 family of cellular routers and gateways are the perfect way to connect RS-232 and Ethernet devices to a cellular network. Industrial M2M and IoT applications include Ethernet lottery machines, ATM stations, kiosk locations, gaming terminals along with RS-232 traffic controllers, meters, UPS systems, PLCs and much more. The processor is powerful enough to handle the full range of LTE communications capabilities, including video streams. The internal memory provides ample storage for custom scripts, software applications and a wide variety of protocols. In addition to its Ethernet and RS-232 ports, SmartStart™ has built-in digital I/O connectivity. Competing routers in the same price range generally provide only Ethernet or RS-232. StartSmart™ provides all three.
For more information visit http://advantech-bb.com/new-products/Products/Cellular-Wireless/cellular-routers/smartstart-lte-router/
---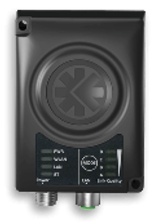 Anybus® Wireless Bridge™ Bridge industrial Ethernet or serial cables over Bluetooth® or WLAN

Anybus Wireless Bridge enables you create a robust industrial wireless connection between two points in an industrial Ethernet network. This second generation of the proven and trusted Wireless Bridge gives your the possibility to select whether you want to communicate via both Bluetooth or WLAN 2.4 Ghz / 5 Ghz. There is also a separate version making it possible to bridge serial RS-232/422/485 communication over Bluetooth. Use the Anybus Wireless Bridge to create a wireless connection in a PROFINET, EtherNet/IP, Modbus-TCP or BACnet/IP network. You can use the same hardware for both Bluetooth or WLAN communication.
For more information visit https://www.anybus.com/products/wireless-index/anybus-wireless-bridge
---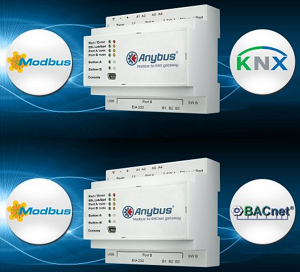 New Anybus gateways make Modbus devices talk BACnet or KNX

HMS Industrial Networks now releases two new gateways connecting factory automation equipment to building automation systems – Anybus Modbus to KNX gateway and Anybus Modbus to BACnet gateway. The new gateways enable industrial devices using Modbus to communicate on building systems using KNX or BACnet. As BACnet and KNX are increasingly being used in buildings and infrastructure installations, there is an increasing demand for integrating industrial devices that communicate on Modbus into these networks. Therefore, HMS now presents Modbus-to-KNX and Modbus-to-BACnet gateways, which act as translators, allowing Modbus RTU, ASCII and TCP-devices to show up as individual KNX or BACnet-compliant devices in a building automation network. This enables central KNX/BACnet control and supervision of Modbus devices such as drives, HVAC controllers and measuring equipment in building installations. The gateways offer a very straight-forward integration process. Modbus RTU slaves are connected to the serial port of the gateway, while Modbus TCP devices are connected to the Ethernet port. On the KNX or BACnet side, the gateways appear as simulated devices in the KNX or BACnet system. Configuration is made in the Windows-based Anybus Configuration Manager (MAPS) tool. Commissioning and troubleshooting is also made also using this tool.
For more information visit http://www.anybus.com

---
---


[Click Banner To Learn More]
[Home Page] [The Automator] [About] [Subscribe ] [Contact Us]