---
Belimo 2012 ControlTrends Award Winner at AHR Expo!
At AHR Expo last week, Belimo received awards from ControlTrends:

CTA Awards 2012 Commercial Product of the Year Belimo Energy Valve

CTA Awards 2012 Vendor Technical Support Company of the Year - Belimo

Werner Buck's illustrious career is punctuated by yet another award as the former president of Belimo Aircontrols (USA) and one of the most recognized innovators in the HVAC industry was awarded the inaugural CTA Hall of Fame Award for his outstanding professional and community contributions. ControlTrends will continue its efforts to chronicle the origins, people, and legacies of our HVAC Industry.

Belimo Energy Valve™ - Knowledge Is Power

The Belimo Energy Valve is the only two-way pressure independent control valve that optimizes, documents and proves water coil performance. By maintaining coil delta T and eliminating system overflow the Energy Valve dramatically improves chiller and boiler plant performance - saving energy where it matters most!
• Improve coil Delta T by utilizing Belimo Delta T Manager™ mode to match the installed characteristic of the coil.
• Save pump distribution energy by eliminating coil overflow.
• Reduce unwanted chiller or boiler staging by improving plant DT.
• Achieve coil performance that follows the calculated design flow rates exactly.
• Simplified valve sizing and selection, no Cv calculations required.
• Provides data to the BAS, enabling continuous commissioning of coils with allows customized control strategies.
Energy Valves are available contact Customer Service or your Sales Manager.

Globe Valves Made Simple.

Belimo New Generation Globe Valve Actuators and Retrofit Linkages Offer Greater Power and Flexibility. No two applications are exactly alike; new or old, they all vary in their demands. Whether it's high pressure steam or difficult installations, New Generation Globe Valve Actuators are designed to adapt to these challenges offering easy installation and field adjustability. They can be adapted to most globe valves, regardless of make.

The New Generation Globe Valve Actuators incorporate not only strength, but flexibility too. Engineered to suit a broad range of HVAC applications, the new actuators and retrofit linkages are highly adaptable making selection, installation and service hassle-free.
• Travel ranges of up to 2" (50mm).
• Multiple voltage options (24V and 120-230V).
• Steam inlet rating up to 100 psi.
• One universal linkage which can retrofit most globe valves, regardless of make.
• Quick connect coupler for easy installation.
• Field selectable fail-safe position switches.
• Lower power consumption during operation.
• Easy selection process, minimized inventory.
Retrofit Linkages with New Generation Actuators will be released February 19th. New Globe Valve Actuators to be release April 1, 2013.

Belimo New ZIP Economizer™ Provides the Fast Route to Reliable Energy Savings.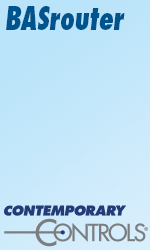 The new ZIP Economizer gets efficiency strategies back on track with easy setup, automatic code change over temperatures, and superior troubleshooting capability. Users know instantly when failures occur and the ZIP helps them quickly pinpoint the problem and address it.
• Easy-to-read automotive grade LCD display delivers clear live status information.
• ZIP Code patented technology will automatically recognize your climate zone.
• Plug and Play self-configuring.
• Integrated onboard test sequence that ensures effortless compliance.
• Fault Detection and Diagnostics (FDD) troubleshoot faults and initiates alarms.
• Onboard help for setup or troubleshooting.
The ZIP Economizer will be available first quarter of 2013. Contact your local Sales Manager for additional details.

For more information visit http://www.belimo.us



---


[Click Banner To Learn More]
[Home Page] [The Automator] [About] [Subscribe ] [Contact Us]