---
Activelogix Introduces Third Generation of Periscope™ for Energy, Sustainability and Facility Professionals

New Design Enables User-Centric Configuration of HTML5 Visualizations in Minutes
Charlotte, NC – February 14, 2017 – Activelogix LLC, a leading provider of Building IoT solutions, announced today the release of its 3rd generation of Periscope™, a dynamic HTML5 application suite built on the Niagara Framework® and the Project Haystack tag model. Periscope provides flexible analysis of the complex real-time and historical data generated by facility and energy automation systems.
Periscope is a browser-based application that can be configured by the end user to quickly identify real-time and historical trends in the key facets of multi-facility operation, including operational efficiency and critical metrics in areas of energy, comfort and sustainability. Unlike conventional business dashboards, Periscope employs a library of special purpose "views" which can be configured on the fly and integrated to a wide array of data feeds including meters, thermostats, databases or XML feeds. The ability for each user to insert, configure, and modify specific "views" allows for appropriate data to be presented in formats that can be utilized by a variety of audiences. Periscope also supports the ability to add analytic rules on data streams to allow teams to quickly identify areas of improvement or highlight success.

"Facility and sustainability professionals are overwhelmed with the growing number of visualization and analytic tools and sometimes end up purchasing three or more tools within an organization" remarked Tucker Watson, Principal Software Architect for Activelogix. "Each of these tools are generally designed for a single purpose or type of user and often only operate on historical data. We believe organizations can benefit from technology that operates across a common dataset of live and historical data, yet allows each stakeholder to customize and share views for their specific audience. Periscope is a flexible tool for each and every user to craft views as needed for the priorities of the moment."
Periscope utilizes the proven Niagara4 IoT security model and includes discovery & metadata tagging for network data from traditional relational databases as well as real-time feeds from automation systems utilizing Niagara Framework®, BACNetTM or hybrid configurations. This design enables Periscope to easily be overlaid on existing building networks without modification to the underlying control logic or database.
Greg Barnes, Vice President of Business Development for Activelogix, commented "We believe Periscope will further enhance the ability of our Solution Partners to offer an effective enterprise data visualization/analytics solution and to protect an owner's prior automation investments, reduce installation time on projects and improve ROI, particularly in enterprise and campus installations."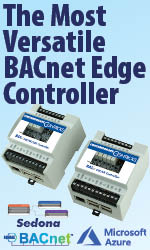 Periscope is provided through a network of integrators, distributors and OEMs in North America, Europe, Asia and Australia. For additional information contact the Periscope team at periscope@activelogix.com
About Activelogix
Activelogix LLC is a leading provider of Internet-based enterprise automation solutions, including design services, consulting, custom applications and technologies to enable management and optimization of intelligent, energy-efficient, and secure facilities. Founded in 2002, Activelogix is a growing Charlotte, NC company focused on technology solutions for enterprise sustainability, energy and facility management. Activelogix is a value-added developer and distributor of Niagara Framework® products from Tridium, Inc. Activelogix founders are former employees of Tridium, Inc. and have extensive experience in the design, development and support of Niagara Framework® based systems. We also provide similar services for a growing family of complimentary infrastructure, sensor and actuator components from world-class suppliers. Our software and hardware solutions are distributed to end users through a growing channel of distributors, systems integrators and original equipment manufacturers.

Additional information about Periscope is available on the web at www.periscopedashboard.com.

BACnet™ is a trademark of ASHRAE Inc.
Niagara Framework® is a registered mark of Tridium, Inc.



---

[Click Banner To Learn More]
[Home Page] [The Automator] [About] [Subscribe ] [Contact Us]