---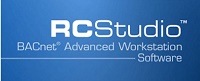 Reliable - RC-Studio® BACnet Advanced Workstation Software
Recognized as the ultimate all-in-one BACnet Advanced Workstation (B-AWS), RC-Studio® from Reliable Controls provides outstanding functionality, value, and ease of programming.
Advanced Workstation
Automatic BACnet discovery of all devices
Ability to retain discovered devices between sessions
Create/delete, drag and drop BACnet objects
Intuitive database worksheets
Cut and paste Program code
Full Priority Array control
Workstation Groups for 3rd party integration
For more information visit http://www.reliablecontrols.com/products/software/RCST/

---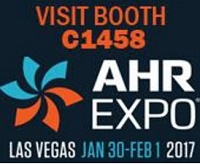 Truly Open Controllers, Visual BACnet and more at Booth C1458 at AHR Expo
Visit Booth C1458 at AHR 2017 - We're looking forward to getting your feedback on our new products being unveiled during AHR Expo 2017 in Las Vegas. We're showcasing our concept of a truly open controller. In addition, we have our popular Modbus to BACnet gateways, our BACnet Routers and our new EIGR series of Skorpion Gigabit IP Routers. We'll be showing our BACnet Routers and talk about our partnership with Visual BACnet for simplified MS/TP troubleshooting. For those of you interested in Remote Access, our new EIGR series of Skorpion Gigabit IP Routers allow you to create secure VPN remote access to your devices on the job site. The entire product portfolio is focused on innovative building automation solutions that leverage our expertise in both BACnet and Ethernet.
For more information visit http://www.ccontrols.com

---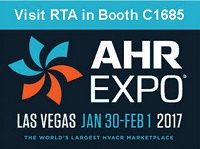 Wireless BACnet Refrigerant Monitor, Protocol Gateways and BACnet Router - Booth C1685 AHR Expo

Real Time Automation RTA will be at AHR Expo in booth C1685, 1/30 to 2/1 showing our gateways and soon-to-be released products Wireless BACnet Refrigerant Monitor and BACnet Router.
RTA's Wireless BACnet refrigerant monitoring system; attach wireless pressure transducers to the fill valves on your refrigeration system and you'll get virtual BACnet objects for the refrigerant pressure, temperature and sensor battery level for each transducer. Your BAS system can monitor and alarm on these values giving you the critical information necessary to avoid enormous energy bills or damaged inventory. The BACnet Router 550BNR provides completely transparent data routing between BACnet IP, BACnet MSTP and BACnet Ethernet. And it also supports BBMD (BACnet Broadcast Management Device) and FDR (Foreign Device Registration) operation.
For more information visit http://www.rtaautomation.com
---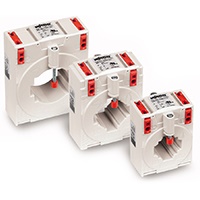 WAGO Launches New Plug-In Current Transformers Product Video

Germantown, WI—January, 2017—WAGO announces the availability of a new video featuring the Plug-in Current Transformers with CAGE CLAMP® Connection. WAGO's Plug-In Current Transformers measure AC currents in 230 V, 400 V and 690 V low-voltage mains. The current transformer can be loaded with up to 120% of the nominal current, allowing you to measure peak currents without damaging the transformer. The current transformers of accuracy Class 1 and Class 3 can be mounted on either round cables or current bars. Plug-in Current transformers are equipped with the vibration-proof and maintenance-free CAGE CLAMP® connection. The output is accessible from two sides, allowing the conductor to be easily terminated even in space-restricted applications.

To learn more and view the video click here: www.wago.us/ctvideo

---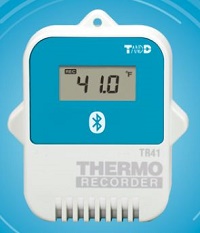 T&D Corporation - TR4 Series
Get Smart, Get Loggers for Smart Phones The TR4 series are data loggers equipped with Bluetooth low energy. With a smartphone/tablet and our dedicated apps, logger communication and data management have never been easier. We offer dedicated apps for real-time monitoring of changing data and uploading recorded data to our free cloud service "T&D WebStorage Service".
(Currently for European market only)

Features: Real-Time Data Monitoring from Smart Device; Simultaneous Data Collection from Multiple Loggers; Automatic Data Upload
For more information visit http://tandd.com/product/tr4_series.html
---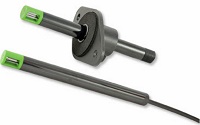 Air Flow Probe with Modbus Interface
(Engerwitzdorf, 17.01.2016) The EE671 compact air flow probe from E+E Elektronik measures air velocity up to 20 m/s (4000 ft/m) and is ideal for HVAC applications. The new version with Modbus RTU interface facilitates the EE761 integration into modern building automation systems. The EE671 probe is dedicated for reliable air flow measurement in heating and ventilation systems. It features the new E+E VTQ thin-film flow sensing element. Due to innovative transfer molding, the sensing element is very robust and highly insensitive to contamination, which allows accurate and long-term stable measurements even under harsh conditions. The probe is available with fixed cable or M12 connector. The alignment strip and the matching mounting flange allow for easy installation and precise positioning of the EE671 in the ventilation duct. The sensing head design is optimized for low angle dependency.
For more information visit http://www.epluse.com
---
PcVue 11.2 Integrates SMART Buildings and Distributed Energy Resources

Consolidation of Building Automation, Energy Management and Industrial Equipment with Enhanced Cybersecurity Features PcVue 11.2 has been released, a premier platform for Supervisory Control and Data Acquisition (SCADA), Building Management Systems (BMS) and Human-Machine Interface (HMI) solutions. BACnet Testing Laboratories awarded PcVue 11.2 its highest level listing, BACnet Advanced Work Station (B-AWS). It offers full integration to BACnet equipment with enhancements for developer efficiency and ease of use. Advancements in building equipment communications also include native KNX and COMMEND SA ICX driver (for Intercom monitoring and control) along with the established LonWorks and Modbus drivers. New BMS libraries include GEZE objects for door, window and safety technology. PcVue 11.2 offers the consolidation and integration to support convergence of SMART Buildings, Distributed Energy Resources (DER), Infrastructure, Transportation, and Industrial Automation. The release includes built-in drivers for Energy Management and SMART Grid interoperability including IEC 61850, 61400-25, 60870-5-104 & DNP3.
For more information visit http://www.pcvuesolutions.com
---
Wireless Water Intelligence
Lotik Labs Smart System of wireless sensors provides "point-of-use" water monitoring and metering to track usage and detect plumbing risks before they happen. Unlike expensive ultrasonic or traditional flow meters, installation is a snap. Just clamp your Lōtik sensor on any fixture or appliance and get ready to receive real-time water intelligence. Lōtik. No tools. No plumbers. Real savings. Lōtik customers benefit from easy to understand data about how much water is being used and where demand is greatest. Simply configure Lōtik to send customizable and automated notifications and alerts for high usage, leaks, and burst pipes.
For more information visit http://www.lotik.io/#technology2

---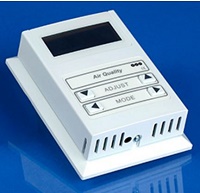 Smart BMS Communication Detector Air Quality QHT

Below Air Quality Detector OHT is a full-featured CPU-based device which is ideal for the detection of Air Contaminants. In residential and commercial environment, the Detector has high sensitivity to VOCs and odorous gases This unit comes with an LCD display with back lighting for easy viewing. It comes standard with humidity and temperature reading capabilities, which are vital when managing air quality control and with the manual jumper output selection, your readings have never been more precise. Features - High sensitivity to VOCs and Odorous Gases - - High Impact Plastic Enclosure provides Durability in Commercial Environments - - Low Energy Consumption - - Air Quality, Temperature and Humidity readings all in one - - RS485 Network connection. Modbus RTU at 19,2k and 9600baud - - Three transducer outputs, 4-20mA, 0-5Vdc or 0-10Vdc selectable - - Dewpoint and enthalpy can be configured by register list

Read more: http://www.automatikprodukter.se/index_products_airquality_standard_uk.htm
---
---


[Click Banner To Learn More]
[Home Page] [The Automator] [About] [Subscribe ] [Contact Us]