---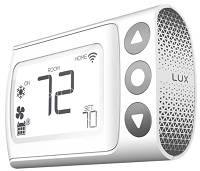 New PS2100 WiFi Thermostat Launches at AHR Expo

LUX, a Johnson Controls brand, today previews its newest WIFI thermostat at AHR Expo –PS2100. Available in March, this is the first WIFI thermostat that can be set-up entirely via the LUX mobile app – no WiFi connection needed. Contractors have a special app that will walk them through a step-by-step set-up process right on the job. The LUX Pro Services App is the easy to use tool that provides the pro with the features that matter. The LUX Pro Services App connects the contractor to the PS2100 and also provides access to "pro features" built into the product. Contractors set up and test the thermostat along with the HVAC system all without any internet connection. Upon completion, the contractor's job is done as the thermostat is now fully operational and verified. At the end of the process, an automated email is sent to the homeowner highlighting the work the contractor performed and detailed instructions on how to connect the thermostat to the internet. This innovative, step-by-step set-up process is patent pending.
For more information on LUX smart thermostats, visit Pro.LuxProducts.com
---

CI327 nano ZBOX-CI327NANO

Enjoy silent computing in a palm-sized form factor with the ZOTAC ZBOX CI327 nano Mini PC featuring a passive-cooled chassis that enables fanless cooling to eliminate noise. A powerful Intel quad-core processor provides performance for daily web browsing, e-mail checking, productivity and multimedia tasks across up to three displays. Integrated 802.11ac Wi-Fi and dual Gigabit Ethernet ensure lightning-fast wired and wireless network connectivity.
For more information visit https://www.zotac.com/us/product/mini_pcs/ci327-nano#download

---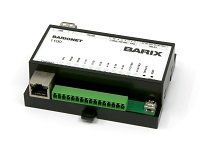 Barix to Unveil New Family of Linux-Based Barionet Control, Automation and IoT Devices with Lua Support
New models combine the reliability and versatility of popular Barionet platform with simplicity of Lua programming language and cloud-based script distribution. Barix is continuing its tradition of providing innovative, IP control and automation technologies to third-party developers with the introduction of a new series of Linux-based I/O, IoT sensor and interface controllers in its popular Barionet product line. Debuting in stand 8-G275 at ISE 2019 (February 5-8 in Amsterdam), the new devices combine the power and flexibility of the universal, programmable Barionet platform with the simplicity of Lua programming and a cloud-based code deployment solution.
For more information visit http://www.barix.com
---
Tiny size 2.4G Zigbee Lighting bulb Module with Built-in Antenna
T30P127A2.4G Zigbee Lighting Module With Built-in Antenna
Smallest Size 20.15mm*12.95mm With Strong Through Wall Performance
Tiny volume integrated 2.4GHz zigbee wireless module with built-in Antenan,which was based on TI CC2530 Zigbee RF chip technology, adopted standard IEEE 802.15.4 protocol.
For more information visit https://www.globalsources.com/gsol/I/ZigBee-module/p/sm/1165353528.htm?source=ECHP_PersonalizedProd#1165353528

---
SmartBuildings is a thermostat management solution for commercial and multi-family buildings from ecobee.

Built to optimize savings and comfort, effortlessly. SmartBuildings brings all your ecobee Smart Thermostats and Room Sensors together for a beautiful, seamless, and uncompromising experience.
For more information visit https://www.ecobee.com/SmartBuildings/
---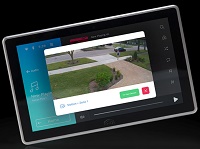 Introducing AtmosControl

Smart homes have dealt with a problem for too long – easily managing multiple devices. AtmosControl is the 1st smart home controller that combines touch, voice, app, and gesture controls. From your lights to your thermostats and everything in between, Atmos makes all of your devices smarter.Higher standards. And all the standards. We designed Atmos to include everything you need to control your home. Wi-Fi, Bluetooth, Zigbee, Z-Wave, even infrared—it's all built-in.
Atmos Home simplify your smart home, using the 1st smart home controller to combine touch, voice, and gesture controls.

---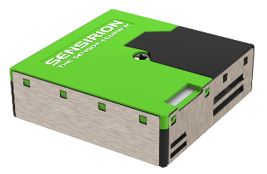 Sensirion, showcases its latest innovative sensor solution, the SPS30.
The contamination-resistant optical particulate matter sensor offers accurate measurements across a more than eight year lifetime.

The SPS30 particulate matter (PM) sensor marks another technological breakthrough in environmental sensing by enabling accurate measurements throughout its lifetime. It uses laser scattering and Sensirion's innovative contamination-resistance technology along with high-quality, long-lasting components to provide accurate measurements throughout its projected lifetime. In addition, Sensirion's advanced algorithms provide superior accuracy for different PM types as well as higher-resolution particle size binning, thus providing new possibilities for the detection of different types of environmental dust and particles. Ultra slim at 41 x 41 x 12 mm3, the sensor fits in compact applications like wall-mounted or compact air quality devices.

For more information visit www.sensirion.com
---
---


[Click Banner To Learn More]
[Home Page] [The Automator] [About] [Subscribe ] [Contact Us]