---
Lynxspring Demonstrations at AHR 2016 Focus on Edge-to-Enterprise (E2E) Hardware and Applications for the Intelligence of Things -Booth #1442

Lee's Summit, MO – January 5, 2016 – Lynxspring, Inc., (www.lynxspring.com) a premier developer and provider of open, IP-based control solutions for intelligent buildings, intelligent devices and cyber protection will be showcasing their latest initiative, Lynxspring E2E (Edge-to-Enterprise) at AHR Expo 2016. The company will be demonstrating numerous new products and services that expand the capabilities of today's connected devices and equipment at the edge and up to the Cloud for the Intelligence of Things. Please visit Lynxspring at AHR Expo 2016, Booth #1442 from January 25th through the 27th.

"The Lynxspring E2E solution simplifies connectivity, communication, data exchange and collaboration. It enables rapid development and deployment of smart systems, smart devices, intelligent equipment along with cyber security and Cloud services," said Terry Swope, president and chief executive officer at Lynxspring. "In the E2E ecosystem, we are delivering a portfolio of versatile and robust hardware and applications that are ideally suited for HVACR. We are enabling true Intelligence of Things that can securely extract and manage mass data in a comprehensive way that will improve businesses on a daily basis.
Lynxspring E2E is designed for intelligent systems, smart equipment, smart devices and service delivery, addressing the development and management of these intelligent devices at the edge, in the enterprise and in the Cloud. Lynxspring E2E includes a family of modular, open-source hardware and gateways, and a cyber security application for secured remote access that all support multiple devices, from the edge to
the enterprise, and the Cloud.

The company will be demonstrating their Lynxspring E2E solution including:

OnyxxTM Modbus to BACnet Bridge
The OnyxxTM MB311 bridges the integration between Modbus TCP/RTU communicating devices/systems to BACnet IP/Ethernet communicating devices/systems allowing for both monitoring and control of the integrated devices/systems. Acting as the Master Modbus device, the OnyxxTM MB311 Bridge manages all Modbus RTU or TCP slave devices connected to it.

OnyxxTM BACnet to Haystack Data Pump
The OnyxxTM BH311 Data Pump provides BACnet to Haystack network communication and data exchange. The OnyxxTM BH311 handles the BACnet to Haystack protocol translation, translating BACnet points to manageable Haystack points. Acting as a BACnet client device, the OnyxxTM BH311 manages all BACnet/IP, BACnet/Ethernet or BACnet MSTP devices connected to it.

OnyxxTM Cellular Router
Built and designed specifically for today's intelligent buildings, energy management and IoT environments, the OnyxxTM CE121 Cellular Router enables true collaboration between smart systems, smart devices, intelligent equipment and Cloud services and has been designed for easy set-up, installation and commissioning.

OnyxxTM WCT with Bluetooth® Connectivity
The OnyxxTM WCT connects to a Bluetooth® enabled Wireless Current Transmitter (WCT), providing a completely wireless edge-to-controller environment. With OnyxxTM WCT, the edge environment is simpler and quicker to set up eliminating the need for any other network devices to link to the CTs.

OnyxxTM 34 I/O
The OnyxxTM 34 I/O (Input/Output) option works with any system that supports BACnet. It is simple to configure and includes software HOA for outputs, 16 universal inputs, 8 analog outputs, 10 dry contact digital outputs and is easily daisy-chained.

LYNX CyberPROTM
LYNX CyberPROTM is a secure remote access solution that secures connections, removes exposed devices from the public Internet, adds additional layers of protection through encryption and additional
authentication, manages user access and rights, and provides audit logs. Supporting most protocols, it can be deployed in existing buildings or new construction, in single or multi-facility environments, and can be easily integrated into existing or new networks with no physical changes to existing BAS/EMS or IT networks.
Connexxion®
Connexxion® is an OT and IoT data extraction and management platform that combines the Cloud, connectivity, data collection, aggregation, integration and application management of real-time, operational and energy information generated from building systems, equipment and enterprise applications, all within a cyber-secured environment.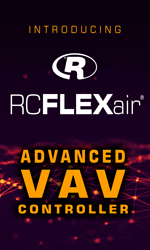 "Lynxspring E2E is empowering our customers to take full advantage of IoT, working with software and hardware technologies that not only offer choice and flexibility, but also helps them react quickly to growing demands," said vice president of marketing at Lynxspring, Marc Petock. "The Lynxspring E2E initiative and our strong commitment to our customers are transforming their business."

Lynxspring will be demonstrating these and other products supporting HVACR during AHR Expo 2016 in their Booth #1442. For more information about AHR Expo 2016, visit www.ahrexpo.com.

More information about Lynxspring E2E, OnyxxTM, Lynx CyberPROTM and Connexxion® can be found on the company website at: www.lynxspring.com/building-automation-systems.

About Lynxspring
Lynxspring is changing the way devices, systems and people communicate and collaborate across enterprises and out to the edge and creating a world that is the Intelligence of Things. Embracing open, interoperable, IP-based software and hardware platforms, we design, manufacture and distribute leading IP-based automation, cyber security technology, and edge-to-enterprise solutions and services for Building Automation, Energy Management, Cyber Protection, Equipment Control and other Specialty
applications. Our technologies are simplifying the architecture across the enterprise, deployment of IoT and significantly lowering costs and enabling users to go further to manage and operate their facilities and equipment smarter, safer, more securely, more efficiently and at peak performance levels. More information is available at: www.lynxspring.com.

---


[Click Banner To Learn More]
[Home Page] [The Automator] [About] [Subscribe ] [Contact Us]