---
Energy and Control Expert John J. "Jack" McGowan, CEM Inducted into Hall of Fame
www.automatedbuildings.com (Jan. 23, 2017) - John J. "Jack" McGowan, CEM, former Sustainable Santa Fe Commission member, will be inducted into the ControlTrends Hall of Fame in a ceremony on January 29 the night before the AHR Expo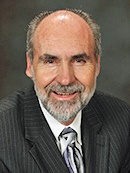 http://ahrexpo.com/ at the http://controltrends.org/?s=2017+ControlTrends+Awards. Mc Gowan has four decades of wide-ranging technical and management experience spanning sectors, but with one common theme: controls. He is former CEO of Energy Control Inc. (ECI), an OpTerra Energy Company, known nationally as energy and building intelligence leader. He also held management positions with Honeywell Inc., Johnson Controls Inc., as well as large public and private sector end user organizations. He has been called a Visionary because of his role as an early adopter of new technology, industry spokesperson, author and speaker on wide-ranging industry developments. Jack has been an inspiration for and a contributing editor to AutomatedBuildings.com since its inception.
Energy Management and Control
McGowan's introduction to the controls industry was via energy management, which could be called the first "controls killer AP." From his first job managing Federal energy grant programs for Universities, Schools, and Hospitals through wide-ranging management roles in major corporations and as CEO of an energy technology company; he focused on building intelligence and control as the glue to achieve project success. McGowan holds eight certifications and is a Fellow of the Association of Energy Engineers (AEE). His highly diverse energy management successes led AEE to induct him to the "International Energy Managers Hall of Fame" in 2003. They named him "International Energy Professional of the Year" in 1997 for his extensive education and professional development activity in energy, buildings, and control technology.

A student of practice, technology, and trends

Controls and automation technology have been a focal point for projects, and work, McGowan has done throughout his career. Driving change through successful projects has been the unifying theme of his career, as energy and building manager, system integrator, manufacturer's representative, author, and speaker. Early on his intense interest in innovation and market trends drove him to write and speak about industry developments, while embracing wide-ranging business models that enable change. He became a student of technology and business model trends occurring in the energy, building and controls space, as well as in other industries from which new ideas tend to migrate to building controls. Among many examples of results from this study is that McGowan introduced the term "Dashboard" to the building and controls space because he saw how developments in IT were poised to bring value for buildings. At ECI he was successful in leveraging the Energy Service Company (ESCO) business model to implement large-scale conventional HVAC, lighting and controls projects, as well as emerging technology projects from middleware and controls for Demand Response to some of the first Dashboard and Analytics projects. McGowan's passion to understand and deploy such emerging technology, and ideas, was central to his effort to chronicle advances in energy, buildings, and controls. His goal was simple: learn about leading edge technologies, build projects around them, and educate the industry on successes to promote further adoption.
McGowan's efforts began with energy management in the 1980's but continued with direct involvement in "waves of technology development." These developments included:
control systems, strategies for energy management and building automation, open systems and remote DDC interface throughout the 1980's
distributed control and data communication standards including BACnet in the early1990's
BAS system integration, software developments from CMMS to simulation / modeling in the late 1990s',
Internet system access and monitoring and Web Services in the late 1990's early 2000's,
Smart Grid, Demand Response, Energy Services Performance Contracting, building-wide integrated systems beyond BAS through 2010,
Microgrids, Energy Resilience, the Internet of Things and finally Analytics and Big Data since 2010.

Beyond running successful businesses and building projects, his avocation became educating the industry to accelerate adoption of new technology and trends, with a major emphasis on highlighting case studies that "showed what success looks like." An example of this is that he became an early champion of open systems and communication standards, while a Corporate Energy Manager for a retailer with 20 million square feet of buildings. In that role, he implemented hundreds of control systems throughout the country, comprised of seven generations of four manufacturers proprietary systems, requiring software running on three different computer platforms, operating systems and communication protocols. In 1983 he published his first articles and technical papers on the challenges of managing a single enterprise with multiple proprietary systems, and the need for a standard BAS data communication protocol. A passion that continued for decades. While leading product development and marketing for Honeywell, he attended the first ASHRAE SPC135 BACnet standards committee meeting as a member of the Honeywell Worldwide Architecture Council. At that time he was writing his fourth book, "Networking for Building Automation and Control Systems," which was published in 1992, three years ahead of the standard. For the balance of that decade, McGowan implemented systems, wrote articles, was a regular conference speaker and taught seminars around the world, to educate the industry on how to both understand and successfully deploy integrated systems.

McGowan's reputation for understanding the dramatic impact of technology on organizations led the Governing Institute in Washington, DC to invite him to be a Senior Fellow. In that role, McGowan was the keynote speaker at Energy and Smart City Roundtables conducted around the U.S. that were sponsored by IBM Corporation.

Buildings and Controls meet the Smart Grid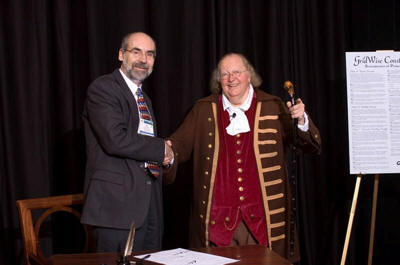 McGowan's industry prominence led the U.S. Department of Energy to invite him to be a founding member, and later Chair, of the GridWise Architecture Council representing the building and controls sectors. In 2003, before anyone had heard of "Smart Grid," McGowan became one of the architects of this movement, and he introduced it to the building and controls industries. His projects, articles, speaking engagements and industry participation helped to shape the dialog around how Smart Grid could bring value to buildings, controls, HVAC, and energy. He remains Chairman Emeritus of the Gridwise Architecture Council. In 2007 the U.S. Congress passed the Energy Independence and Security Act and directed the National Institute of Standards and Technology (NIST) to take the lead on standards for the Smart Grid. This gave McGowan a chance to be reacquainted with Steve Bushby, as the work at NIST was done by Steve's group, and McGowan became founding Co-Chair of NIST's Building to Grid Working Group. The work at NIST resulted in far-reaching standards identification and development of Smart Grid technologies in buildings. In 2008, Bob Galvin, former Chairman of Motorola and father of the cellular telephone industry and Six Sigma among countless other innovations, invited McGowan to join the Galvin Electricity Initiative Team of Leaders, as an Energy, Policy and Buildings Champion. McGowan also served on the Board of the NewEnergy Alliance created by Constellation NewEnergy to train system integrators (SI's) on how to participate in the emerging demand response market. McGowan wrote the NewEnergy Demand Response Business Playbook, completed training and worked with SI's to deploy Demand Response projects in California, Florida, Texas, Oklahoma and New Mexico.

Business Leadership

Under McGowan's leadership and strategic vision, ECI achieved 33% compound annual growth for over a decade. He leveraged his management acumen and keen industry knowledge to drive growth and build a national brand for the company. ECI received numerous accolades over that time including a 2008 American Business Award sponsored by Dow Jones and the Wall Street Journal as Best Overall Company in the U.S. with less than 100 employees. The book Clean Tech Nation in 2012 listed Energy Control Inc. as a company to watch nationally for leadership in the buildings' space. In 2007 ECI's corporate office was named the "Most Intelligent Building in North America" by SDM Magazine and in 2009 Contracting Business named a flagship ECI Smart Building / Smart Grid project as "Best Design / Build project in the U.S." McGowan has been recognized personally with numerous awards over his career including Buildy Visionary at Connectivity Week 2006, automatedbuildings.com Newsmaker of the Year in 2007, first-ever Delta Controls Earthright Award in 2009 and Sustainable Leadership Award from the Green Chamber of Commerce in 2012. In 2010 McGowan led ECI through successful Merger and Acquisition by Oaktree Capital, a $90 billion private equity firm, which created Opterra Energy to complete a roll up of nationally successful energy and technology businesses. McGowan remained as President of ECI until 2014 when he formed the McGowan Group, a consultancy focusing on marketing and business development in the energy and buildings space.

Author and Speaker

McGowan has published six books and over 200 articles on controls, business, and technology topics. He has served or Editorial Advisory Boards and as a Contributing Editor to eight magazines. His books include:
Energy & Analytics, Big Data & Building Technology Integration, Fairmont Press, 2015
Distributed DDC, A Guide to Building Automation, Fairmont Press / Prentice Hall, 1995
Networking For Building Automation & Control Systems, Fairmont Press / Prentice Hall, 1991.

Energy Management for Buildings (Co-authored with William F. Payne), Von Nostrand Reinhold, 1990
Energy Management & Control Systems Handbook (Co-authored with William F. Payne), Fairmont Press / Prentice Hall, 1988
Service Merchandise Corporate Energy Handbook, SM Press, 1984
McGowan has been a regular conference speaker at numerous events for four decades and has taught seminars worldwide on controls, open systems, energy, Smart Grid and Intelligent Buildings. His most recent seminar; Big Data, the Next Frontier for Building Energy Management, was developed for, and offered by, the Association of Energy Engineers. It was offered online and attracted an International roster of attendees. McGowan taught courses in marketing, public policy and building design in the Schools of Business and Architecture at the University of Phoenix and the University of New Mexico.

Jack has been married for 39 years to Judy, the love of his life and they raised two children. They retired to Santa Fe and built a Zero Net Energy home where they spend their time enjoying life and dancing. Jack also picked up a paint brush and started oil painting landscapes again after a 40-year hiatus.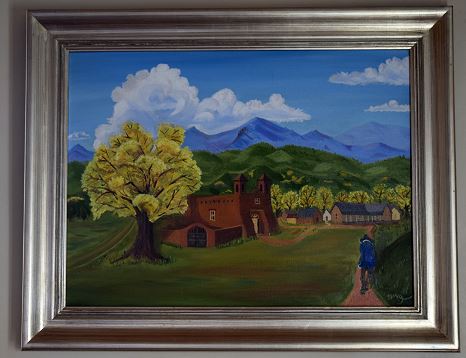 Contact: Ken Sinclair, Founder (250) 656 5378 or
John J. "Jack" McGowan (505) 681 7482
---


[Click Banner To Learn More]
[Home Page] [The Automator] [About] [Subscribe ] [Contact Us]