---
EnOcean Alliance to exhibit at AHR Expo 2018: The self-powered wireless standard for integrated building automation
The organization will be presenting its maintenance-free wireless solutions, creating a network for the integrated control of intelligent buildings based on the seamless integration of self-powered sensors and switches with local controls, building management systems, and gateways. Booth #4126

San Ramon, CA/Chicago, IL – January 11, 2018 – At AHR Expo 2018 (McCormick Place, Chicago, IL, January 22-24, 2018), the EnOcean Alliance will demonstrate the benefits of the interoperable EnOcean ecosystem for integrated building control and self-powered Internet of Things (IoT) applications. At Booth #4126, the EnOcean Alliance presents a complete automation system based on the EnOcean energy harvesting wireless standard. It will include all necessary maintenance-free, wireless components for HVAC control and intelligent lighting control as well as energy management. The EnOcean Alliance offers the advantages of an extensive and established ecosystem of interoperable energy harvesting wireless sensor solutions that are available to intelligent buildings worldwide. These solutions help optimize the utilization of buildings, create new service models and make buildings more flexible, energy-efficient and altogether more cost-effective.
Intelligent building control calls for solutions that can be flexibly adapted to individual project re-quirements. Breaking down the barriers of isolated applications, the interoperable EnOcean Alliance ecosystem of more than 400 member companies and over 1,500 products offer integrated systems that connect several building applications and control them depending on the current situation.

EnOcean Alliance - Maintenance-free sensor solutions for open standards
Due to strong partnerships with leading organizations of the IT industry, such as the Open Connectivity Foundation, and industry leader IBM, the EnOcean Alliance opens the world of energy harvesting wireless communication to develop interoperable self-powered wireless solutions as a standard for the Internet of Things (IoT).

At AHR Expo, the EnOcean Alliance will show an integrated building system covering the following areas:
Self-Powered Switches and Sensors
Wireless sensors can lay the foundation for energy savings, increased comfort, and healthier living through automated HVAC control. Self-powered temperature, gas, and climate sensors combined with hydronic heating valves form a wireless network that supplies heat or cool air depending on individual needs and behavior or when room conditions need to be adapted to predefined set points.
Intelligent lighting control can be covered on the basis of three main wireless components: kinetic-powered light switches, including dimmers, solar-powered light sensors, and solar-powered occu-pancy sensors. This system can additionally support a wireless daylight harvesting application, which is a lighting control system that automatically adapts the light level to the amount of availa-ble natural light in a room measured by light level sensors.

Gateways and Local Controllers
The approach of seamlessly integrating the control of different building areas can be realized with gateways and local controllers. These directly communicate with the self-powered wireless devices and with each other to process the delivered data and information for a synchronized building man-agement system. This results in better energy efficiency while increasing comfort and security at the same time.
Building Management Systems
These same gateways can bridge the EnOcean wireless standard to work also with other estab-lished protocols such as BACnet, LonMark, WiFi, or the cloud. This provides maximum flexibility to installing professionals to expand and adapt building automation systems based on other protocols at any time with wireless components and to centrally control the whole system.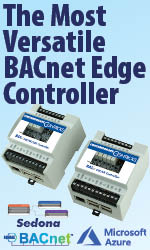 Cognitive buildings with IBM
With IBM joining the EnOcean Alliance as a promoter member, the organization strengthened its program in building automation and the Internet of Things. For its Watson IoT ecosystem and cog-nitive buildings solutions, IBM relies on the energy harvesting EnOcean technology in sub 1 GHz. In close collaboration, the EnOcean Alliance and IBM define and expand standards for self-powered solutions for the IoT. These solutions can be used in various cases from asset management, ambi-ent assisted living projects, insurance or hotel and campus projects, giving maintenance-free wire-less switches and sensors based on EnOcean technology.

At booth #4126, the EnOcean Alliance will be showing examples of self-powered wireless solutions from EnOcean Alliance members, such as: Digital Concepts, Echoflex Solutions, EnOcean, Functional Devices, IBM, Illumra, Kieback&Peter, Magnum and Pressac Communications.

Visitors to AHR Expo 2018 can experience energy harvesting wireless solutions from over 20 EnOcean Alliance members, including the following exhibitors:
AirTest Technologies Inc. (#4214), Contemporary Controls (#4118), Delta Controls Inc. (#3923), Distech Controls (#3900), Emerson (#5300, 5310, 5600, 6110), KMC Controls, Inc. (#4036), Lon-Mark International (#4227), Loytec (#3923), Reliable Controls Cor. (#3809), Schneider Electric (#8276), Siemens Building Technologies (#3946), Spartan Peripheral Devices (#4218), Titus (#5564), Viconics Technologies (#4134) and WAGO Corporation (#4313).

About EnOcean Alliance
Leading companies worldwide from the building sector formed the EnOcean Alliance to establish innovative maintenance-free wireless solutions for the Internet of Things, which are used for automation solutions for sustainable building projects – making buildings more energy-efficient, more flexible and more cost effective. The core technology of the Alliance is energy harvesting wireless technology for flexibly positioned and ser-vice-free sensor solutions. The EnOcean Alliance aims to internationalize the energy harvesting wireless tech-nology, and is dedicated to creating interoperability between the products of OEM partners. Basis for this is the international standard ISO/IEC 14543-3-1X, which is optimized for wireless solutions with ultra-low pow-er consumption and energy harvesting. More than 400 companies currently belong to the EnOcean Alliance. The headquarters of the non-profit organization is located in San Ramon, California.
www.enocean-alliance.org

---

[Click Banner To Learn More]
[Home Page] [The Automator] [About] [Subscribe ] [Contact Us]