---
Cochrane Supply & AutomatedBuildings.com Team Up to Lead Discussions on Master System Integrators at AHR Expo in Chicago

METRO DETROIT, MI – Cochrane Supply & Engineering, a leading Industrial IoT (IIoT) and Building Controls Supplier, has teamed up with AutomatedBuildings.com, an online resource focused on the future of building automation, to get people talking about master system integrators (MSIs).

Ken Sinclair, founder, owner, and publisher of AutomatedBuildings.com and Scott Cochrane, president and CEO of Cochrane Supply & Engineering, have gained traction in their online MSI interviews and plan to keep the discussion going this month at the AHR Expo in Chicago. The International Air-Conditioning, Heating, Refrigerating Exposition (AHR Expo), which started 86 years ago as a heating and ventilation show, has grown into a distinguished and highly-regarded HVACR industry event. And it's the perfect place to discuss the evolving roles and significance of an MSI.

Sinclair and Cochrane will be joined by Brad White, P.Eng, MASc Principal of SES Consulting, Inc., and Jason Houck, Chief Information Officer of Hepta Systems to lead a conference panel discussion titled, "Are Master System Integrators Becoming the New Building Data Architects?"

These industry thought leaders will share their perspectives on topics such as defining an MSI and their role as service providers, how MSIs can maximize the evolving intelligent edge, how the power of people can generate new data, and more—all while encouraging audience participation and open conversation to maximize this exciting time in the automation industry.

The purpose of the AHR Expo is to provide a unique forum for the entire HVACR industry to come together and share new products, technologies, and ideas. And that's exactly what this esteemed lineup of panelists aims to do with this important and evolving topic.

For more information about the AHR Expo, a full list of free educational session, or to register online, visit https://ahrexpo.com.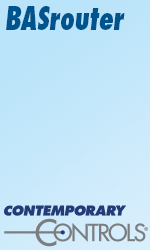 About Cochrane Supply
Cochrane Supply & Engineering was founded in 1967 and has grown into a multi-award-winning company and a Leading IIoT Supplier. Cochrane Supply is proud to be your source of building controls products and hardware to connect to the Internet, as well as software, world-class support, and training to enable and successfully implement functional integrations. Representing the industry's top manufacturers, Cochrane Supply's diverse product lines blend innovation and solutions to help create truly smart buildings and improved building efficiency when it comes to HVAC, security, refrigeration, lighting, gas-detection, life safety, and more.

About AutomatedBuildings.com
Since 1999, AutomatedBuildings.com has been an online magazine and web resource that informs our readers of the future building automation which will be a full embrace of IoT. The site provides industry news and connection to the community of change agents that are creating the present definition of smart, integrated, connected, green, and converged large buildings.



---

[Click Banner To Learn More]
[Home Page] [The Automator] [About] [Subscribe ] [Contact Us]