---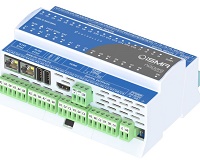 Global Control Introduces iSMA-B-MAC36NL
iSMA-B-MAC36NL is a compact Master Application Controller with built-in different types of I/O and operating in Niagara Framework environment. Using the specific local I/O set 16x UI, 8x AO, 4x DI and 8x DO allows to use the device in different applications. The controller provides control, data logging, alarming, scheduling, integration and visualisation. To allow IP connectivity there are 2x Fast Ethernet ports which can operate as two independent ports. Built-in 1x RS485 can be used to expand number of I/O by connecting iSMA-B-MINI or iSMA-B-MIX series I/O modules or to integrate with other subsystems.
For more information visit https://gc5.pl/en/produkt/mac36nl/
---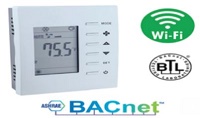 Contemporary Controls Announces New BACnet Wi-Fi and MS/TP Compliant Thermostat
Contemporary Controls continues its mission of "Building on BACnet" by introducing the BASstat series of BACnet-compliant wired or wireless communicating thermostats that are BTL Listed to ensure effortless integration into BACnet/IP (Wi-Fi) or BACnet MS/TP (EIA-485) networks.

BASstat thermostats are suited for single or multi-stage heating, cooling and ventilation binary output control applications such as RTU or AHU. Configurable control algorithm parameters allow adaptability to the specific application. Adaptive control algorithm applied to multi-stage on/off control saves energy and ensures seamless comfort for the occupants. Built in temperature sensor, input for remote temperature sensor, or temperature override network command from Building Automation System can be used. Occupancy status can be set from thermostat buttons or over the BACnet network. Thermostat buttons are optionally lockable to prevent unauthorized control. Digital display with graphical icons is easy to read and understand.
For more information visit https://www.ccontrols.com/index.htm
---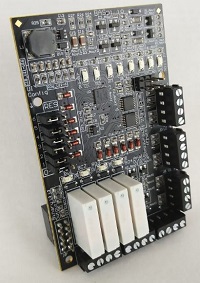 Contemporary Controls New BASpi-IO board with 6 Universal Inputs / 4 Relay Out / 2 Analog Out

Designed for home automation enthusiasts, HVAC students and the maker community in general, the Contemporary Controls DIY products are not toys, but truly open controllers built on both open software and open hardware. Using the latest micro PCs and resident control software, these products allow the user to create next generation Internet of Things (IoT) platforms. The BASpi I/O daughterboards are 12-point expansion boards for the Raspberry Pi which differ only in the makeup of their outputs. This latest addition to the BASpi family has 6x Universal Inputs, 4x Relay Outputs, and 2x Analog Outputs which allows for a whole new set of applications such as FCUs! To create a controller, you need to download the free firmware from Contemporary Controls' website to burn on a microSD card that you will install into your Raspberry Pi. Mount one of the BASpi I/O daughterboards on top of the Raspberry Pi, power it up, and you have a 12-point BACnet/IP Sedona controller.

For more information visit https://www.ccontrols.com/blog/2018/12/10/new-baspi-io-board-with-6-universal-inputs-4-relay-out-2-analog-out/
---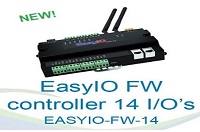 2018 CTA Awards Innovative Wireless Product of the Year Finalist — EasyIO FW-14

The EasyIO-FW series is a free programmable controller ideal for all kind of applications such as Fan Coils, AHU's, room applications, stand-alone applications etc. Ideal also for vertical markets such as schools and retail to have extended IO for the FG+ series without any downtime during install as the network can be wireless. This will open definitely the small and medium building market were shorter downtime and save on labor and hardware are key.
For more information visit https://www.easyio.pro/
---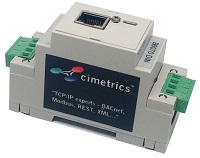 Cimetrics - BACnet/IP to 4 Utility Meters (pulse - B6070)
The B6070 provides a BACnet/IP interface for commodity/utility flow meters that have a pulse output. This allows integrators to use simple meters. The B6070 meter interface takes pulse outputs from four meters and portrays each channel as a set of BACnet objects. The B6070 is enclosed in a DIN case that can be mounted standalone or on a DIN rail. It is powered by 5 VDC at 1A via a micro USB connector which can be supplied from an included external 50-60Hz and 100-240 VAC supply. The unit has two four-pin inline Euro-style 5mm plug connectors for pulse channel inputs and one Ethernet 10/100 RJ45 connector. There are (4) pulse input channels. The pulse input channels are each optically isolated. Each channel is self-powered through a DC-DC converter. Each channel can tolerate one stray potential/ground. This is optimal for flow meters with dry contact closure outputs, and which might have stray grounds somewhere in their output circuits (water meters often have such stray voltages). The Ethernet port uses a standard shielded RJ45 connector with integral LEDs. Connection status can quickly be determined from the Link and Activity LEDs on each interface.
For more information visit https://www.cimetrics.com/products/b6070-bacnet-interface-to-pulse-meters
---
Loytec LIOB‑585 I/‌O Controller

The LIOB‑585 I/‌O Controller is equipped with two Ethernet ports including a built-in Ethernet switch. This allows for building a daisy chained line topology of up to 20 devices, which reduces costs for network installation. Dual Ethernet port devices also allow the setup of a redundant Ethernet installation (ring topology), which increases reliability. The redundant Ethernet topology is enabled by the Rapid Spanning Tree Protocol (RSTP), which is supported by most managed switches.

Technology data points are automatically exposed as OPC tags for higher level OPC client applications or L‑WEB system via the integrated OPC server providing SSL encrypted web services (OPC XML‑DA) or UA Secure Conversation (OPC UA). The L‑IOB I/‌O Controllers further allow data exchange over global connections (network-wide data exchange), offer AST™ functions (Alarming, Scheduling, and Trending), store custom graphic pages for visualization in LWEB‑802/‌803, and can be seamlessly integrated in the LWEB‑900 Building Management System. LIOB‑585 I/‌O Controllers implement the BACnet Building Controller (B-BC) profile and are BTL certified.
For more information visit https://www.loytec.com/products/liob-controllers/5977-liob-585

---
Energy Harvesting Bluetooth Low Energy Switch Reference Design
ON Semiconductor is defining new levels of ultra-low power operation in the IoT with the introduction of its Bluetooth Low Energy Switch reference design that operates entirely from harvested energy. The platform demonstrates how the RSL10 System-in-Package (SIP) can enable Bluetooth 5 devices that are battery-less and entirely self-powered, requiring no additional energy source. Application examples include wall and lighting control, building automation, and asset tracking. The Energy Harvesting Bluetooth Low Energy Switch brings together the highly-integrated and exceedingly low-power RSL10 SIP with the innovative energy-harvesting technology developed by ZF Friedrichshafen AG, to provide the ideal platform for a range of IoT applications. Featuring a fully-integrated antenna, RSL10 radio, and all passive components; the RSL10 SIP simplifies system design and minimizes the bill of materials.

For more information visit http://www.onsemi.com/
---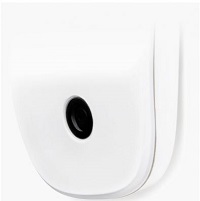 New Occupancy sensors from UbiqiSense

UbiqiSense is introducing new, vision-based occupancy sensors for detecting, counting and tracking people. Sensors are based on an embedded hardware system enabling the smallest, most discreet design, and making sensors ideal for unobtrusive installation in meeting rooms and office environments. Sensors are equipped with optical sensors and embedded artificial intelligence that enable image processing taking place in real time inside the sensors. This ensures complete privacy and anonymity of every detected object. The sensor system delivers occupancy data either over BACnet, via a cloud solution or through an API.

For more information, please visit www.ubiqisense.com
---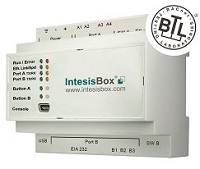 Intesis Software introduces new integration solutions for HISENSE and HITACHI HVAC

Intesis Software launches six new products in its HVAC gateway portfolio. There are gateways for each manufacturer (Hisense and Hitachi) covering the most popular building automation protocols, KNX, BACnet and Modbus. The gateways connect directly to the communication bus (H-Link) allowing users to control and monitor VRF systems. The Intesis technical staff has been working jointly with Hisense and Hitachi engineers to offer robust products without forgetting the essence of Intesis solutions, optimum functionality and ease of deployment. There are two sizes available for each standard protocol, 16 or 64 indoor units. This gives enough flexibility to fit different project size requirements. One solution to rule them all! IntesisBox MAPS is the unique software tool needed to configure these gateways and to diagnose any issue on field. Choose between IP or USB console port to get connected to the gateway and to define the project value.

For more information visit: https://www.intesisbox.com/en/novelties-new-product-releases-for-hisense-and-hitachi/


---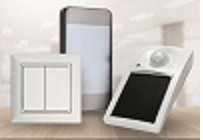 Market innovation at CES 2019: EnOcean presents the first self-powered Bluetooth® sensor for intelligent lighting control

EnOcean, world leader in energy harvesting wireless technology, will be launching a new ceiling-mounted solar-powered occupancy sensor (PIR) for Bluetooth lighting control systems communicating via Bluetooth® Low Energy (BLE). It will be the first self-powered Bluetooth® occupancy sensor on the market integrating EnOcean's field-proven energy harvesting technology and offering best customer experience by being maintenance-free, freely positionable, highly flexible and easy to install. The new sensor, in a small and functional housing design, will add to EnOcean's Easyfit portfolio of battery-free Bluetooth® switches and perfectly support the company's strategy to easily provide precious data for the digitalization of buildings using LED lighting systems as data backbone for intelligent control. Visitors to the CES show can experience EnOcean's Easyfit Bluetooth® solutions at Sands Expo #40464. The new sensor will be available on the market from January 2019.

For more information, please visit www.enocean.com.
---
2019 AHR Expo Building Automation and Control Products
For more information on products introduced at this year's AHR Expo
---
---


[Click Banner To Learn More]
[Home Page] [The Automator] [About] [Subscribe ] [Contact Us]