---
Updated August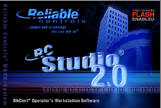 Reliable Controls - New RC-Studio® 2.0 Release
VICTORIA, BC – RC-Studio® 2.0 is the all-in-one BACnet® operator's workstation software used to program and interface to any Reliable Controls products and 3rd party BACnet devices. Using RC-Studio 2.0, building operators can simultaneously open windows from multiple BACnet controllers and change setpoints and schedules, override points, view trend and runtime information, and manage alarms and network backups. Programmers have the freedom to drag and drop BACnet points to graphical displays and can read/write any BACnet point using the Control-BASIC editor.
Update 1.06 of RC-Studio 2.0 has recently been released and offers a myriad of new features and functionality added to what is already considered by many in the building automation industry to be the pinnacle of DDC software. Upgrade to 1.06 – NOW! FREE of charge. Login to www.reliablecontrols.com and choose Customer Login to access your free upgrade to RC-Studio 2.0
---

ONICON Incorporated's System-30 BTU Meter is now available
Clearwater, FL - ONICON Incorporated introduced its new System-30 BTU Meter at the BOMA Show in Dallas in June. Specifically designed for smaller systems (0.8 to 38 GPM), the System-30 BTU Meter is an inline flow meter/integral BTU computer combination that provides highly accurate thermal energy measurement in chilled water, hot water and condenser water systems. An optional communications interface – available for BACnet® MS/TP, LONWORKS®, Johnson Controls N2 and Siemens P1-FLN – provides complete energy, flow and temperature data to the control system through a single network connection. Each System-30 is factory calibrated and comes complete with all installation hardware. For more information, visit www.onicon.com or e-mail sales@onicon.com.
---
Contemporary Controls - Choosing the Right Industrial Ethernet Switch

Before investigating all the features provided by an Industrial Ethernet switch, you should first consider exactly what this type of device is and what it does. Contemporary Controls' R&D Manager Bennet Levine has written a document that will aid users in this process. The document, Choosing the Right Industrial Ethernet Switch, discusses the many options when purchasing one. As an Ethernet user, learn to play the game successfully. Reading Choosing the Right Industrial Ethernet Switch will help meet your Ethernet expecations in your applications. To view the document, visit www.ctrlink.com/pdf/Extv6n1.pdf . Visit the company's web site: www.ctrlink.com to learn more about the Ethernet line marketed under CTRLinkÒ.
---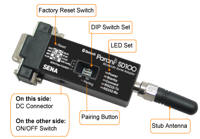 SENA Technologies Bluetooth Serial Adapter replaces RS-232 Serial Cables
The Parani-SD is a Bluetooth Serial Adapter product line that designed to replace RS-232 serial cables with wireless connectivity with advanced features such as Bluetooth 1.2 Protocol Stack that includes Adaptive Frequency-hopping spread spectrum (AFH), software-free configuration support via an external dip-switch, Pairing button for instant configuration of an automatic connection between two Parani-SD devices, and flexible power options.
Features, specifications and ordering information
http://www.sena.com/products/industrial_bluetooth/bluetooth_serial_adapter/parani_sd/
---
ISA - Practical Controls: A Guide to Mechanical Systems
Steven R. Calabrese
Geared toward the HVAC professional, this book details practical methods of HVAC control, and defines the role of controls in easy-to-understand terms. Drawing from years of hands-on contracting experience, the author shares a wealth of field-tested and proven approaches to control systems issues, spanning the full range of electrical, electronic, and microprocessor-based systems. Written in practical, real-world terms, the presentation first explores each of the various mechanical systems installed in today's facilities, and then takes a concise look at how each of these systems is best controlled using currently available control technologies. The book provides a welcome resource for the HVAC professional, or for anyone involved with controls installation and troubleshooting, covering basic rules and equipment guidelines, as well as "rules of thumb," pros and cons, potential mistakes to avoid. Visit www.isa.org for more information.
---
Saelig New Products:
Hardwired TCP/IP IC


Pittsford, NY: W3150A is a fully hardwired TCP/IP stack that allows low-end microcontrollers internet capabilities at full speed. W3150A incorporates a TCP/IP stack and a future- proofed 10/100 Ethernet MAC. Engineers are wise to off-load the burden of the TCP/IP stack into a second peripheral chip (complete with Ethernet MAC) because it can reduce debug issues and time-to- market with the design of the TCP/IP stack avoided, and the additional benefit of a more stable product. Simple 8-bit micros immediately have much more power since they no longer have the burden of TCP/IP protocols. TCP-offload improves overall system performance, reduces cost, power and size, increases robustness. Engineers no longer need to have detailed knowledge of TCP/IP since this is all accomplished within the IC.
Hardwired TCP/IP-I2C module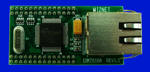 Pittsford, NY: NM7010A-LF is a new, Pb- free network module that includes W3100A (TCP/IP hardwired chip), Ethernet PHY (RTL8201), MAG-JACK (RJ45 with transformer) with other glue logic, creating a component for quickly Internet-enabling microprocessor systems. NM7010A-LF is a drop-in network module based on W3100A hardwired TCP/IP stack chip from WIZnet, instantly adding Ethernet capabilities to simple microprocessor designs. This avoids the possible unreliable burden of running a TCP/IP software stack. Up to four independent connections can be supported simultaneously with dynamic buffer allocation for each channel, which enables a sustained loop-back performance of 8Mbps. Notably, NM7010A-LF offers the most economical, complete Ethernet-I2C interface available, and can be used as a finished, drop-in component, ideal for rapidly developing Internet- enabled systems.
Visit http://www.saelig.com for more information on these products.
---

Dwyer Submersible Level Transmitter for Waste-Water Applications
The Mercoid Division of Dwyer Instruments is offering a new and robust submersible level transmitter, the PBLT2. The PBLT2 is manufactured for years of trouble free service in the harshest applications and is ideal for wastewater, sludge, and slurries. A large diameter 316 SS diaphragm is incorporated in the PBLT2 that is non-clogging and damage resistant to floating solids. The PBLT2 is designed to measure the height of liquid above its position in the tank, sump, or pit. Featured in the PBLT2 is a standoff plate so that the unit can be dropped to the bottom of the tank, lightning surge protection, and 0.25% accuracy. The cable is vented to atmosphere for barometric pressure compensation and can be bought in ETFE or polyurethane. The PBLT2 is perfectly suited for level monitoring in lift stations and industrial sumps. Visit www.dwyer.com for more information.
---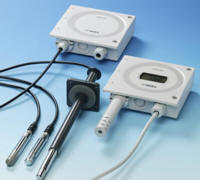 New Humidity and Temperature Transmitter from Vaisala
Vaisala introduces the new Vaisala HUMICAP® Humidity and Temperature Transmitter Series HMT100, developed for humidity and temperature monitoring in demanding HVAC applications. As new features, the HMT100 has two-wire loop powered or three-wire voltage output configurations, an interchangeable probe, and an optional display.
Vaisala HUMICAP® products have been the market leaders in industrial and meteorological humidity measurements for over a decade. The new HMT100 series allows for four different configurations: to show relative humidity only, dewpoint only, or relative humidity and temperature, or dewpoint and temperature. The transmitter is available with one or two analog output channels depending on the selected parameters. Typical applications for the Vaisala HUMICAP® Humidity and Temperature Transmitter Series HMT100 include stability rooms, HVAC, livestock farms, greenhouses, indoor swimming pools, and outdoor applications.
Visit www.vaisala.com for further information.
---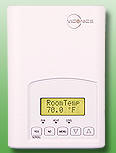 Viconics Inc. - Communicating/Non-Communicating Roof-Top/Heat-pump thermostat
Replaces: T7600 series thermostat family
Viconics Inc. Montreal, Canada is pleased to announce the introduction of the VT7600 series room thermostat. These thermostats are designed for the control of stand-alone, constant volume staged equipment including packaged roof top units, and heat pumps. The VT7600 series are available with or without local scheduling (7 day 2/4 event programming). All models of the VT7600 family are available in either stand-alone , BACnet® Ms/Tp or Echelon-Lontalk® communicating versions.
Visit www.viconics.com for more information.
---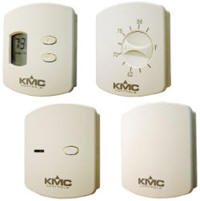 KMC Controls Develops Highly Stylized Room Temperature Sensors
In response to market demand for stylish yet economical room sensors, KMC Controls introduced the STE-6000 series of room temperature sensors. Two new model numbers STE–6015 and STE–6016 have been added to complete the comprehensive series. These STE-6000 series sensors are available in a variety of temperature and humidity configurations. Whether you need an LCD display of current conditions or an inconspicuous room sensor, KMC provides industry leading accuracy in a compact design.
For more information about the STE–6000 Series room temperature sensors and other KMC products visit www.kmccontrols.com


---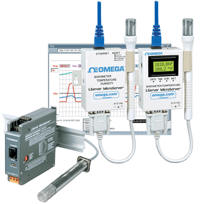 OMEGA iServer - View Barometric Pressure, Temperature + Humidity with a Web Browser
The OMEGA® iBTHX transmitter let's you monitor and record Barometric Pressure, Temperature, Relative Humidity and Dew Point over an Ethernet network or the Internet with no special software except a Web Browser.
The OMEGA iBTHX serves Active Web Pages to display real time readings, display charts of barometric pressure, temperature and humidity, or log data in standard data formats for use in a spreadsheet or data acquisition program such as Excel or Visual Basic.
For more information visit http://www.omega.com/iseries/iBTHX.htm
---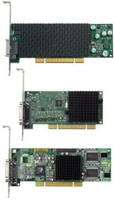 Matrox announces EpicA series graphics cards for thin clients
Montreal, Canada, June 20, 2006 -- Matrox Graphics announces EpicA series dual- and quad-display graphics cards designed for thin clients and other mission-critical systems. EpicA products have new, innovative, server-based software from Matrox to manage multi-display configurations in remote sessions. The cards also feature support for 2 or 4 digital and analog monitors at a time, small form factors, low power consumption, passive (fanless) cooling, and PCI bus interfaces.
For more information on EpicA and other Matrox products, see http://www.matrox.com/mga/workstation/3dws/products/home.cfm
---
Low Cost, Ultra Compact Data Logger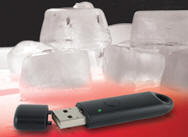 The EL-USB-LITE data logger, designed and manufactured by Lascar Electronics, is a small, low-cost temperature data logger weighing just 3oz and measuring only 2.7 x 0.7 x 0.9". Although the EL-USB-LITE is small, it delivers the essential features found on many larger, more expensive data loggers - measuring ambient temperatures from -10ºC to +50ºC at a sample rate of once every thirty minutes and storing over 4,000 readings.
Setup and download of the data logger is simple: plug directly into an available USB port and open the Windows software which is supplied with the data logger. From here users can assign the logger name, set high and low alarm levels, and determine the logging start time. At any time during the logging period an integral push button will prompt a bi-color LED to indicate the alarm status. Once the study is completed, data is downloaded as a text file. This can be graphed within the supplied software or exported to a spreadsheet for further analysis. A coin cell is supplied with the EL-USB-LITE and will provide a battery life of over one month's continuous use.
Visit http://www.lascar.co.uk/ for more information.
---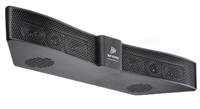 Brown Innovations - Digital Signage Speaker
The Maestro sits flush under a flat panel screen and is only 3" tall. Its built in "smart volume" amplifier is like having a full time employee adjusting the volume throughout the day. When the environment grows louder the volume automatically increases. When it gets quieter, the levels decrease. It has built in microprocessors allowing all the functions to be controlled remotely. You can update any aspect of the audio including the min/max volume, amount of focus, response speed, etc.
For more information visit http://www.browninnovations.com/
---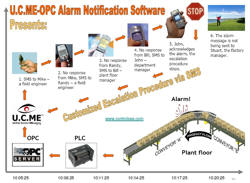 OPC Alarm Notification Software Enables Customized Escalation Procedure via SMS
Tel-Aviv Israel June 3rd 2006 – U.C.ME-OPC™ software version 6.0 offers alarm notification using escalation procedures using SMS technology.
Instead of sending the alarm message to all recipients, U.C.ME-OPC™ enables automation administrators to notify the recipients in a pre-defined escalation procedure. For example: Send the alarm SMS to the technician, if the alarm is not acknowledged by the technician within 5 minutes, send the alarm SMS to the maintenance manager, if the alarm is not acknowledged within additional 5 minutes, send the alarm to the plant manager. Using the product's bidirectional SMS communication, recipients may acknowledge alarms using a simple SMS sent from their cell phones back to U.C.ME-OPC™. This acknowledgement will terminate the alarm notification process.
Visit www.controlsee.com for more information.
---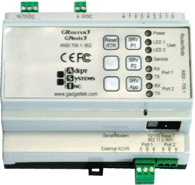 Adept Systems Inc - GRouter3 WiFi Range Testing Complete
One of the first questions potential users of the GR3 Wifi router ask is, "What range can I get?" The easy answer is it depends. Which is true, but not very informative. Wireless range depends on a lot of factors so it is difficult to predict with high accuracy what range a given application will achieve. With some forethought and understanding, however, it is straightforward to predict if range is likely to be a problem.
The range that a given setup can obtain is largely determined by the transmit power, receiver sensitivity, and the transmission path losses or gains due to connectors, cables, and antennas and obstructions. Other important external factors influencing range are antenna height, wireless noise, and interference.
Visit http://www.adeptsystemsinc.com/ for more information.
---

NEW! Series MS Low Cost BAS Transmitter Loaded with Features
Dwyer Instruments, Inc., the preferred source for your complete range of practical and affordable instrumentation, is announcing the release of its New MS Series MagnesenseTM Differential Pressure Transmitter. The Series MS MagnesenseTM Differential Pressure Transmitter is the ideal instrument for pressure and air velocity applications. The MS provides a 4-20 mA or optional 0-10 V process output over selectable ranges of 0.1", 0.25" and 0.5" w.c., which can be converted to metric ranges of Pascal. The Series MS offers ±1% or ±2% accuracy, depending upon the range, at a surprisingly low cost.
NEW! Series RH Humidity or Humidity/Temperature Transmitter For Demanding Applications

The new Series RH Humidity or Humidity/Temperature Transmitter provides a stable, repeatable, and accurate means of measuring humidity only or humidity and temperature in the harshest of environments. The polymer capacitance sensor is not affected by condensation, fog, high humidity, or contaminants. The state of the art sensor is designed for years of calibration-free service. The Series RH is a two-wire transmitter with a 4-20 mA loop powered output. The humidity/temperature version provides dual 4-20 mA output signals with an accuracy of ±2% RH and ±0.9°F @ 72°F (±0.3°C @ 25°C). Outside Air (OSA) model is also available.
For more information on either product visit www.dwyer-inst.com
---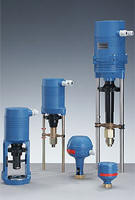 New Actuator range extended
New high torque Actuators up to 15kN have been added to Hora's intelligent linear actuator range. Hora linear actuators adapt quickly and easily to all kinds of plant configurations.
A wide range of adjustment capabilities make these actuators suitable for universal application. The actuators also offer extensive adaptation possibilities for combining with a very wide range of valve makes and provide economic advantages in installation, commissioning and stock holding.
Further information on-line at: http://www.slaneydirect.co.uk/
---
---


[Click Banner To Learn More]
[Home Page] [The Automator] [About] [Subscribe ] [Contact Us]