---
Distech Controls' ECL-600 Series LONMARK® Certified Static Programmable Device Now Available
First Ever Controller to Achieve this Certification Provides System Integrators Advanced Flexibility and Connectivity Options

June 30, 2011, Montreal, Quebec, Canada – After establishing itself as a leader in the building automation and energy management industry with its LONWORKS® ECC and ECP Series of controllers, Distech Controls announced today that its New Standard in LONWORKS offering is now shipping.

The ECL-600 Series are microprocessor-based programmable controllers designed to control a wide variety of HVAC systems such as air handling units, chillers, boilers, pumps, cooling towers, and central plant applications, and can be custom programmed using EC-gfxProgram graphical programming interface. The Series' two models – the ECL-600 and ECL-610 – use the LonTalk® communication protocol, and are the first controllers to obtain the LONMARK Static Programmable Device certification.

The ECL-600 Series is an advancement for LONWORKS controllers in its ability to meet, and exceed, the growing demand for greater flexibility and adaptability of applications. The Series features a robust hardware platform and is fully programmable using Distech Controls' leading EC-gfxProgram graphical programming interface, providing increased efficiency and options for system design, installation, service, and maintenance. The ECx-400 Series I/O extension modules extend the capacity of the ECL-600 Series to a total of 76 points, allowing the controllers to meet most medium to large application requirements.

"Congratulations to Distech Controls for producing the very first LONMARK Certified Static Programmable Controller," says Ron Bernstein, Executive Director of LONMARK International. "The development and implementation of this new profile will enable integrators more flexibility and ensure interoperability to a whole new class of field level devices. Distech Controls has worked closely with the LONMARK team to ensure this new profile type meets the needs of users and integrators and we are proud to have Distech Controls represented on our Board of Directors."

In addition, with the introduction of this new Series, Distech Controls now offers a common hardware and software platform for BACnet and LONWORKS. Distech Controls also introduced EC-gfxProgram 4.0, its powerful and intuitive common graphical programming interface for Distech Controls' LONWORKS and BACnet controllers. A true open system offering, EC-gfxProgram 4.0 significantly increases productivity at installation, reduces overall project cost, and allows for optimized equipment operation.

"Distech Controls' ECL-600 Series products are the next generation of LONWORKS DDC controllers," comments Ahmed Hirani, Executive Vice President of Sales at Distech Controls, and Sponsor Representative on LONMARK's Board of Directors. "This latest release further demonstrates our commitment to delivering the most innovative products in the industry and to the development of the LONWORKS 2.0 platform."

For additional information concerning the ECL-600 and ECx-400 Series of controllers, visit the Distech Controls website here. To learn more about EC-gfxProgram 4.0 common graphical programming interface, visit the Distech Controls website here.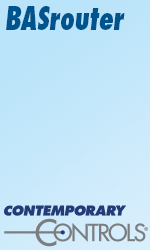 About Distech Controls
A global leader in building automation and energy management solutions, Distech Controls designs and manufactures systems and products based on open and interoperable communication protocols. The company offers leading-edge technology for energy efficiency and comfort, and provides innovative solutions that lower installation and maintenance costs. Established in Canada in 1995, Distech Controls has business divisions and service offices across North America as well as in Europe, Asia, and the Middle East. To learn more, please visit www.distech-controls.com.

About LONMARK
LONMARK International (LMI) is a global membership organization created to promote and advance the business of efficient and effective integration of open, multi-vendor control systems utilizing ISO/IEC 14908-1 and related standards.

Members of LONMARK International include the world's leading manufacturers, integrators and users of control systems in a variety of industries, including building automation, security, lighting, elevators/lifts, mass transit, semiconductor-manufacturing equipment, home/consumer appliances, sunblinds, energy metering, construction, commercial real estate, and industrial automation.

Since its inception in 1994 and new corporate structure in 2003, LONMARK International has become a major driving force in the establishment of interoperable guidelines and is committed to educating the market on the value of open, interoperable systems by providing tools, resources, and support for its members and their markets. LONMARK Affiliates span the globe with local presence in the Americas, Asia, and Europe.

The LONMARK brand is one of the most recognized marks of excellence in the world. Today, our services extend to helping member companies achieve global acceptance, whether for open-system devices, programmable systems, or quality processes. Manufacturers' products certified by LONMARK International benefit by the organization's undisputed reputation as the leader in the promotion and advancement of open control systems.

For additional information, please visit www.lonmark.org.


---


[Click Banner To Learn More]
[Home Page] [The Automator] [About] [Subscribe ] [Contact Us]