---
BACnet Technology Leads to Continuous Improvement at Headway Technologies

KMC Controls Helps to Optimize the Performance of Mechanical Systems

Atlanta, GA (PRWeb) – June 28, 2013 -- Another BACnet success story is now available to advise and guide the building automation community. Headway Technologies, manufacturers, in clean room fashion, aluminum titanium carbide wafers consisting of thousands to read/write heads used in computer hard drives. BACnet International Gold Member KMC Controls helped Headway Technologies to achieve a 10% reduction in energy usage without disrupting the fabrication process at their 115,000 sq. ft. facility in Milpitas, California. The manufacturing of aluminum titanium carbide wafers used in computer hard drives requires specific standards. Any deviation from the standards can cause a shutdown and affect multiple layers of the wafer and millions of dollars in losses.

"Return on Investment occurred in 10 months," says Dan Burris, Senior Facility Manager at Headway Technologies. "On the electrical side we went from a continuous demand of 5.4 megawatts to 4.7 megawatts. In fact, we've seen it as low as 4.4 megawatts. That's enough to power 128 homes per year and easily surpasses our 10% reduction goal."

"It is exciting to see BACnet adopted and implemented to reduce the energy usage of existing manufacturing facilities," stated Andy McMillan, President of BACnet International. "BACnet has great potential for successful implementation in similar manufacturing environments."

BACnet International has nearly 40 Success Stories – case studies that feature successful implementation of BACnet. To read the full Story on Headway Technologies please visit http://www.bacnetinternational.net/success/stories.php?sid=54. To see all BACnet Success Stories, please visit http://www.bacnetinternational.net/success/stories.php.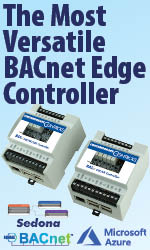 About BACnet International
BACnet International is an industry association that facilitates the successful use of the BACnet protocol in building automation and control systems through interoperability testing, educational programs and promotional activities. The BACnet standard was developed by the American Society of Heating, Refrigerating and Air-Conditioning Engineers (ASHRAE) and has been made publicly available so that manufacturers can create interoperable systems of products. BACnet International complements the work of the ASHRAE standards committee and BACnet-related interest groups around the world. BACnet International members include building owners, consulting engineers and facility managers, as well as companies involved in the design, manufacturing, installation, commissioning and maintenance of control equipment that uses BACnet for communication. For more information, please visit www.bacnetinternational.org.


---


[Click Banner To Learn More]
[Home Page] [The Automator] [About] [Subscribe ] [Contact Us]