---
QA Graphics Introduces AcquiSuite Integration for Energy Dashboard

QA Graphics, Iowa-based interactive design firm, is pleased to announce the release of 3.3.1 of QA Graphics' Bridge Data Manager, an integral part of the award-winning Energy Efficiency Education Dashboard. With this release comes native integration with the Obvious AcquiSuite devices.

The Energy Efficiency Education Dashboard (EEED) is an interactive application used to create occupant awareness through the display of building performance data, demonstrations of sustainable building features, tips on how to be efficient and other educational features. The Bridge Data Manager acts as the central communication hub for this solution. Now with the release of 3.3.1 the Bridge Data Manager, comes native integration with the Obvious AcquiSuite devices.

Any data request made is managed by the Bridge Data Manager, which gathers information from the AcquiSuite A8812 device through a configurable port on the network. Available through the web services from AcquiSuite, a simple XML request can be made from the Data Manager through an added gateway. The Bridge Data Manager supports multiple gateway integration and allows for multiple AcquiSuite devices to be added. Once this data becomes available to the Data Manager, it can be provided for the Energy Efficiency Education Dashboard application to display metered data throughout a facility or campus. The data can be displayed through a variety of educational graphs, comparison charts, leaderboards, etc., to educate viewers about building performance and provide insight on how everyone's actions impact building efficiency.

Features of the Bridge Data manager include:
• Built on the Microsoft .NET Framework to run as a Windows Service
• Data logs to standard Microsoft SQL database for open but secure connectivity
• Deploy in any network configuration or in the cloud
• Built in web server for remote administration
• Multi-user password protected security
• Intuitive user interface
• Rapid configuration of multiple gateways
• Log data from virtually any data source
• Built-in intelligence that recognizes new data points
• Configurable polling and logging intervals
• Importing of historical trend data
• Event log for viewing messages, errors, and warnings to aid in troubleshooting
• Email notifications for downtime
• Export data to CSV for reporting or connect directly through Microsoft SQL Server reporting services add-in for SharePoint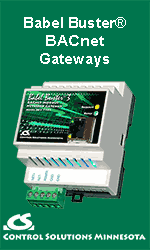 This product works with any BAS communication protocol. In addition to this new native integration with AcquiSuite, QA Graphics has developed streamlined solutions for the Niagara AX® and Johnson Controls Metasys® building automation systems. For other devices and meters, QA Graphics provides a gateway device.

QA Graphics develops custom Energy Efficiency Education Dashboards for organizations of all types. The solution can be deployed via touch screens or kiosks onsite, on the web, and on mobile devices. A variety of features may be added, including news feeds, event lists, menus, area attractions, sponsor information, school curriculum and other custom solutions allowing the dashboard to be used for all display needs. Learn more at www.qagraphics.com/eeed.

About QA Graphics
QA Graphics is the leader in the building automation and green building industries, providing HVAC graphic development services, system graphics, floor plan graphics, and energy dashboards to help organizations educate occupants about building performance and sustainability. The company also specializes in interactive applications, 3D design and animation, mobile app development and other multimedia. Visit http://www.qagraphics.com to learn more.

---


[Click Banner To Learn More]
[Home Page] [The Automator] [About] [Subscribe ] [Contact Us]