---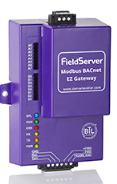 FieldServer EZ Gateway Modbus to BACnet – the quick and easy Modbus to BACnet solution

The EZ Gateway Modbus to BACnet (FS-EZX-MOD-BAC) is an easy-to-use, high-performance building and industrial automation protocol gateway for integrators to interface Modbus devices, such as power meters, flow meters, and other Modbus-based controllers, to BACnet networks in commercial buildings, campuses, and industrial facilities. The EZ Gateway supports up to 500 data points and can connect various flavors of Modbus to BACnet, including Modbus RTU, Modbus TCP/IP, BACnet/IP, and BACnet MS/TP. Fast commissioning time through the use of EZ Profiles and low ongoing management and operation costs with DeviceProxy ™.

For more information visit http://www.sierramonitor.com/connect/all-protocol-gateway-products/fieldserver-ez-modbus-bacnet


---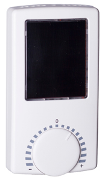 Resonate Temperature Sensor
Echoflex Solutions introduces the Resonate Temperature Sensor (RTS). The RTS is a wall mount, solar powered wireless temperature sensor with options for set point, humidity and fan speed. The temperature sensor works in conjunction with Echoflex wireless thermostats, controllers and sensors for a total room control system. The RTS operates in light conditions as low as 15 lux (1.5 f.c.) and when fully charged, for over 150 hours in total darkness. Additional
temperature sensors may be paired to offer averaging temperature control for large spaces.

For more information visit http://www.echoflexsolutions.com

---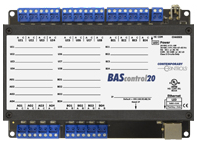 BAScontrol20 Firmware Version 3.1 Released

Contemporary Controls recently released firmware version 3.1 for the BAScontrol20 Sedona Open Unitary Controller. Built on the Sedona Framework, Contemporary Controls has developed more than 100 custom Sedona components which complement the standard Tridium-developed Sedona 1.2 components that reside within the device. Unique to the BAScontrol20 are 48 Web Components that allow wire sheet data to be read and written from a common web browser. With firmware 3.1, virtual points - which allow wire sheet data to be read and written from a BACnet client - have been expanded to 24.

For more information visit the product BAScontrol20 product page.


---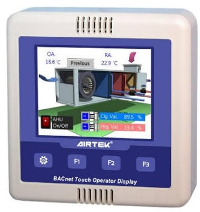 First BACnet B-OD listed device in the world
Taiwan Airtekgroup proudly present the new launch of the BACnet Operator Display Panel. The NVT series is a BACnet Operator Display Panel for BACnet systems. It connects directly to the MS/TP LAN of a BACnet system and can be wall-mounted or panel-mounted. Its intuitive touch screen TFT LCD can display animation and full color graphics, enable access to real time data and energy management feature. The operator may use the touch screen to monitor, control and set values. The NVT series provides a low-cost alternative to BACnet operator terminal architecture and integrates seamlessly with your BACnet system.
For more information visit http://www.airtekgroup.com/

---
Softing TechInfo: dataFEED OPC Suite with TIA Portal Import
Softing's new dataFEED OPC Suite is a collection of OPC Servers and OPC Middleware products delivered as a software solution. The intuitive user interface is designed to make it exceptionally easy for control engineers and maintenance engineers to quickly configure reliable OPC communication links.
All OPC components work seamlessly together to ensure high-performance and reliability.
For more information visit http://industrial.softing.com/en/products/software/opc-suite-servers-middleware.html

---

Wireless Sensors Real Time Wet Bulb Sensing Without Wires
The TEHU-2121-N is housed in a rugged NEMA 4X housing suitable for outdoor locations and provides the real time sensor inputs to calculate wet bulb temperature. Record, trend, alarm or feed wet bulb data into an automation system with SNMP. Modbus TCP or other standard protocols. Our powerful gateway provides the psychrometric calculations to make it all happen.
For more information visit http://www.wirelesssensors.com/

---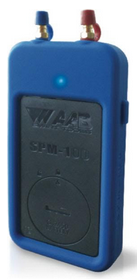 AAB Smart Tools Launches Innovative Tools for the HVAC Industry
AAB Smart Tools, a dynamic new force in the HVAC industry, has launched several new mobile phone-based tools and related apps that are designed to utilize the robust power of mobile devices to help make HVAC technicians' jobs easier and more efficient. After much research into the types of products that were most needed and could be developed and manufactured as a convenient and affordable solution, AAB Smart Tools has developed a platform to bring smart technology-based tools to the HVAC industry for the first time.

For more information, please visit www.AABsmart.com
---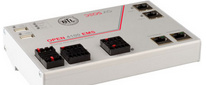 Energy management station
The open 4100 EMS (ENERGY MANAGEMENT STATION) is a controller for the connection to Ethernet systems in large installations. The controller is designed for control and regulation of building services. With the range of connectable Open I/O modules, the scalable controllers can be extended at any time according to individual project requirements. It comes with BACnet protocol according to the ANSI/ASHRAE standard, up to 4000 BACnet objects, and testing according to DIN EN 16484-6 and the BTL/WSP lab test plan. It was certified by the BACnet Interest Group Europe and is BTL listed. The product is suitable for medium to large-scale projects.
For more information visit http://www.deos-ag.com/


---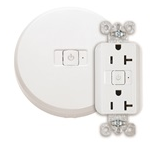 WattStopper Extends Occupancy Sensor Control to Plug Loads for Energy Savings and Code Compliance

Extending occupancy-based lighting control to plug loads, the WRC line of products helps lighting control professionals meet new ASHRAE 90.1 and California Title 24 requirements to switch off selected receptacles. The solution also minimizes costs for retrofits and new construction as it utilizes RF technology and works with existing line voltage wiring. The products are ideal in a variety of applications including commercial offices, classrooms, conference rooms, copy rooms, and any other space that requires a simple to implement plug load control solution.
For more information visit http://www.wattstopper.com/


---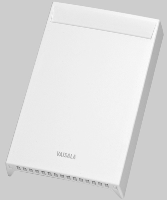 Vaisala Releases GMW83 Carbon Dioxide, Temperature, and Humidity Transmitters for Demand Controlled Ventilation

Vaisala has released six new models in the GMW80 CARBOCAP® Carbon Dioxide, Temperature, and Humidity Transmitter series. The new GMW83 suite of transmitters complement the current GMW80 product range, fulfilling customer requirements for standard demand-controlled ventilation and for spaces occupied 24/7. These transmitters are used in a variety of locations, including office buildings, hospitals, and factories by building automation and integrator companies in order to improve the efficiency of heating, ventilation, and air conditioning.

For more information visit http://www.vaisala.com/GMW80
---
Introducing VFace - Ultimate VRF Interface for All Brands

VFace is a stand alone 7" touch panel interface for VRF systems which gives you seamless integration to Home Automation and Building Management Systems. VFace supports various brands of VRF systems and provides end-users with full control of all indoor and outdoor units. VFace is a plug and play device which is based on Android OS, no need computer to setup. It has;
- Embedded Web Server
- Computer and Mobile Responsive Design Web Interface
- Modbus RTU/TCP for BMS Integration
- KNX TP for Home Automation Integration
- Weekly Schedule Function
- User Access Definitons
- Cloud (Monitoring and Scenario)
- Direct Access to VRF Bus

You can check details via our web site: www.vface.eu


---
---


[Click Banner To Learn More]
[Home Page] [The Automator] [About] [Subscribe ] [Contact Us]