---
LOYTEC Input Devices achieve DALI-2 certification

LOYTEC electronics is proud to announce that its LDALI-BM2 Pushbutton Couplers and its LDALI-MS2 Multi-Sensors successfully passed the DALI-2 certification process. LOYTEC is one of the first companies in the world and the first supplier in Europe to successfully implement the recently available DALI-2 certification for DALI2 input devices.
The DALI-2 certification is run by the Digital Illumination Interface Alliance (DiiA), an open consortium of lighting companies that promotes the global adoption of digital lighting-control systems using DALI technology. Only certified products can carry the DALI-2 logo. The DALI-2 certification brings the promise of significantly improved interoperability as well as additional functionality compared with current DALI (version 1) systems in the market.

Hans-Jörg Schweinzer, CEO of LOYTEC electronics, states: "We are thrilled to be among the first companies in the industry to have DALI-2 certified devices. Once again LOYTEC proves its strong dedication to be a leading edge technology provider in building automation."

DALI-2 certified devices are listed in the product database available on the DiiA web site. As more DALI-2 certified products become available planers and system integrators will be able to choose from a wide range of products to deliver a completeDALI-2 lighting system.
About DiiA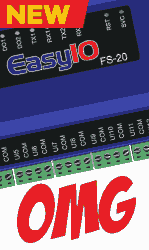 The Digital Illumination Interface Alliance (DiiA) is an open, global consortium of lighting companies that aims to grow the market for lighting-control solutions based on Digital Addressable Lighting Interface (DALI) technology. DiiA was established in response to industry requests for an independently-verified DALI-2 certification program that covers the functionality specified in version 2 of the IEC 62386 family of international standards. DALI-2 certification brings the promise of significantly improved interoperability and additional functionality compared with current DALI systems in the market. DiiA is a member program of the IEEE Industry Standards and Technology Organization (ISTO). For more information, see
www.digitalilluminationinterface.org

---


[Click Banner To Learn More]
[Home Page] [The Automator] [About] [Subscribe ] [Contact Us]