---
LOYTEC presents the new high-quality Glass L-VIS Touch Panels
Frameless glass front and capacitive touch

L-VIS, the LOYTEC product family of L-VIS Touch Panels is expanded with a range of new devices. Completely new are the glass L-VIS Touch Panels with 7" and 15". The glass surface provides a high-quality, modern appearance. The capacitive touch sensor allows for operation without any pressure on the surface – as we are accustomed to from smartphones or tablets. Because of the glass surface without any corners and edges, the glass L-VIS is perfectly suitable for use in clean rooms or hygienically demanding areas such as care facilities or hospitals. Glass fronts for 15" devices (LVIS-3ME15-Gx) can be ordered in silver, black, and white. The 7" touch panels (LVIS-3ME7-Gx) are available in silver and black.
In addition, this new generation of devices brings along the merging of BACnet and LON models that have been available separately to date. The devices are equipped with an RS-485 port for BACnet MS/TP and a LonMark TP/FT-10 port, for connection to BACnet and LON networks. Via RS-485, either BACnet MS/TP or Modbus RTU can be connected. BACnet/IP, LonMark IP852, and Modbus TCP are supported via Ethernet/IP. The devices are optically and mechanically identical with the previous devices and the software is backward compatible with both existing BACnet and LON projects. The merging of BACnet and LON models with simultaneous backward compatibility with existing projects simplifies many processes, from purchase, storage, and configuration, to maintenance of the devices in the field. The devices can also be used as drop-in substitute for current installations. Another new feature is the support of WLAN by connecting the L-VIS Touch Panel to the LWAN-800 Interface
About LOYTEC: Founded in 1999, LOYTEC electronics GmbH today ranks among the leading European providers of intelligent network infrastructure products for building automation. There, LOYTEC exclusively relies on open and standardized communication protocols.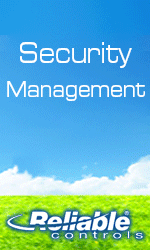 LOYTEC develops, manufactures, and distributes router and gateway solutions, embedded Automation Servers and I/O Controllers, the room automation system L-ROC, DALI lighting controls, and also graphical user interfaces in the form of touch panels or via PCs or mobile devices. The primary focus is on network solutions for buildings and real estate. Methods provided are a secure remote access through the internet, notification, and of course functions for data acquisition, information visualization, and data storage.
For more information visit www.loytec.com
---


[Click Banner To Learn More]
[Home Page] [The Automator] [About] [Subscribe ] [Contact Us]