---
Niagara Summit Returns to New Orleans for 2018 Summit, April 15-17

With the 2018 Niagara Summit fast approaching, we checked in with Tridium president and general manager Jim Bland to see what is in store for this edition of the bi-annual conference.

What is the Niagara Summit and when and where is it taking place?
The Niagara Summit is the premier industry showcase for connected devices and systems. Developers, programmers, building engineers, end users and executives come together to share the latest innovations and breakthroughs, discuss business and technology trends that are shaping the Internet of Things, and learn more about advancements to the Niagara Framework. This year, the Niagara Summit is returning to the Hyatt Regency in New Orleans and it runs from April 15-17.

What can attendees expect from this year's Summit?
This year we have three packed days of talks, discussions, trade show and networking events, kicking off with the Developer Bootcamp on Sunday followed by a networking and welcome event. Monday and Tuesday both start off with breakfast and a trade show, then a general session keynote, followed by breakout sessions along three separate attendee tracks: Business, Applications, and Technology Trends. We also have a very exciting speaker coming in to give the day two keynote, and we'll have more information about that coming soon.

Tell me more about the developer bootcamp.
The Developer Bootcamp will focus on informing technology leaders and software engineers in the Niagara Community about how the Niagara Framework can be applied and extended to meet the needs of custom, device-centric applications. Breakout sessions will cover everything from Niagara developer basics and driver development to developing mobile application for Niagara. The bootcamp will also highlight Niagara 4, the next generation of the Niagara Framework, and the impact that the major new features of Niagara 4 will have on Niagara developers.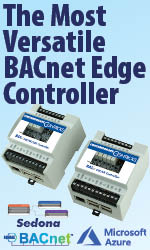 Why should readers attend this year's Niagara Summit?
I think there are four really compelling reasons that you should think about attending the Niagara summit this year. The first is that we're going to demonstrate our Niagara edge solution. We think the Niagara Community is going to really like what we have coming for the edge. The second is we are rolling out cloud solutions and we have a brand new, exciting cloud solution that I think is worth attending to see. Third, we are rolling out some really compelling new features in Niagara core, and those will also be demonstrated. And, really, the most important reason is that this is, as I mentioned, the largest building automation open system summit in the world and it's a great opportunity to meet and network with Niagara developers from across the globe.

What kind of speakers can we expect during this year's sessions?
We have a fantastic lineup of speakers so far, representing companies from across the Niagara landscape. Highlights include Larry Andriunas from Kodaro, Greg Barnes from Activelogix, Mary Boelk and Steve Michals from Johnson Controls, Scott Cochrane from Cochrane Supply and Brian Gilmore from Splunk. We also have a whole range of Tridium engineers who will present sessions on everything from security to tagging to common Niagara pitfalls. You can find a full listing of speakers and breakout sessions on the Niagara Summit website at http://niagarasummit.com.

Where can we find more information?
To find more information and to register for the Summit, you can visit http://niagarasummit.com.


---


[Click Banner To Learn More]
[Home Page] [The Automator] [About] [Subscribe ] [Contact Us]