---
ALEXANDRE LENEVEU TAKES REINS OF LEADING HVAC DEVICE MANUFACTURING COMPANY
(Vaudreuil-Dorion, Friday, March 16, 2018) – Spartan Peripheral Devices is proud to announce that Alexandre Leneveu, has recently been named its President and Chief Executive Officer. Company founder and former CEO, Paul Balazovjech, is proud to pass the torch to Leneveu, whom he brought on board over twelve years ago to manage operations.

"We have been discussing Spartan's succession plan for the last five years or so, as I began to look towards retirement," explains Balazovjech. "Alexandre has been with us for over a decade and has contributed to the company's impressive growth. He understands our business and he is passionate about what we do. He was a natural fit to take the lead," adds Balazovjech.

"I am truly honored by the vote of confidence I have received and am optimistic about the growth we can achieve in the years ahead within the HVAC industry," says the new President and CEO, Alexandre Leneveu.

LENEVEU'S LEADERSHIP CONTRIBUTIONS

With an avid interest in science and technology, Alexandre Leneveu, who studied geochemistry and had a solid background in computer science, acquired experience in various fields early in his career. During these formative years, he refined his ability to identify engineering or business-related solutions in the face of diverse challenges. He credits these initial experiences for his steady ascension at Spartan Peripheral Devices. Most notably, his work in the pulp and paper industry enabled him to develop a concrete understanding of control equipment. He transposed this important industrial knowledge and experience to the HVAC commercial control side, specifically the Spartan product line.

Since Alexandre Leneveu's arrival at Spartan Peripheral Devices over twelve years ago, sales have tripled. Under his leadership, the company established procedures and implemented solutions to streamline production, enabling it to compete on the world stage with established players in the HVAC industry. The company also supplies these same major industry players with HVAC components, attesting to the quality of its products.

He is particularly proud of his role in introducing a wireless actuator solution in 2009, making Spartan Peripheral Devices the first in the industry to accomplish this. When promoted to VP Operations and managing partner in 2008, he ventured further into business development, contributing to product line selection and market orientation decisions. By 2013, Spartan Peripheral Devices had developed a series of tailored solutions and custom products allowing it to enter the original equipment manufacturing (OEM) market which further propelled its growth.

CONTINUITY AND GROWTH THROUGH TRANSITION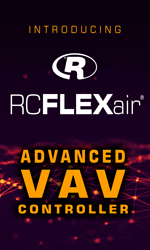 Despite the leadership transition, Spartan Peripheral Devices promises continuity and growth. The company, based in Vaudreuil-Dorion, Québec, has a tightknit team focused on North American and international sales, in-house mechanical design, research and development, assembly and quality control. Anywhere between 50 to 70 local subcontractors are dedicated to Spartan Peripheral Devices and produce a range of raw parts from moulding, casting, 3-D printing to electronic boards. "Being able to keep our local staff and continue to work with our collaborators is fundamental to ensuring stability in an industry that cannot sustain drastic change," explains Leneveu, who adds that the invaluable knowledge and expertise of the Spartan team will help the company grow its existing product lines. Moreover, former CEO Paul Balazovjech, will stay for a brief period as a product development manager and continue to offer advice to his successor. "I consider Paul a mentor, so it is without say, that his advice is and will continue to be welcome," humbly states Leneveu.

The newly named CEO plans on staying the course over the next few years with regards to the company's business model while focusing on increasing price competitiveness. Spartan Peripheral Devices, unlike others in the industry who operate under a just-in-time business model, prides itself on being able to instantly cater to customer needs by maintaining a broad inventory. This competitive advantage is part of its success story. The other key component of its ability to thrive in a business where few players are on the field, is its capacity to offer a complete solution unlike competing manufacturers; Spartan Peripheral Devices is the only manufacturer of both valves and actuators in North America.

In a five-year perspective, Leneveu aims to double the business. Relocating to new offices is also on the horizon as the company focuses on expanding its in-house product research and development.

Spartan Peripheral Devices manufactures products for the heating, ventilation and air conditioning (HVAC) industry and has also developed a series of tailored solutions and custom products allowing it to position itself in the original equipment manufacturing (OEM) market.
For more information visit http://www.spartan-pd.com


---


[Click Banner To Learn More]
[Home Page] [The Automator] [About] [Subscribe ] [Contact Us]