---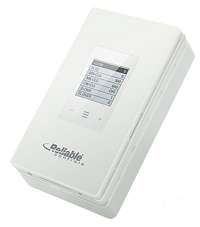 Reliable Controls releases the SETUP-Tool™
Reliable Controls is pleased to announce the official release of the SETUP-Tool.

The easy-to-use, handheld SETUP-Tool allows you to quickly calibrate airflow measurements on a MACH-ProAir™ or MACH-Air™ controller through the host controller's SMART-Net port.

SETUP-Tool applications:

The default configuration is a Flow tool that allows you to perform airflow calibration on MACH-ProAir and MACH-Air controllers.
You can also configure the SETUP-Tool as an MSet tool and set controller MS/TP communication parameters.
The Reliable Controls SETUP-Tool is self-powered from the connected controller and allows users to configure devices without a PC connection.

Backed by an industry-recognized 5-year warranty and a worldwide network of certified Authorized Dealers, the SETUP-Tool is ideal for in-field controller configuration.

Learn more about the SETUP-Tool: www.reliablecontrols.com/SETUP

---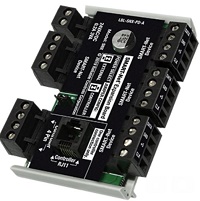 Reliable Controls releases the SMART-Net™ Expansion Board

The SMART-Net Expansion Board maximizes both the number of SMART-Sensor devices you can use and the combined SMART-Net cable length you can connect to a host controller. Powered by the host controller, the SMART-Net Expansion Board supplies power for up to 16 SMART-Sensor devices and does not repeat the SMART-Sensor signal, simplifying field wiring and providing a high degree of flexibility.

SMART-Net Expansion Board features:
RJ11 or four-pin port allows you to connect the SMART-Net Expansion Board to the host controller's SMART-Net port.
Optional external power, supplied by 24 VDC or 24 VAC connection, boosts the power for heavily loaded
SMART-Net networks.
Backed by an industry-recognized 5-year warranty and a worldwide network of certified Authorized Dealers, the SMART-Net Expansion Board is a versatile accessory to expand your connected devices in the field.

Learn more about the SMART-Net Expansion Board: www.reliablecontrols.com/SNX

---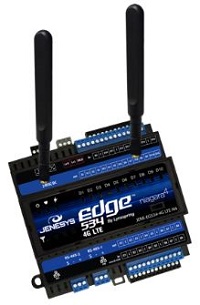 JENEsys Edge 534-4G LTE

We are expecting the market availability of our latest addition to the Lynxspring's Edge Enabled™ portfolio of embedded controllers, gateways and expansion modules is the JENEsys Edge 534-4G LTE later this month. This product brings together the JENEsys Edge 534, Niagara IP programmable controller with the addition of built-in 4G LTE cellular connectivity and capabilities through a dedicated secure VPN service from Verizon. This open, multi-purpose controller combines the full features and functionality of Niagara 4 with the capability and advantages of 4G LTE cellular.

The JENEsys Edge 534-4G LTE provides an efficient and easy way to implement on-demand, reliable 4G LTE cellular connectivity to enable remote access, control and management on an embedded, programmable controller. We have removed the barriers to prevent organizations from not being able to take advantage of cellular capabilities, remote monitoring and control through a building and equipment controller.
For more information see http://www.lynxspring.com
---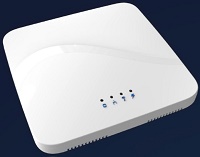 Magnum Innovations
Seamless BACnet/IP Integration

Magnum's EBOX Gateway seamlessly ties wireless EnOcean end devices into new or existing BACnet/IP building automation systems. Magnum's EnOcean to BACnet/IP gateway is an ideal device to bring in critical HVAC, plug load and lighting data into an existing or planned building automation system. Today, more and more end users and integrators want to leverage their trusted and existing building platform and include the addition of new systems, including lighting controls.

https://magnumenergysolutions.com/products
---
Make your Air Conditioner Smart

Cielo Smart Wi-Fi AC controllers make any type of air conditioner smart (Mini Splits, Portables & Window ACs). Control your new or old AC from anywhere through your smart phone. Enjoy the convenience and save money on your air conditioning.

Control your air conditioners and heat pumps through your mobile from anywhere, anytime
Automatically changes settings of your AC if room temperature goes above or falls below a pre-set value
Save energy by using weekly scheduling, intelligent triggers, geo-fencing, filter cleaning alerts & more

Cielo Smart Wi-Fi air conditioner controllers work with all types of ACs that have an IR remote control
(Window ACs, Mini Splits, Portable ACs)

For more information contact https://www.cielowigle.com/Contact-us

---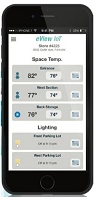 Engenuity Systems Launches eViewIoT™, A New Interent of things Platform for Facility Management
eViewIoTTM platform uses Internet of Things (IoT) architectures and principles to provide easy and cost-effective way to gain visibility into a facility.

CHANDLER, ARIZ. (February 2, 2020) – Engenuity Systems today announced the release of eViewIoTTM, a new facility management platform incorporating both cloud-based software and a family of supporting apps and hardware devices. The IoT platform provides visibility into an entire building's control systems through a series of informative and easy-to-use dashboards and reports on the eViewIoT app for iOSTM, AndroidTM, or any browser-enabled device. The platform includes energy analytics, site comparisons, trending, and alarming.

eViewIoT uses real-time and historical data from monitored equipment across all facilities and displays it in a variety of user-friendly dashboards. Users may search and compare energy usage, run times, and other information by location, floor, tenant, groups or types of equipment. With this level of visibility into their buildings, users can identify poorly and/or underperforming locations, equipment or areas that require a disproportionate amount maintenance or consume larger amounts of energy than expected - and make corrective actions.

For more information about eViewIoT, www.engenuity.com/eview-iot.html.


---
Announcing another Opto 22 breakthrough: groov RIO - remote I/O for the IIoT

groov RIO is the next step in transforming the industry for the industrial internet of things (IIoT), extending connected applications directly to traditional wired sensors and switches. The first unit in the groov RIO family, GRV-R7-MM1001-10, provides 8 multi-signal, multifunction, software-configurable channels and 2 Form C relays, supporting over 52,000 unique signal combinations: analog or discrete, input or output.

Combined with Power-over-Ethernet (PoE) and embedded tools for configuration, data processing, and publishing, groov RIO makes connecting I/O to cloud IoT platforms, control systems, and databases easier than ever before.

For more information visit support@opto22.com







---
---

[Click Banner To Learn More]
[Home Page] [The Automator] [About] [Subscribe ] [Contact Us]