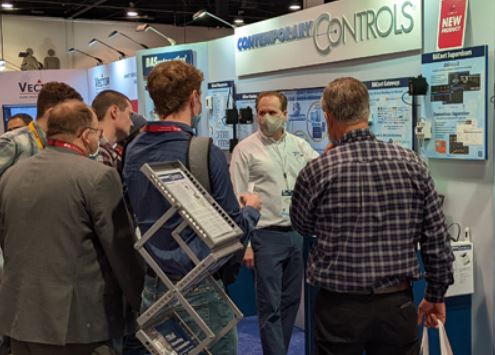 Contemporary Controls was one of more than 1,500 exhibitors at the busy AHR Expo 2022 in Las Vegas

.
"We really weren't sure what to expect from the show," said George Thomas, president of Contemporary Controls. "There have been incredible challenges with the shutdowns and now with supply chain issues. But as soon as we arrived, you could feel the energy. The mood at the show was very positive. It was a great opportunity to see not just our U.S. customers, but many of our international customers were able to attend as well."
AHR Expo 2022 also presented us with the opportunity to meet with our industry colleagues who are tackling the industry-wide supply chain challenges. Across the industry, there is a logistics backup and transportation shortage for receiving components and finished goods. Although we self-manufacture, many of the parts we use to build these products are on backlog. We discussed with colleagues the ways we are changing and improving our supply chain to meet these challenges. And it was good to remind customers we are doing everything we can to get them product as quickly as possible.
As always, our BASrouter was a crowd favorite at the show. It's a proven solution for versatile stand-alone routing between BACnet/IP, BACnet Ethernet, and BACnet MS/TP networks. But our more complex solutions, like our remote access and original design manufacturing, also received a lot of attention. Tradeshows like AHR Expo allow our customers to meet with our engineers and ask field-specific questions about our products in the moment, rather than looking for answers in a PDF. We're thankful we had the opportunity to attend the event, and we look forward to more in-person events in the future.
75F announced the newest addition to its suite of software-defined hardware, the 75F® HyperStat™
. Its eight onboard sensors and industry-leading connectivity make the device the most advanced thermostat and humidistat on the market today. The HyperStat senses temperature, humidity, CO₂, occupancy, light, sound, volatile organic compounds (VOCs), and optional particulate matter, making it an affordable one-stop device for WELL Building Standard support. Data from these sensors feed wirelessly into a real-time analytics package and inform 75F's built-in, Guideline 36-compliant control algorithms. Additionally, the HyperStat comes packed with four analog inputs, three analog outputs, and six relays that leverage software-defined control capabilities for all types of standalone multi-stage and modulating packaged HVAC equipment, from PTAC units to heat pumps and fan coils found in commercial buildings. It can also act as the local interface and sensing for VAV controllers.
Degree Controls Adds BACnet® Airflow Sensor
with Color Touch Screen to Its Suite of Airflow Monitors
Somfy, the world's largest manufacturer of motors for interior window coverings and exterior solar protections
, today announces
the launch of its range of Roll Up 28 V2 motors. Available with a built-in, rechargeable lithium-ion battery or external power options, this motor range is ideal for most mid-to-large window shadings providing seamless natural light management. These quieter and more compact motors are Somfy's latest addition to their existing range of WireFree Motors enabling comfort and convenience in the home via motorized window coverings.
ETC's new Garibaldi Pro is a transformational evolution of Echoflex commissioning software
. The new program is a faster, smarter, easier way for technicians to commission, configure, and monitor any Echoflex wireless lighting control installation. "Wireless lighting solutions offer time, money, and energy savings in new installations and renovations," says Paul Greening, Commercial & Industrial Market Manager for ETC. "The new Garibaldi Pro commissioning and monitoring software is a powerful way to customize Echoflex systems."
Outside Temperature Sensor
Model TSOSA07X Weatherproof enclosure, hinged & gasketed cover 10k ohm Type 3 NTC thermistor Temperature range -40F to 122F 5-95% Rh non-condensing
Building Automation Systems A to Z (BAS001) is designed to educate you on all facets of Building Automation Systems
.
If you are new to th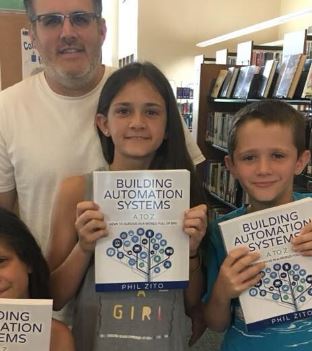 e industry or simply want to brush up on all things Building Automation, this program is for you.
https://www.linkedin.com/posts/ken-sinclair-8246965_hvac-hvaccontrols-bas-activity-6900490020596142080-jWzL