---
Updated June 1st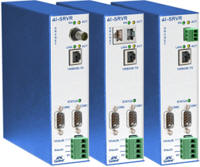 Contemporary Controls Marries ARCNET® and Ethernet Networks With its Newly Released AI-SRVR Product
Downers Grove, Illinois - Contemporary Controls continues to lead in the development of ARCNET and Ethernet communication products. With customer requirements as a focus, Contemporary Controls has designed the AI-SRVR that provides the ability to access an ARCNET network from an Ethernet network. The AI-SRVR functions as an ARCNET server by executing communication requests from an Ethernet client. This device will receive ARCNET packets and send the data to Ethernet clients or reverse the process for transmitted packets. This product has power connectors similar to the AI Series of hubs. It can be powered from a wide range of low-voltage AC or DC power sources and provisions exist for redundant power connections. Models are available for coaxial bus, twisted-pair bus, and EIA-485 AC- or DC-coupled networks.
For more information on the AI-SRVR read the data sheet at: http://www.arccontrol.com/pdf/TD0002000D.pdf
---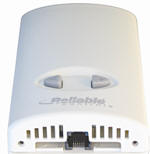 Reliable Controls® Releases the SPACE-Sensor™ Temperature
VICTORIA, BC -- The SPACE-Sensor™ Temperature (SST) line of products has been recently released. The SSTs are attractive, executive-style sensors designed to complement SMART-Sensor™ LCD installations. Current research is examining the possibility of adding sensors for Humidity, Occupancy, and CO2 for release later this year. If you would like more information about Reliable Controls®, please visit http://www.reliablecontrols.com or email info@reliablecontrols.com.
For more information on the SPACE-Sensor™ Temperature (SST) and the complete SMART-Sensor™ LCD (SSL) line, please see the interfaces section of our website (http://www.reliablecontrols.com/products/interfaces/).
---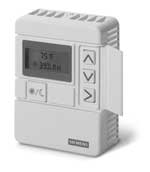 Siemens Improves Building Comfort with New Line of High Accuracy Room Humidity / Temperature Sensors
BUFFALO GROVE, Ill. – Siemens Building Technologies, Inc. has released a new family of Q-Series relative humidity room sensors for all standard HVAC applications. The new line improves building comfort with increased sensor accuracy and an expanded sensing range. The Q-Series family offers and expanded signal range of 0-10 Volt, 4-20 mA, RTD and NTC outputs in 3-5% or 2% accuracy. Cover options include plain, or LCD display with temperature set point and occupancy override. An embedded microprocessor converts the sensor's digital signal to a continuous 0-10 Volt dc signal, which corresponds to 0-100% relative humidity. The humidity element is also conditioned and linearized from 0-95% of the range. A removable, replaceable tip offered with Siemens' 2% versions eliminates electronic field adjustment or manual adjustment of potentiometers. For detailed product information, click: http://www.sbt.siemens.com/hvp/components/products/sensors/roomhumiditytempsensors
---
Distech Controls Launches EC-Net, Web-based, multi-protocol platform and EC-Net Wizards
Distech Controls is proud to launch EC-Net, a web-enabled, multi-protocol solution powered by the Niagara Framework™. EC-Net establishes a fully Internet-enabled, distributed architecture for real-time access, automation and control of embedded devices and ties both new and legacy system components together; regardless of manufacturer, platform or protocol, into a common control system.
EC-Net features:
Multi-protocol control platform allowing a universal open environment and integration of LONWORKS®, BACnet®, Modbus™ or legacy protocols
Web-based network including EC-BOS Web servers and complete EC-Net software suite and engineering tools
Leverage best-of-breed devices in new or retrofit BAS projects
Lower integration and maintenance costs
For use with the EasyControls controllers or any other device and protocol including LONWORKS, BACnet, Modbus or legacy protocols. For complete product information, click here http://www.distech-controls.com/pub/email_ecnet%20launch.htm
---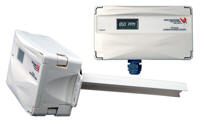 Veris Widens The Competitive Gap with the Introduction of the New Duct Mount CO2 Gas Sensor
PORTLAND, Ore – Building owners and installers can now have the performance, output and quality they have come to expect from Veris' CO2 gas sensing products at considerable labor savings, with the newly enhanced Duct Mount CO2 sensor (CD series). Historically, installation of a CO2 sensor has been problematic, due to their many parts and awkward mounting designs. Recognizing this, Veris has revolutionized installation with the enhancement of the CD series. The newly enhanced CD series is housed in a 1 piece, NEMA 4 plastic enclosure, designed for direct duct mounting. With the newly added features of a snap on face plate and a direct duct insertion probe, the need for screws and a remote pick up tube have been eliminated, significantly reducing installation costs. The CD series is offered in an economy and deluxe model. Both offer the new enhancements and boast an innovative self-calibration algorithm. The deluxe units provide a field-selectable 4-20mA/0-5V/0-10-V output, LCD display, and an alarm rely output, along with an unmatched industry exclusive 5-yr warranty. For more information visit www.veris.com
---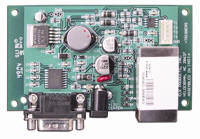 Elk's Ethernet port
Control home or business from a PC browser, anywhere! ELK-M1XEP connects M1 controls to the Internet or LAN for programming, monitoring, remote control, email notifications, etc. M1 controls can interface security, automation, lighting, and HVAC. Built-in web server eliminates need for local pc server. Includes secure user interface. For more information, visit www.elkproducts.com
---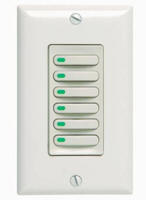 Hubbell Building Automation's Home Automation Switch Station
Hubbell Building Automation's Simplicity LX Switch Station is designed for use in virtually any space and can be easily integrated into any LonWorks system. Available in 1 to 6 buttons, the soft contours of its architecturally pleasing design allow it to fit easily into any style interior. Each switch station features programmable button(s) with LED pilots. If required, switch stations can be programmed in an active or inactive state allowing the device to be automatically secured, eliminating the need for lockout key switches or locking covers. The Simplicity LX Switch Station complies with LonMark interoperability guidelines and is designed for use in open system, multi-vendor, interoperable LonWorks networks. Visit www.hubbell-automation.com for more information.
---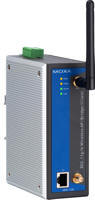 Moxa's New AirWorks AWK-1100 Gives Industrial Networking Applications an Easy Jump to Wireless
Taipei, Taiwan - Moxa Networking is releasing an industrial IEEE 802.11g wireless product that can be used as an AP, bridge, or AP client. AWK-1100 is designed to be used with Ethernet switches and other Ethernet-ready devices to provide ready access to a wireless LAN. Attractive features include WPA (Wi-Fi Protected Access) security capability, operating temperature range from 0 to 60°C, and redundant power inputs. AWK-1100 is designed for industrial applications that require connecting an Ethernet-ready device to a wireless LAN. AWK-1100 can authenticate and authorize wireless users by IEEE 802.1x and RADIUS (Remote Authentication User Dial-In Service), and communicate with a back-end RADIUS server to see if a wireless user is allowed to access the wireless network. The DIN-Rail mounting feature, wide operating temperature range, and IP30 case with LED indicators make AWK-1100 a convenient plug-and-play and reliable solution for industrial wireless applications. Complete contact information for is available on the Moxa Group website at www.moxa.com
---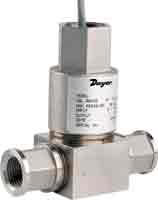 Dwyer Instruments New Series PV Valves
In an ever-changing landscape of valve and valve accessories, simple and effective solutions are at a premium. The NEW Series PV three-way normally closed electro-pneumatic solenoid pilot valves by Dwyer Instruments, Inc., are designed with these qualities in mind. When matched with the new Dwyer Series SAV Angle Seat Valves, supply pressure control is as easy as the flick of a switch. These low cost, durable pilot valves feature fully reversible DIN connections to keep electrical wiring hassle-free, while the direct mounting banjo connection eliminates common installation problems. Units are manufactured standard with a manual override, and have a wide variety of coil supply voltages available. 120VAC models will be stocked, with other voltages are available upon request. Visit http://www.dwyerinstruments.com/ for more information.
---

New Generation of ODRS Meters and Advanced Wireless AMR System
The current meters and AMR system based on pulse generating violate principle of metrology and seriously influenced by external environment with low reliability; they also bring about difficult problems of technology, cost and managements during operation. Tai Feng Yuan Video Digital Co., LTD developed out ODRS meters using patent (Number:ZL98203808.9) technology of optic direct-reading sensor and advanced wireless AMR system based on wireless intelligent routing relay technology (WIRR). ODRS meters and WIRR AMR system can be used widely in reading of meter installed in home, commercial and industrial fields, special operation characteristics make them to become next generation of meters and AMR system. For more information, please contact us through e-mail: overseastfy@126.com
---
SMC Corporation of America announces the release of series ASR/ASQ air saving valve.
Indianapolis, IN – With an increase of energy cost, customers' interest in energy saving is growing. SMC developed the new air saving valve to respond to this demand. SMC will offer ASR (pressure valve) and ASQ (flow valve). ASR consists of regulator with check valve and speed controller. ASQ consists of quick supply/exhaust valve and speed controller (Meter-in, Meter-out). The body and one-touch fitting allow 360°rotation. Fixed set pressure type and variable set pressure type are available. ASR and ASQ can cut air consumption by operating the return stroke at a reduced pressure and also prevent both jerky movement of working stroke and operation delay in a return stroke. Conventional valve does not have those functions. There is no manufacturer, which can provide the similar products at this moment. For more information visit www.smcusa.com
---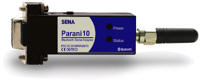 Sena Debuts Bluetooth Serial Adapter for RS-232 Serial Cable Replacement
Sena Technologies announced the release of the Parani10, a Bluetooth serial adapter that is designed to replace RS-232 serial cables with wireless connectivity when interconnecting peripheral devices. It enables a serial device to communicate with another serial port adapter or other Bluetooth enabled devices such as mobile phones, handheld computers and laptops. The Parani10 has a 9 pin female DB-9 connector, uses a stub antenna and is a Class 1, Bluetooth 1.1 compliant device. It supports the General access profile and Serial port profile. This small adapter is developed for long-range wireless serial communications. Nominal transmit range is 120m and can be up to 1.2 kilometers when using the optional patch antenna. A LED provides instant information on Bluetooth link status. For more information visit http://www.sena.com
---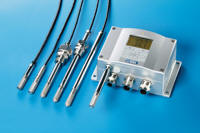 New Flagship Humidity Transmitter from Vaisala
The Vaisala HUMICAP® Humidity and Temperature Transmitter Series HMT330 is developed for demanding industrial applications where stable measurement and wide customization possibilities are important. As a totally new feature in this product class, the HMT330 has a large numerical and graphical display with multilingual user interface. It allows the user to easily monitor measurement trends and 1-year history. Vaisala HUMICAP® products have been the market leaders in industrial and meteorological humidity measurements for over a decade. The new HMT330 series consists of six models covering the full humidity measurement range from 0 to 100 %RH. The temperature ranges are between –70 and +180 °C, and pressure ranges between 0 and 100 bar, depending on the model. In very humid or chemically harsh conditions, Vaisala's unique warmed probe and chemical purge features help to maintain measurement reliability.
The HMT330 can output multiple humidity parameters, and the outputs available include three analog outputs, serial interfaces, and alarm relays. A choice of mains or DC power and several optional mounting accessories make it easy to install the instrument. For more information www.vaisala.com
---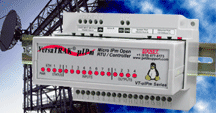 Micro-VersaTRAK® µIPm(tm) RTU / Controller Installation-ready Interface for Real-time Plant Floor Data
SIXNET announces its latest addition to their IPm product line of Linux-based RTUs and Controllers, the Micro-VersaTRAK µIPm. The µIPm (which stands for micro-IPm) is a rugged, compact unit with a built-in mix of 14 discrete & analog I/O, 4 serial ports and a 10/100 Ethernet interface. It is a sister product to the popular Mini-VersaTRAK mIPm (mini-IPm) which has up to 26 built-in I/O. Like other SIXNET IPm Controllers and RTUs, the µIPm is pre-loaded with open-source Linux and the industrial IPm firmware. This provides ready-to-use advanced automation, control, and data acquisition capabilities plus the flexibility to program your own Linux or IEC 61131 applications. Visit www.sixnetio.com for more information.
---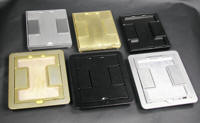 Convenient Covers for Infloor Wire and Cable Management
WEST HARTFORD, Conn.– Wiremold/Legrand has introduced redesigned cover assemblies for Resource RFB® floor boxes, Walkercell® Cellular Raceway, and Walkerdeck® systems. New FloorPort™ service fittings feature a one-piece lid for easy access to power and data/communications. These covers are also now available in all-metal (die-cast zinc or die-cast aluminum) construction for high durability and load capacity. Brushed aluminum and plated brass finishes provide additional aesthetic options. FloorPort activation covers can be installed on carpet, tile/terrazzo, or wood covered floors. Flanged and flangeless styles are available in brass, aluminum, and painted black finishes to match almost any décor.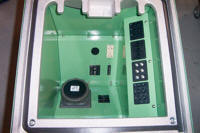 Floor Boxes for Convention Centers
WEST HARTFORD, Conn. – Wiremold/Legrand offers a family of floor boxes that are specifically designed to meet demanding convention center and similar applications. CCFB Series floor boxes provide multiple utilities, including power, data/communications, audio/video, water, and compressed air.
CCFB Series floor boxes accommodate 200A, 100A, 60A, 30A, and 20A devices with weatherproof covers. Boxes can be factory wired with power distribution blocks, circuit breakers, and power devices so that power is split from a single supply circuit. A separate compartment contains all low-voltage connections, including telephone, internet, network, and audio/video. These connectivity modules can be installed in the factory or in the field. Pull-through provisions are available for non-permanent utilities. Additional services that are provided in convention center floor boxes include compressed air and water. These supply assemblies are available in a completely segregated compartment. For more information, visit www.wiremold.com
---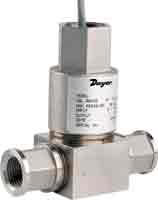 Dwyer Instruments, Inc. announces New Series 636D Explosion-Proof Differential Pressure Transmitter
The Dwyer Series 636D transmitters are constructed of welded 316 stainless steel with all 316L wetted materials, and designed to withstand the most demanding media and environmental conditions. This transmitter has a CSA explosion-proof rating which is ideal for sensing differential pressures of gases, liquids, and vapors in the specified hazardous locations. The Series 636D also conforms to NACE standards which is perfect for offshore applications.
The Series 636D is available with a 4-20 mA current output (standard) or optional voltage output. Available differential pressure ranges include 0-6 to 0-500 psid and feature an excellent 0.5% full scale accuracy. Dwyer Instruments, Inc. produces a broad range of measuring and control instruments for pressure, temperature, level, flow, and many other related applications.
For more information visit www.dwyer-inst.com
---
Lascar Electronics has launched the EL-USB-1, the world's first battery powered temperature data logger with a direct USB interface.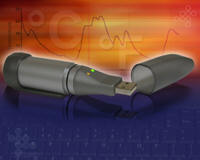 Using the Windows compatible software supplied, the EL-USB-1 can be configured to measure temperatures from -25 to +80°C (-13 to +176°F). User selectable logging intervals from 10 seconds to 12 hours and a memory capacity of more than 16,000 readings make this data logger ideal for many temperature dependant industrial and consumer applications. The logger's housing provides a splashproof seal enabling the product to be used in harsh environments. The EL-USB-1 has user programmable high and low temperature alarms, which are shown locally by a bright red LED and can be set to remain active once an alarm level has been triggered. Additional green and amber LEDs inform the user of other logger conditions, including memory capacity and battery status. All readings are stored in non-volatile memory ensuring important data is never lost. Simply plug the EL-USB-1 into a USB socket on a PC for instant download and graphing of logged data. Once the data has been downloaded, the logger can be instantly reconfigured to begin the next application.
The EL-USB-1 is available immediately from Lascar Electronics Inc. For more information www.lascarelectronics.com
---
Modbus web Gateway now supporting logging, alarms by email, SMS etc
Halmstad, Sweden -- IntelliCom, is proud to announce a major software upgrade for the NetBiter® webSCADA Modbus Gateway.
The product makes it possible to monitor Modbus data on web pages inside the Gateway. Connect Modbus devices and select data of your choice on the configuration web pages. Then you are able to view the configured data on the built-in web pages automatically without writing a single line HTML.
- No Windows tools or HTML editors are required!
- No licenses or royalties!
More information here: http://www.intellicom.se/eg_webscada_modbus.shtml?17
---
---


[Click Banner To Learn More]
[Home Page] [The Automator] [About] [Subscribe ] [Contact Us]