---
Irisys Thermal Camera Powers People Counting for New Smart Building Solution

Chipkin Automation Systems and Feedback Solutions enter Joint Venture to Integrate People Counting Solution and Building Automation System

ATLANTA (April 30, 2013) – The Irisys IRC 3020 People Counter – the latest model in the Irisys Thermal Array-based People Counter family – is a key component to a new integrated Smart Building solution that helps property and building managers generate huge savings on their energy bills.

The Gateway, developed as a joint venture between Chipkin Automation Systems and Feedback Solutions, is among the first Smart Building systems to integrate thermal People Counting technology.

"The Gateway brings to life the newest generation of Smart Building technology," says Jeff Riordan, business development director for Irisys. "The introduction of People Counting data into this system gives it more advanced capabilities – and more opportunities to cut a facility's energy consumption and operating costs."

Integrating People Counting technology into a Smart Building system helps derive deeper, more accurate data and actionable analytics about a facility's occupancy and utilization – and it is gaining ground as a key tool toward understanding the flow of people within a building, as well as occupancy and other facility trends.

A thermal People Counting solution detects building users by their body heat and is well suited for Smart Building technology because of its accuracy in all lighting conditions; minimal energy requirements; and ease of set-up and maintenance. And because a thermal system detects body only heat – instead of taking pictures or video – it protects building users' privacy.

Integrating People Counting capabilities with a Building Automation System (BAS) that controls HVAC systems can reduce energy consumption and expenses. The Gateway seamlessly brings together Chipkin Automation Solutions and Feedback Solutions' technologies to feed accurate count and occupancy data to a BAS that uses BACnet, Modbus, JSON, SNMP, and other protocols. The resulting data helps automation providers identify strategic optimization and trigger-control opportunities.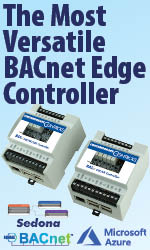 Chipkin Automation Systems, headed by President Peter Chipkin, has a demonstrated track record of providing highly effective integration interfaces and deep expertise developing and deploying remote monitoring, control and integration solutions. Visit www.chipkin.com for more information.

Feedback Solutions is headed by Chandan Chowdhury, an industry veteran with more than 20 years of international experience in the People Counting market. Visit www.feedbacksolutions.ca for more information.

About Irisys
Irisys is a global innovator in award-winning technologies that make a significant, measurable impact on business efficiency and improve the quality of people's lives. Irisys is the global leader in people counting technologies and real-time checkout management solutions. Its infrared thermal imaging solutions are used by some of the world's leading retailers to boost customer service, operational efficiency and profitability. Irisys pioneered the introduction of low cost thermal imaging cameras for industrial applications and its security technologies are predicted to transform the intruder detection market. Irisys healthcare solutions aim to make hospitals safer and cleaner, and improve home monitoring for the elderly and infirm. Learn more at www.irisys.net.
---


[Click Banner To Learn More]
[Home Page] [The Automator] [About] [Subscribe ] [Contact Us]