---
BR2-A BACnet/IP to TRANE BCUs (BACnet/ARCNET)

Cimetrics is excited to announce our same reliable ARCNET router in a modern updated hardware.The BR2 router provides routing between BACnet networks such as BACnet/IP, BACnet ARCNET, BACnet Ethernet, and virtual or tunneled BACnet networks. This allows integrators to mix and match BACnet network datalink technologies within a single BACnet Internetwork. The BR2 router has two communications ports in all cases. One is always a 10/100 Ethernet port and the other is a RG62 Coaxial cable or RS485 twisted pair.
• Connects BACnet systems from different suppliers like Trane BCUs
• Enables campus-wide control systems
• Uses industry's leading BACnet OEM protocol stack (Cimetrics BACstac)
• High bandwidth design
• Easy browser-based configuration

PRODUCT DESCRIPTION
To commission BACnet ARCNET devices one has generally been forced to use a special PC hardware ARCNET interface to communicate with the ARCNET RS485 or Coaxial LAN. The secret is that most BACnet ARCNET software can be run against BACnet/IP and communicate via BACnet Routing to BACnet ARCNET to achieve this configuration/setup connectivity. The Cimetrics BR2-A can accomplish this connectivity.

The BACnet/IP port on the BR2-A connects to the PC's Ethernet/TCPIP port using a standard CAT5 cable. The ARCNET port connects to the target BACnet ARCNET LAN (93 Ohm RG62 Coaxial cable or RS485 twisted pair plus ground cable in general). The BR-A can be powered from any 120VAC source. The BR2-A is setup using its embedded webpages. The baud rate of the BACnet ARCNET port is setup to match the baud rate and network number of the existing ARCNET LAN.

BACnet details:
• BACnet 135.1-2003 ASHRAE & ISO standard
• BBMD and FD (Foreign Device) support
• BACnet/ARCNET = Co-ax or RS485 twisted pair
• BACnet/IP or BACnet/HTTP with optional encryption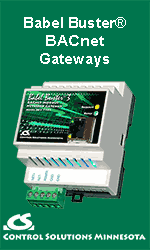 DOCUMENTATION
Login, Warning Manuals, Data Sheet

INTERFACE SPECIFICATIONS
• Adapter Input Voltage - 90 to 250 VAC (auto) ;
• Input Voltage - 9 VDC @ 1A ;
• Operating Temperature - 0 to 40C;
• Dimensions - 23 x 17 x 4 cm ;
• Power Consumption - 12VDC at under 50W

PRODUCT SUPPORT
One year of telephone and email support

ORDERING INFORMATION
B3050 - BR2-A - BACnet router to ARCNET

We are convinced that you will find this device powerful, easy to use and extremely cost-effective.

For more information visit http://www.cimetrics.com



---


[Click Banner To Learn More]
[Home Page] [The Automator] [About] [Subscribe ] [Contact Us]