---
NEBB Building Systems Technical Commissioning Procedural Standard Updated

Gaithersburg, MD – NEBB has released the Procedural Standard for Whole Building Systems Technical Commissioning for New Construction, 2014 – Fourth Edition.

The purpose of the NEBB Procedural Standard for Whole Building Systems for New Construction is to establish a uniform and systematic set of criteria for performing the Technical Commissioning process when applied to new building systems such as mechanical, electrical and building envelope systems. This Procedural Standard is intended to establish the baseline requirements a NEBB BSC Certified Firm follows when performing NEBB Technical Building Systems Commissioning (BSC).

This manual describes the standard of care for all baseline activities performed during the BSC Process. The purpose of this Procedural Standard is to provide specific requirements that each firm performing NEBB Certified BSC must meet at each Phase of the BSC Process. This Procedural Standard is divided into three distinct Parts: Standards, Process, and Procedures. The Standards, Process and Procedures sections are narrative and describe the baseline level of technical Processes which all NEBB Certified projects follow to be a NEBB Project.
This 4th edition details the requirements for Whole Building Systems Technical Commissioning and includes HVAC, Building Envelope, Electrical, Special Electrical, Plumbing and Fire Protection Systems as the baseline standard of care. The Scope of Work identifies all systems to be included in Commissioning as part of the Technical BSC Process.

The Procedural Standard was developed using reliable engineering principles and research plus consultation with, and information obtained from, manufacturers, users, testing laboratories and others having specialized experience. This document strengthens the NEBB BSC Program Technical Requirements. The new modifications and updates to procedural standards further protect the integrity of the technical commissioning processes while clearly defining the baseline level of testing for NEBB Technical Commissioning.
The revisions shown in this new standard build on the previous announced Shall, Should and May language in the previous edition.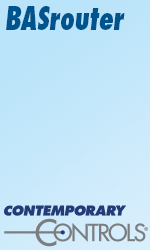 Jim Bochat, chairman of NEBB's BSC committee mentioned, "We believe that the updates and revisions to the standard address the need for greater clarity and integrity for the technical commissioning of building system process."
Bob Linder, 2014 NEBB President stated, "The committee was very diligent in their effort and has produced a Procedural Standard that that will have a positive impact on the industry".

Projects that are currently underway or already awarded will continue to follow the contracted version of procedural standards.

The NEBB BSC Committee also stressed that it will continually monitor industry trends and work on updates to these Procedural Standards to ensure that NEBB's Technical Commissioning continues to remain the leading technical commissioning process in the industry globally.

Additional information on NEBB is available at www.nebb.org.



---


[Click Banner To Learn More]
[Home Page] [The Automator] [About] [Subscribe ] [Contact Us]