---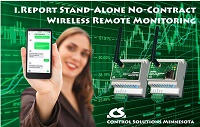 Control Solutions, Minnesota i.Report Stand-Alone No-Contract


i.Report Stand-Alone No-Contract remote monitoring is the ideal do-it-yourself remote monitoring system. You get simple yet powerful remote monitoring without the need for a monitoring service. No contract. Built-in alarm monitoring watches your equipment and sends text messages directly to your mobile phone alerting you to problems.

Get text message alerts from:
• Modbus or BACnet I/O devices
• Sensors of any kind
• PLCs and SCADA systems
• UPS systems
• Backup generators
• Freezer monitors
• Refrigerator monitors
• Building management systems
For more information visit https://www.csimn.com/CSI_pages/RemoteMonitoring.html

---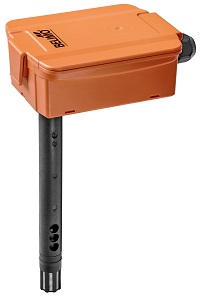 Belimo Releases New Dual Channel CO2/Temperature Sensors

Belimo Americas is excited to release the new dual channel CO2/temperature sensors with an increased range to 5000 ppm. The dual channel technology measures two-wave lengths split from a single light source. The sensor automatically takes a reading using the reference channel. Any change in the measurement indicates a change in the optics of the sensor. The sensors automatically adjusts the CO2 measurement when a change is detected to prevent drift. Manual calibration is not needed. High accuracy is maintained even in busy applications such as retail stores or hospitals. The CO2/temperature sensors features accurate, reliable readings available in degrees Fahrenheit (model 22DTC-5105) or Celsius (model 22DTC-1105). The new CO2/temperature dual channel sensors are ideally suited for applications requiring 24/7 hours of operation such as hospitals, retail stores, manufacturing, and indoor farming.

For more information visit http://www.belimo.us

---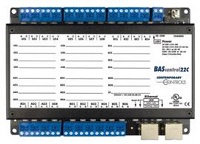 BAScontrol22C with BACnet Client Capability Now Available

The new BAScontrol22C, which supports BACnet client capability in addition to the existing server functionality, is now available. Most BACnet devices are servers, which do not initiate requests to other BACnet devices other than an initial "I-Am" broadcast when first joining the network. The BAScontrol22C is a BACnet client, which means it can initiate requests and expect BACnet servers to respond to requests as data is exchanged.


The BAScontrol22C uses its direct Ethernet ports to communicate to BACnet/IP devices on the network. With the help of a BASrouter – BACnet/IP to BACnet MS/TP router – the BAScontrol22C can communicate and interface with BACnet MS/TP devices as well.

Learn more at https://www.ccontrols.com/basautomation/bascontrol22c.php
---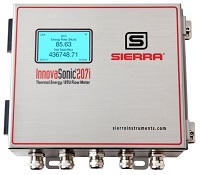 InnovaSonic® 207i Ultrasonic Flow Meter with BACnet

Sierra is pleased to announce that its InnovaSonic® 207i Liquid Ultrasonic Flow Meter now supports BACnet digital communication protocol for easy building automation and control. With BACnet, Modbus RTU and Thermal Energy BTU capability, the 207i offers facilities managers the complete water flow energy management solution.

BACnet is a communications protocol for Building Automation and Control (BAC) networks that is governed by the American Society of Heating, Refrigerating and Air-Conditioning Engineers (ASHRAE), SSPC 135, ANSI, and ISO 16484-5 standard protocol. BACnet Digital Protocol is designed specifically for building and automation control networks and is quickly becoming the industry standard for large facility and manufacturing automation, HVAC, and chiller manufacturers. Designed, built and calibrated for non-intrusive liquid flow metering, the 207i transit-time ultrasonic flow meter is an ideal solution for thermal energy/BTU metering. The 207i calculates thermal energy / BTU by determining the amount of heat transferred between the cold and hot flow legs of a heating or cooling process. This provides end users with the high quality flow energy data required to manage energy costs.

For more information visit https://www.sierrainstruments.com/library/videos/207i-overview-video
---
Australian distributor appointed for SyxthSense

United Kingdom-based SyxthSense is offering building energy management solutions to many building types, as well as solutions for home automation. Its BMS solutions are flexible, based on common industry standards, provide energy savings and are intuitive and easy to use, according to the manufacturer. SyxthSense BMS solutions are designed based on 10 years' experience in the industry. They are innovative, fresh and utilise the latest technology standards. Recently, Melbourne based Ocean Controls was appointed a distributor for its products. SyxthSense has recently expanded its SRC-50, SRC-60 and SRC-601 touchscreen room solutions range. The range consists of thermostats, graphical user interfaces (GUI) and room controllers. The products are suitable for both building and home automation and have BACnet/Modbus connectivity for system purposes.
For more information visit http://www.syxthsense.com/
---
ODIN Building Automation Systems Announces Launch of New BACnet Certified IoT Software
With ODIN's new building automation software, service providers and building owners can easily and accurately evaluate an entire building's HVAC system remotely in real time from any internet connected device. ODIN's cloud-based software is always on, and easy to access from any internet connected device from anywhere at any time. This software can also be used to integrate various manufacturer's BACnet certified products seamlessly and add value to a building's pre-existing automation system.

ODIN recognizes that the five most important issues building management systems require are; the ability to adjust setpoints; trend data; manage schedules; provide notifications and control alarms. As such, these features are easily implemented with the ODIN product, making this a dynamic and intuitive addition to any building automation system.

For additional information, please visit https://www.connectwithodin.com/ or contact ODIN directly at https://www.connectwithodin.com/contact.
---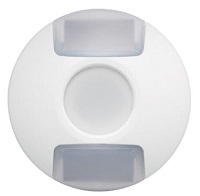 Echoflex Solutions releases TAP-31 Photo Sensor

Echoflex Solutions continues to make energy efficiency easy with the release of the new TAP-31 Photo Sensor. The TAP-31 is a wireless, self-powered photo sensor designed for indoor use. It provides a reliable and simple method for increasing energy savings by adding daylight harvesting capability to your Echoflex lighting control system. The TAP-31 Photo Sensor features two selectable ranges – 0-1024 lux (95 fc) and 0-65535 lux (6090 fc) –perfect for open- or closed-loop daylighting applications. The self-powered TAP-31 uses solar cells for power, comes with multiple mounting options, and features Simple-Tap configuration to establish daylight switching or dimming set points. And with an aesthetically pleasing, low-visual-impact design, the TAP-31 will fit with any décor.

For more info about the TAP-31 Photo Sensor, visit echoflexsolutions.com.


---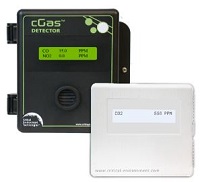 Smart. Flexible. Economical. Introducing the cGas Detector. Let's Plug & Play!

Critical Environment Technologies Canada Inc. (CETCI), a leading manufacturer of gas detection systems, is excited to announce the launch of our cGas Detector product line. The new cGas Detector line offers greater flexibility at a lower cost with customized sensor combinations and specialized options for adding only the functionality you need to your gas detection system. Pre-calibrated sensors with true Plug & Play Smart Sensor technology makes replacing sensors quick and easy. It offers one or two channel operation and analog or digital output with user in the field selectable BACnet® or Modbus® communication output. Available now in our standard black enclosure, ideal for commercial and light industrial applications. Soon to be released is a new low profile, aesthetically pleasing enclosure for areas where less noticeability/blending in is preferred.

For more information about our products, check out our website at www.critical-environment.com


---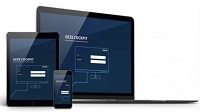 Stay in Control with GEZE Cockpit
A smart hub that lets you take control of door, window and safety systems has been launched by GEZE UK. GEZE Cockpit acts as 'a brain' - intelligently integrating door, window and safety technology into building management systems – and giving building designers greater options to create the next generation of smart buildings. Offering more efficiency, security and convenience, combined with intelligent smoke and heat extraction and dynamic fire protection to protect targeted escape routes, the GEZE Cockpit can be used as stand-alone solution or integrated into an over-arching building management system (BMS).

With its open BACnet standard integration, GEZE Cockpit can be managed remotely using a PC, tablet or smartphone, providing flexible control via GEZE's IO 420 interface. For more information visit www.cockpit.geze.com
---
Automated Logic Corp. OptiPoint™ BACnet Thermostats

Description: This product controls the HVAC system from inside a facility, or from any BACnet-compliant BMS, including the company's WebCTRL® building automation system. The wall-mounted device is compatible with single- or multistage HVAC equipment, including rooftop units, heat pumps, fan coils, unit ventilators, and unit heaters. Onboard sensing options include temperature, humidity, and motion detection, while integrated DIP switches make it easy to configure the specific equipment type and sequence of operation. Available in two models — Standard and Plus — both versions feature a stylish design, neutral color, a large backlit LCD, and intuitive controls allowing occupants to easily control their comfort in facilities such as hotels, dorms, classrooms, and offices.

For more information visit http://www.automatedlogic.com
---
---


[Click Banner To Learn More]
[Home Page] [The Automator] [About] [Subscribe ] [Contact Us]