---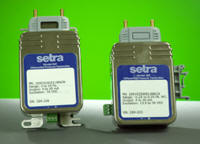 Setra Systems to Introduce the Model 269 Very Low Differential Pressure Transducer for High Performance Applications
AHR EXPO 2006
Boxborough, Mass. -- Setra Systems, a leading designer and manufacturer of pressure measurement devices, will introduce the Model 269 at the AHR Expo 2006 in booth 3846, happening 1/23-1/25/06 in Chicago, IL. The Model 269 is a very low differential pressure transducer offering enhanced accuracies including non-linearity of ±0.15% and ±0.35% full scale, terminal-based for improved resolution in critical environments. The ultimate solution for in-situ pressure calibration, the Model 269 is provided with a removable process head, allowing for field certification without disturbing the process tubing. Simply detach the header (no need to cut tubing), plug in the Calibration Security Key and verify the performance with its "snap-back" zero/span feature. The product's installation is simplified with either the base mount or din rail easy mount design, along with a removable electrical terminal strip that makes wiring a breeze. For more information on the Model 269, visit Setra on the internet at http://www.setra.com.
---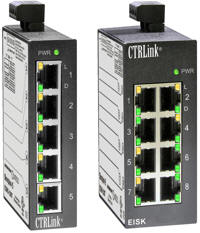 Contemporary Controls' Skorpion family of Industrial Ethernet switches
Downers Grove, Illinois - Contemporary Controls' Skorpion family of Industrial Ethernet switches will provide reliable connectivity at a cost that won't break your budget - starting only at $99 with a five-year warranty," says Joe Stasiek, Sales Manager for Contemporary Controls. "End users and system integrators love the Skorpion's small size saving room in control panels or distribution enclosures where DIN-rail space is at a premium. Why risk using office-grade equipment that can bring about network problems." The Skorpion family meets industrial standards. They are also RoHS compliant. The family is well-suited for usage in an industrial environment within a 0° to +60° temperature range. Stasiek says, "The Skorpion family meets our customers' requirements for robust, user-friendly industrial switches at a low cost."
For more information on the Skorpion family, visit www.ctrlink.com/eisk.htm.
---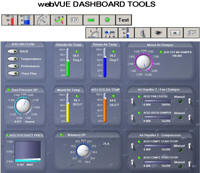 CW Industries introduces The CrossTalk Platform
CW Industries introduces the ability to dashboard your data using The CrossTalk Platform – the ONLY control system that allows you to effectively manage your data. Using webVUE's new Dashboard Tools including thermometers, tanks, meters, LED indicators, knobs, sliders, switches, etc., you can create web-enabled dashboards in a matter of minutes. Simply drag an object onto the web page, modify its size and characteristics, drag and drop the appropriate point and you're done. Now you and your staff can monitor and control your equipment from any remote location using a standard web browser. With no complex software or programming to learn, you can quickly provide your staff with the ability to view critical information at a glance and make adjustments just as easily. To learn more, visit www.cwindustries.com/crosstalk
---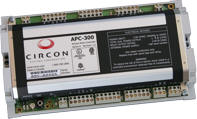 Circon Releases Total Solution for Card-based Facility Access Control
Richmond, B.C. – Circon Systems Corporation announced the release of its new access control products that provide scalable, interoperable access control for LonWorks® technology based multivendor facility automation systems. Interoperable access control has taken on increased importance in every open systems building project. Facility owners, managers and tenants need assurance that their premises are protected against unauthorized entry. Circon's Access Integrator 3 software and LONMARK®-certified APC-300 Access Point Controller provide an open access control system that delivers maximum protection, flexibility, simple operation and cost efficiency coupled with a deep level of interoperability with open, multi-vendor LonWorks technology-based subsystems such as HVAC and lighting. Access integrator 3 is a complete access control system operator interface, capable of managing tens of thousands of access users, with multiple tenant support, in a single facility or across an enterprise. For more information on Circon Systems Corporation, please visit www.circon.com
---

New ACR SmartButton Temperature Logger Released
ACR Systems is pleased to announce the release of the new, more robust ACR SmartButton data logger. Data loggers used in harsh environments must withstand exposure to moisture, dust and other elements. More than ever, the new SmartButton logger is impervious to these elements, even under pressure. In addition, improvements to the temperature sensor now enable the ACR SmartButton logger to monitor a broader temperature range from -40°C to 85°C (-40°F to 185°F). The ACR SmartButton data logger combined with ACR SmartButton Reader software provides a powerful solution for most temperature logging requirements. The hardware component, just slightly larger than a watch battery and housed in a stainless steel container, will record for up to 10 years under normal operating conditions using its internal, lithium power source. The software is very easy to navigate through and is an effective way to graph and quantify a record of the recorded information. Backed by a 10 year warranty, the ACR SmartButton solution provides for many of your temperature data logging requirements. For additional information visit www.acrsystems.com
---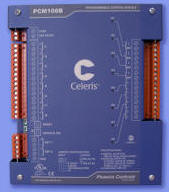 Phoenix Controls Corporation new Programmable Control Module (PCM)
ACTON, MA—Phoenix Controls Corporation has added a new Programmable Control Module (PCM) to its Celeris® product line. The device extends the flexibility of the Celeris Environmental Control System's control functions by allowing application engineers to create custom control sequences on a room-level network with a simplified version of a BASIC programming interface. PCMs can be used to implement practically any room-level control sequence that relies on inputs from physical sensors, switches, or network-based variables to achieve a desired control output, function or interlock. Examples of typical applications are lighting, temperature, and access control. Other features include capturing trends with the data logging function, pluggable terminal blocks, status indicators for outputs, and the ability to use the device as either a standalone controller or an input/output expansion module. For more details about the PCM, visit Phoenix Controls' Web site at http://www.phoenixcontrols.com/datasheets.html
---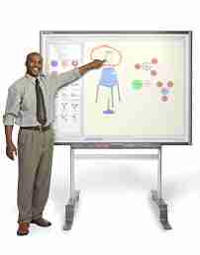 The new SMART Board 600 Series Interactive Whiteboard
Highlights
Touch to control your computer
Write, erase and perform mouse functions with your finger, a pen or an eraser – you need no proprietary tools.

Pick up a pen and write
Pick up a pen or the eraser, and the pen tray automatically detects which tool you've selected. Buttons activate the On-Screen Keyboard, right-click and help function.

Save your ideas
Capture your work to SMART Board software as a screen shot that you can edit, or save your notes directly into several software applications, including Windows versions of Microsoft PowerPoint, Word and Excel, or into AutoCAD software.
Visit http://www.smarttech.com/ for more information.
---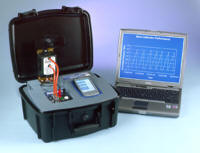 Setra Ultra-Low Pressure Documenting Calibrator
Setra is introducing the new Micro-CalTM Ultra Low-Pressure Documenting Calibrator. This new calibrator will solve problems such as:
1. Multiple components to lug to calibration sites such as, pressure indicators, pressure generators, voltage and current meters, data loggers
2. Ambient pneumatic noise affecting accuracy of very low differential pressure readings with an open low side pressure port
3. Inaccurate, noisy, unstable, non-repetitive generation of test pressures
4. One hour per unit calibration checks
5. Lost or compromised data
Visit www.setra.com for more information.
---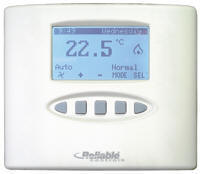 Reliable Controls - New Offerings meet the MACH-Stat™
VICTORIA, BC -- The MACH-Stat™ features an I/O configuration of 7 inputs and 8 outputs (each output being a socket which a relay or universal output module can be inserted). The MACH-Stat™ combines the executive-styled of the SSL with the high-performance and durability that were trademarked in the MACH-Vision™. The new MACH-Stat™ is easy to mount and complements any decor. Information at http://www.reliablecontrols.com
---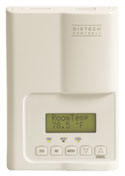 Distech Controls launches LONMARK Certified Communicating Thermostats for Fan Coil and Zoning Applications
The Distech Controls LONMARK® certified line of EC-STAT communicating thermostats with integrated room sensor, offers exceptional value and versatility, as a stand alone or networkable controller. With a sleek design and an intuitive menu-driven, backlit LCD display, these products are suited for many commercial, industrial and hotel applications. Configuration is easily done using the EC-Configure LNS® based plug-in or EC-Net wizard or directly from the EC-Stat keypad. Offering more applications for its popular EC-STAT line, Distech Controls now launches two new models for fan coil and zoning applications, the EC-STAT-FC and the EC-STAT-ZN.
For more information concerning the Distech Controls products visit www.distech-controls.com
---

$99 Five-Port Industrial Ethernet Switch Offered by Contemporary Controls
Downers Grove, Illinois - As a major manufacturer of industrial networking equipment, Contemporary Controls now offers a $99 five-port 10/100 Mbps Industrial Ethernet switch to meet their customers expectations. For more information on the $99 Skorpion-5 switch, visit www.ctrlink.com/5portsw.htm.
---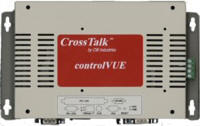 CW Industries proudly introduces its new XML controlVUE for Johnson networks
The controlVUE uses XML documents to define all N2 Open and DX9100 devices and their associated points. Quickly and easily create device profiles. Quickly configure multiple similar devices. Registers are automatically updated. The solution is cost-effective. Requiring only a fraction of the effort and delivering unsurpassed power, the XML controlVUE for Johnson networks is THE SOLUTION for maintaining, expanding and controlling your Johnson network. For more information, visit www.cwindustries.com/crosstalk
---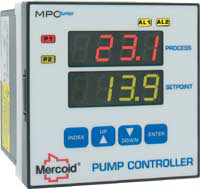 Dwyer Instruments, Inc. Series MPC Jr. Pump Controller
Control and monitor your pumps operation with the NEW Series MPC Jr. Pump Controller from the Mercoid division of Dwyer Instruments, Inc. The Series MPC Jr. Pump Controller provides one or two pump control with built-in alternation; process input retransmission; high and low alarm contacts in a standard 1/4 DIN package. Units feature additional analog outputs that can be used with external pump run-time meters. For more information visit www.dwyer.com
---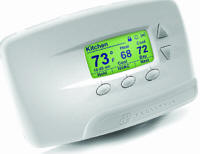 Controlsys Enterprise Agent for Proliphix Internet thermostats, Eastern Canada
Controlsys Enterprise has been named the exclusive manufacturers' agent for Proliphix Internet thermostats for Eastern Canada. These innovative programmable thermostats can be hooked up to a typical home or business network and can be accessed via the Internet. For more information visit see http://www.proliphix.com
---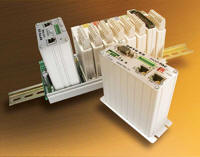 Opto 22 Introduces SNAP PAC(tm) Family
Two New Programmable Automation Controllers Deliver High Performance, Simplicity, and Versatility Backed by Years of Field Experience
Temecula, CA - Opto 22, a developer and manufacturer of hardware and software for industrial automation, remote monitoring, data acquisition, and machine-to-machine (M2M) applications, has introduced the SNAP PAC family of programmable automation controllers, extending a long history of reliable, easy-to-use control hardware. SNAP PACs are high-performance, multi-domain, Ethernet-based industrial automation controllers suitable for applications in automation and control, remote monitoring, and data acquisition. For more information visit Web site at www.opto22.com.
---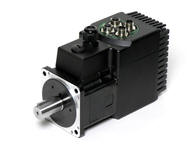 JVL Integrated AC Servo Motors increase profit
JVL, which is the European leader in the development of new servo- and step motor technology, has developed a series of compact integrated motors, called the "MAC Motor". The MAC motor is an AC servo motor and controller combined in a single unit, offering previously unseen low pricing for the OEM market. Integrating electronics in a motor has been achieved previously, but never in such a compact unit with true AC servo performance. In the MAC motor, the servo motor, hall sensors, encoder and control circuitry have been especially designed by JVL to provide a self-contained, integrated unit in which the driver and controller are mounted behind the motor in a sealed housing. System intelligence is thereby decentralized by off-loading control functions to the device level. This makes the MAC motor well suited for distributed control architectures which are prevalent in factory automation processes today. For further information visit www.trumation.com
---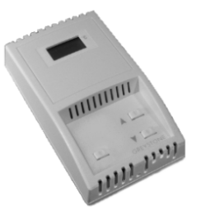 Greystone Energy Systems Inc Introduces the TE-200-AEM
The TE-200-AEM is a space temperature sensor that is microprocessor based and terminates to the analog inputs of virtually all makes of Building Control Systems. The LCD display can be configured to display readings in either °C or °F. The setpoint value will be displayed for two seconds after the momentary push button is released. This setpoint is factory configured from two to five degrees on either side of a fixed pre-programmed space temperature. An optional override button and LED are available for local indication of override status. More information is available at www.greystoneenergy.com
---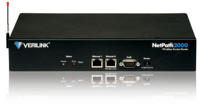 Verilink NetPath 2000 Wireless Router
Supports Cingular Wireless Network. Includes AC power supply. Air Interface PC Card and SIM available separately. The NetPath 2000 is a high-speed wireless router that enables small businesses and Enterprises to connect their LANs to Internet and corporate data networks via high-speed wireless technology. Designed for access to any type of wireless network, the NetPath 2000 features a plug-and-play PC Card Air Interface slot for UMTS, Edge, GPRS, and GSM wireless cards.
---
---


[Click Banner To Learn More]
[Home Page] [The Automator] [About] [Subscribe ] [Contact Us]