---
Priva Compri HX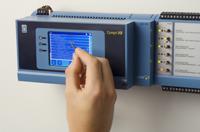 The Priva Compri HX is a product line for complete building automation, process control and telemetry. Thanks to its modular design the system can be perfectly adapted to every type of installation, easily expanded and is therefore ideally suited to multi-site applications. The powerful microprocessor, the extensive memory and the numerous safety features guarantee a long service life. The input and output modules are field equipment-independent and can be universally linked with zero to 350 connections on one single controller. Thanks to its modular structure, the Compri HX can be easily customized to every installation. Furthermore, the system can easily be extended at a later stage. The input and output modules (I/O modules) of the Compri HX are universal and multi-functional, which means they can be used in most applications. All settings can be viewed and modified on the accompanying display.

Would you like to receive more information about the Compri HX, or be a Priva partner check our website http://www.priva.nl/eCache/DEF/17/435.html



---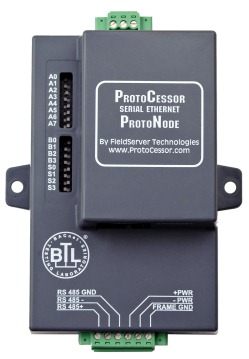 FieldServer Technologies" ProtoNode BACnet Gateways Awarded BTL Certification
FieldServer Technologies'
ProtoNode BACnet protocol gateways from the ProtoCessor group has received a BTL Certification under device profile B-ASC.

ProtoCessor group from FieldServer Technologies provides protocol gateway solutions to Original Equipment Manufacturer's enabling them to meet their end users needs.
These devices are the first and only BACnet BTL certified BACnet protocol gateways on the market today.

BACnet International BACnet Testing Laboratory (BTL) certification is the highest level of BACnet conformance tests available for BACnet products. Products that are BTL certified are view by the BACnet community, as the highest quality and most reliable products on the market today.
ProtoNode is designed for original equipment manufacturers needing a quick and easy path to enable their new and legacy devices to interface with Building and Energy Automation networks.
For more information visit www.protocessor.com
---

IBM Delivers New Mobile Software for Smarter Maintenance of Cities, Campuses and Businesses
IBM (NYSE: IBM) expanded its enterprise mobile computing offerings with new software that puts critical information about buildings and equipment into the hands of maintenance staff in the field. The new software replaces paper reports while helping organizations better manage and maintain their campuses, cities, water systems, rail lines, roadways and other infrastructure.
Through new enhancements to its Maximo Web-based software, IBM's enterprise asset management software is available to run natively on the browsers of the Apple iPhone and iPad, and Android-based phones.
The new software provides mobile access through WiFi, cellular or satellite, so there is no need to carry a separate mobile device. Since it is Web-based, no additional software needs to be downloaded to the device, and administrators have the flexibility to choose which capabilities are displayed on screen to fit individual preferences. Through Maximo Application Designer, the administrator has the ability to quickly customize the mobile view of Maximo screens for each iPhone or Android depending on the type of functions the end user requires.
For more information on IBM Maximo software, please visit http://www-01.ibm.com/software/tivoli/solutions/asset-management/index.html
---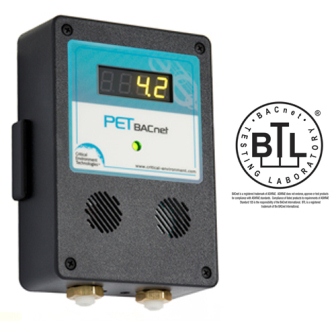 CETCI Receives BTL Certification for PET BACnet® Gas Detection Transmitter

PET BACnet® gas detection transmitter has passed the BTL requirements for the BACnet® Smart Sensor (B-SS) designation. PET is a "Parkade Emissions Transmitter" that communicates via BACnet® protocol MS/TP and is available with one or two electrochemical or solid-state sensors and temperature sensor. Electrochemical sensor choices include ammonia (NH3), chlorine (Cl2), carbon monoxide (CO), ethylene (C2H4), formaldehyde (HCHO), hydrogen (H2), hydrogen sulphide (H2S), nitric oxide (NO), nitrogen dioxide (NO2), oxygen (O2), ozone (O3), and sulphur dioxide (SO2). Solid state sensor choices include combustibles and refrigerants R11, R12, R22, and R134A. PET features thermal resetting fuse, tri-color LED indicators for power and alarm, and an optional 4-digit LED display. In addition, PET includes a new sensor Calibration Extending Firmware (CEF) that takes into account the aging of the sensors so that less frequent calibrations are acceptable in non-critical applications. PET is ideal for use in non-hazardous vehicle exhaust environments, commercial HVAC and light industrial applications.

For more information on the entire range of gas detection systems and IAQ instruments, please visit www.critical-environment.com.


---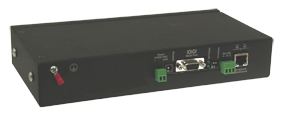 RLE Protocol Converter Enables Convergence

RLE Technologies announces the release of the Protocol Converter (FDS-PC), a solution that enables communication between equipment and systems that employ differing protocols. The Protocol Converter connects directly to equipment and converts the SNMP, BACnet, and Modbus protocols to one or more of these same protocols for integration into a building management system (BMS) or network management system (NMS). The protocol converter is ideal for situations where data from monitored equipment is incompatible with the protocols used by the BMS or NMS, such as in cases where legacy monitoring systems are present. The ability of the protocol converter to accept up to 1,024 inputs over 32 modules means flexible integration with multiple alarm and management systems using one simple device.
For further information, visit www.rletech.com.

---

New smart grid router links with home wifi



The Belkin Conserve Gateway is a router system that works in tandem with a smart meter to provide real-time information about home energy usage. The device links ZigBee, the wireless operating system of most smart meters, with existing computer networks using wifi. Information on home energy usage is then delivered via a simple web interface.

According to Belkin the product is currently only available in the United States though is likely to appear on the European market in the future. The Belkin website advises American customers to contact the company for more information.


http://www.independent.co.uk/life-style/new-smart-grid-router-links-with-home-wifi-2100031.html

---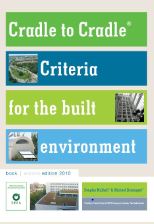 Cradle to Cradle® criteria for the built environment
Cradle to Cradle® (C2C) is a paradigm-changing innovation platform developed in the 1990s by Michael Braungart and William McDonough et al. Extensive books, cover stories and documentary films have been published and broadcasted about C2C since the 1990s and translated into at least a dozen languages.
However, many planners are not yet familiar with how to integrate into the built environment C2C features such as beneficial materials. A rapid acceleration occurred from 2008 to 2010 in the numbers of planners, architects and engineers introducing C2C concepts into planning and construction. A priority expressed by government agencies is to translate C2C into renovation and new construction of buildings. Those requests resulted in these Cradle to Cradle® Criteria for the built environment by Douglas Mulhall and Michael Braungart. The purpose of this booklet is to provide planners with guiding criteria for developing a building with measurable C2C features. The focus of these criteria, that distinguishes them as C2C, is to maximize beneficial impacts instead of just minimizing negative ones.
To order a booklet or e-book at: www.duurzaamgebouwd.nl/bookstore
---
---

[Click Banner To Learn More]
[Home Page] [The Automator] [About] [Subscribe ] [Contact Us]