---
Sierra Monitor - Introducing our BACnet Survival Kit: 3 BACnet solutions in 1
The BACnet Survival Kit from Sierra Monitor contains all the essentials for system integrators to "survive" commissioning and working with BACnet networks:

The BACnet Explorer ($395 list price) to discover and confirm BACnet devices on the network are commissioned correctly,
The BACnet Router ($299 list price) to connect BACnet MS/TP devices to a BACnet/IP network seamlessly, and
The EZ Gateway ($775 list price) to easily connect Modbus devices to a BACnet network, complete with our library of numerous EZ Profiles.
In addition, the Kit comes with a handy 3W LED flashlight, perfect for tight and dark areas.
Enjoy full BACnet connectivity with the all-inclusive BACnet integration toolkit for only $590.
To learn more about the individual products, please visit our website.

---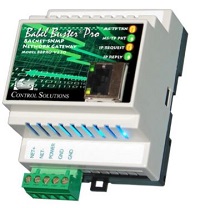 Control Solutions, Inc., Minnesota, is pleased to announce the release of the Babel Buster Pro V230 BACnet‐SNMP Gateway.

This gateway includes an intelligent automatic table walker and trap receiver, in addition to traditional SNMP client, to make it easy to connect BACnet to UPS systems with SNMP RFC 1628 or proprietary power equipment MIBs. The Babel Buster Pro V230 supports both BACnet IP and MS/TP, and includes a BACnet client and server as well as SNMP v1/v2c client and server. Use this gateway to make SNMP data accessible on a BACnet network, or to query BACnet objects from the SNMP network. SNMP data does not always translate nicely into simple numeric data presentable as common BACnet objects. To allow total flexibility in interpreting SNMP data, the Babel Buster Pro V230 is user programmable in Basic to interpret SNMP strings and generate BACnet object data based on the SNMP data. The user's Basic program has access to SNMP MIB data as well as trap messages received by the gateway. Simple numeric data is automatically translated from SNMP to BACnet or vice versa by simply setting up a table of SNMP variables and BACnet objects that map to each other, and requires no user programming.

Visit this link for more information: http://csimn.com/CSI_pages/BBPRO‐V230.html

---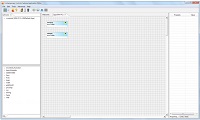 Contemporary Controls - Sedona Application Editor
Contemporary Controls, a Sedona Framework Community member, has developed the Sedona Application Editor (SAE) which allows graphical development of control applications for Sedona devices like Contemporary Controls' BAScontrol20, 22 and BASremote. SAE is available for download from Contemporary Controls' website. Included with the download is a Sedona Virtual Machine (SVM) that runs on your PC so that you can experience the simplicity of developing Sedona applications with SAE without first needing to purchase a Sedona controller. A Sedona device is defined as having a Sedona Virtual Machine (SVM) of which Contemporary Controls has developed a series of BACnet/IP Sedona Unitary Controllers in its BAScontrol and BASremote series. These freely-programmable controllers can now be programmed with SAE instead of Niagara Workbench. Those with experience with Niagara Framework will have no problem understanding Sedona Framework. For those without Niagara experience, the graphical representation of components linked on a wire sheet to create applications is intuitive and can be easily learned with minimum training.
For more information visit https://www.ccontrols.com/basautomation/sae.htm
---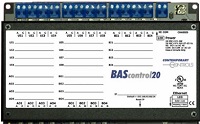 Contemporary Controls - BACnet Building and Field Controllers
BAScontrol Series
The BAScontrol series, now with firmware 3.1, includes 20 and 22-point unitary controllers with a direct connection to an IP/Ethernet network. Ideally suited for structured wiring systems, the BAScontrol series is BACnet/IP compliant with a B-ASC device profile. With its resident Sedona Virtual Machine, each unit can function as a freely-programmable Sedona Framework controller.
BASremote
The BASremote is versatile in that it is both a controller and gateway. Up to 63 half-load Modbus serial devices can be connected to the BASremote. Modbus device profiles for common Modbus devices are available from Contemporary Controls.
For more information visit https://www.ccontrols.com/basautomation/bascontrollers.htm

---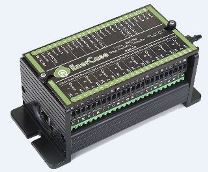 BASSG LLC. Introduces the Energy Analytics Controller (EAC)

Bringing Analytics to the Edge. These powerful edge devices come preconfigured with Apps for popular Buildings IoT workflows. They integrate a fast processor, on-board memory, flash storage and IP connectivity, open Sedona framework, plus Project-Haystack tagging. Real-time control, analytics and visuals will never be the same again.

For more information visit www.eac.io
---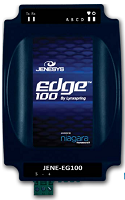 Lynxspring Announces Immediate Availability of the JENEsys® Edge™ 100 Controller

New Controller Delivers the Niagara Framework® to the Edge

JENEsys® Edge™ products are a new generation of controllers combining the Niagara Framework® with Lynxspring's Onyxx® platform. The JENEsys® Edge™ combines a controller, gateway and web server duties all into a single device—taking Niagara to the edge with real-time control. Designed to provide maximum performance at minimum cost, the JENEsys® Edge™ 100 brings edge connectivity, data access, powerful processing and control to today's small to mid-sized facilities, plant control, and machine-to-machine and IoT applications. The JENEsys® Edge™ 100 connects, integrates and correlates facility equipment, systems and IoT devices. It enables facility managers and operators to use a known UI (ProBuilder/ Workbench) to achieve operational efficiencies between multiple systems/devices supporting facility management functions, equipment control and business applications.
Onyxx™ is an embedded edge platform consisting of a family of modular, open, hardware, bridges and gateways supporting multiple devices across key market segments, edge to enterprise and Cloud applications. It is built utilizing open software and open hardware.

For more information visit www.lynxspring.com

---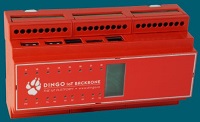 GO-IoT - New Products

For IoT integrators - GO-IoT platform can easily be adapted to different needs e.g Smart Grid,Street Lighting, Industrial Control Retail, Home Automation and Electric Vehicle Charging to name a few.

For IoT startups and developers - GO-IoT is an ideal high level platform for the IoT start-ups rushing to the IoT market. If you have been playing with Rasperry-Pi before, you can go straight ahead with our Rasperry-Pi variants.

For more information visit http://dingo-iot.io/
---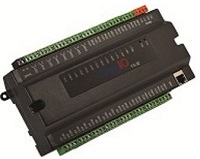 EasyIO-FG-32 - DDC Energy Controller, Internet and Cloud Ready

32 Point Sedona, BACnet, Modbus, TCOM Controller, 8 UO, 16 UI, 8 DO, with built in HTML 5 Graphics Server. SD Card Memory expansion, 2 RS 485 ports and full EasyIO Sedona Library for Logging, Control, Scheduling and remote management.
The new FG series of Open Automation Controllers from EasyIO are the new range of Internet ready Field Controllers. They comprise of combined Area Controller capabilities and features, as well built in I/O, and huge data logging capacity, all packaged as the future solution for the Internet of things, in Energy and Building Facility Control. The Controller also supports multi concurrent protocols and services such as BACnet, Modbus, TCOM, Web Services, and both Server and Client services.This new range complies with the 'Internet of Things' by interfacing directly to Cloud Services, without an additional Gateway, or Server. To power the application, The FG has a dual ARM processor engine, and also a built-in Web Server.
For more information visit http://www.easyio.com/easyio-fg-32

---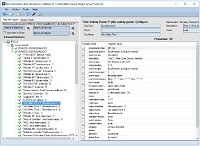 FREE, FULLY FUNCTIONAL BACnet Explorer - Cimetrics

Explore your BACnet network

With "plug-and-play" BACnet Explorer for BACnet/IP you can discover BACnet devices on connected networks. Connect Explorer to a BACnet Network and it will automatically discover and display a listing of all BACnet devices on that network. Once a device is discovered, you can enumerate the BACnet Objects in that Device. Devices on different networks can also be discovered if the networks are connected by a BACnet Router or BACnet Broadcast Management Device (BBMD). It will also display BACnet devices as they join networks in real time.
For more information visit https://www.cimetrics.com/products/bacnet-explorer
---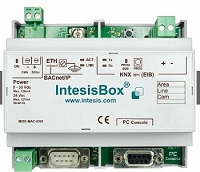 KNX to BACnet Gateway

The IntesisBox Gateway has been specially designed to allow bidirectional control and monitoring of all parameters and functionalities of a KNX installation from a BMS, SCADA or any other device working as a BACnet client. The aim of this integration is to make accessible KNX system signals and resources from a BACnet/IP based control system or device, as if it was a part of the own BACnet system and vice-versa. For this, the gateway acts as a BACnet/IP Server device in its BACnet interface, allowing other BACnet/IP devices to perform subscription (COV) requests, and also read and write its internal points.
For more information visit https://www.intesisbox.com/en/ref-knx-bacnet-server-ibox-bac-knx/

---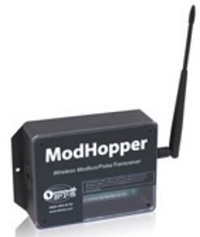 Wireless Metering - Obvius

Collecting information from meters at existing sites can be challenging and costly. The Obvius ModHopper makes it easy and cost-effective. The ModHopper is specifically designed to wirelessly transmit meter data from multiple meter points over long distances. Obvius' unique "mesh" technology provides optimized routing of communications that allow the ModHopper to function with a high level of reliability where other wireless technologies have failed. The ModHopper is self-configuring and does not require a PC or software for set up, minimizing installation time and disruption to site operations. The ModHopper can be used with any Modbus Master making it ideal for projects where wiring is not a viable option.
For more information visit http://www.obvius.com/Products/Wireless_Metering

---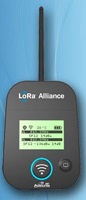 Adeunis LoRaWAN Field Test Device Introduced by Saelig

Saelig Company, Inc. announces availability of the LoRaWAN Field Test Device ARF8124AA - a ready-to-use system which provides connection with any operated network that uses the LoRaWAN V1.0 Class A & C protocol. It permits transmitting, receiving and real-time viewing of network radio frames. Equipped with a large LCD screen, it facilitates the verification of all operating information, such as GPS coordinates, temperature, and battery level, as well as network use parameters, such as uplink, downlink, SF, Packet Error Rate, etc. Its built-in ultra-fast, precise GPS capability optimizes geo-location applications. LoRaWAN is a networking protocol designed to provide a low power network with features specifically needed for low-cost, mobility, secure bi-directional communication with Internet of Things (IoT) products, machine-to-machine (M2M) applications, as well as smart city and industrial situations.

For more information visit http://www.saelig.com
---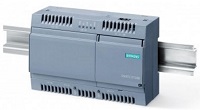 Siemens, RS and Massimo Banzi present the SIMATIC IOT2020
IOT 2020 is a multi-task open Industrial IoT gateway, and is the easiest way to start with Industrial IoT. Siemens IoT gateway exclusively from RS helps engineers get started with the industrial Internet of Things, it can retrieve, process, analyse and send data to almost any device due to its various interfaces including Ethernet, USB and micro SD. The gateway is compatible with open software such as Arduino IDE and Linux, as well as third-party hardware such as PLCs and sensors from various different brands via Modbus or Profinet protocol. The IOT2020 is also compatible with Arduino shields and various programming languages, including high-level languages such as Java, C++ and JSON via a range of IDEs that includes Eclipse and compilers for Yocto Linux. It is also expandable via an on-board mPCIe port. Node-Red can also be used to connect and control peripherals, such as sensors on a device. The Profinet protocol will also soon be available.
For more information visit https://www.rs-online.com/designspark/simatic-iot2020
---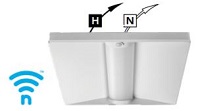 New nLight® AIR Wireless Controls from Acuity Brands Reduce Complexity and Cost of LED Retrofit for Building Owners and Contractors

Acuity Brands, Inc. (NYSE: AYI) today announced the nLight® AIR platform, a wireless extension of its widely deployed nLight® digital lighting control platform. As a fully wireless lighting control system with a five-tier security architecture, nLight AIR is ideal for building owners and contractors looking to seamlessly upgrade facilities to LED lighting control solutions that are designed to support compliance with state energy code requirements. The full news release is below, along with an attached image. nLight Air is especially suited for spaces where wiring is cost prohibitive, or for retrofits where running new wires can be difficult or complex.
For more information visit visit http://www.acuitybrands.com/products/controls/nlight-air

---
IDEC Adopts Leading-Edge Consumer Technology for Industrial Use
IDEC Corporation announces the 4.3" HG1G HMI, one of industry's first display products to take full advantage of the worldwide standard 4.3" LCD screen size. Because this screen size is so widely used in consumer gaming devices and other commercial products, it effectively obsoletes HMIs with smaller screen sizes by offering a larger and higher resolution display area at a lower price. The HG1G display is TFT Color LCD with high resolution of 480 x 272 pixels, 65K colors, and 800 cd/m2 brightness. This level of resolution produces a much improved viewing experience, and the increased brightness allows screens to be easily viewable in direct sunlight. Viewing can be configured for either portrait or landscape, with a viewing angle of 60 degrees from top, 65 degrees from the bottom, and 70 degrees from left or right. HMIs often need to communicate with a variety of different PLCs, controllers and other HMIs from different vendors, and the HG1G HMI delivers this functionality by supporting multiple communication protocols, up to four simultaneously. The serial port can support both RS-232C and RS-422/485 communications simultaneously, and the Ethernet port can support up to four Hosts and three User communication protocols at the same time. The serial port and the Ethernet port combined can thus support up to nine communication simultaneously, two serial and seven Ethernet.

For more information visit http://hmi.idec.com
---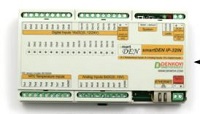 smartDEN IoT Internet / Ethernet 32 Inputs Module - DIN Rail BOX

This device is an Ethernet and Web enabled input module suitable for home automation, environment monitoring applications, logging/counting different events and many others. SmartDEN IP-32IN provides 16 digital inputs (for motion detector sensors, dry contacts, switches, buttons), 8 analog inputs (for temperature, humidity, light, pressure sensors) and 8 temperature inputs designed for NTC thermistors type B57500M. The integrated web server for set-up, SNMPv2c and HTTP/XML allow easy embedding in other systems. Interesting feature of the module is the ability to control remote relays based on input event or work in "Data Logging Mode" in order to post data in xml format on a remote server. Various software examples are provided and the module is supported by our android and ios apps.
For more information visit http://denkovi.com/smartden-lan-ethernet-32-inputs-module-din-rail-box

---
One wire relay module - 8 SPDT channels for Home Automation - DIN BOX

An eight channel SPDT relay module with DIN Rail Box and 1-Wire interface. Suitable for Home/Industrial Automation applications. This module can be added into existing Raspberry PI project as well.

For more information visit http://denkovi.com/1-wire-eight-channel-relay-module-for-home-automation-with-din-box

---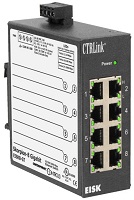 Contemporary Controls is introducing the unmanaged EISK8-GT/H 8 port gigabit Ethernet switch with hub functionality.

Yes, we purposely "broke" the address learning functionality of the switch so that all messages - directed, multicast, broadcast - are flooded to all ports on the switch allowing a protocol analyzer tool such as Wireshark® the ability to observe all traffic on the network. We kept the best part of the switch functionality by maintaining the auto-negotiation of the data rate at 10/100/1000 Mbps and allowing a straight through or cross-over cable on a per port basis. So in your field work if communication problems sometimes cause you serious grief the EISK8-GT/H is the tool to help you resolve the issues. If you prefer a smaller diagnostic switch, there is a 5 port gigabit model EISK5-GT/H or the 5 port 10/100 model EISK5-100T/H. For more information please visit the Diagnostic Switch page.
For more information visit https://www.ccontrols.com/ctrlink/eiskd.php

---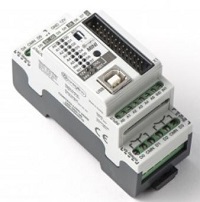 Controllion - Sortware Open-source PLC (ARDUINO compatible
Use CONTROLLINO like your ARDUINO board before. Programming according to the industry standard IEC 61131-3
Controllion Mini:
Microcontroller: ATmega328
Atmel Clock Speed: 16 MHz
RTC
1x serial Interface
1x SPI Interface
1x I2C Interface
Input current Max. 8A
6x Relays Outputs – 230V / 6A
8x Analog/Digital Inputs
8x Digital Outputs – 2A @12V or 24V

For more information visit http://controllino.biz/

---
---

[Click Banner To Learn More]
[Home Page] [The Automator] [About] [Subscribe ] [Contact Us]