---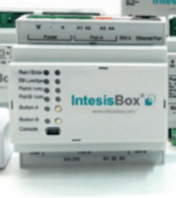 IntesisBox Gateways

Made by Intesis they are easy to use and reliable solutions for system integration and control of smart buildings.

For more information visit https://www.intesisbox.com/intesis/catalogs/IntesisBox_Portfolio.pdf?v=2.1
---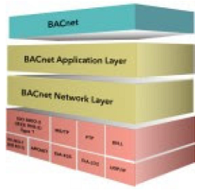 Cimetrics - BACstac V6.9 with new addendas!

BACstac V6.9 with new addendas! Develop scalable, high-performance, reliable BACnet applications with BACnet protocol stack for Windows, Linux and embedded controllers now with the support for BACnet protocol revision 18 (except BACstac/DN and uBACstac).
You can create BACnet devices compatible with B-OWS, B-OD, B-BC, B-AAC, B-ASC, B-SA and B-SS device profiles. Newly implemented addenda: 135-2012as (Value Source Information object type), 135-2012ai (Network Port object type – partially implemented), 135-2012aq (Elevator Object Types, COV Property Multiple Services, New Fault Algorithm FAULT_LISTED) 135-2012bf (Advanced Network Configuration, BVLL Responses for non-BBMD Devices), 135-2012bg (several small changes to existing functionality).

For more information visit http://www.cimetrics.com
---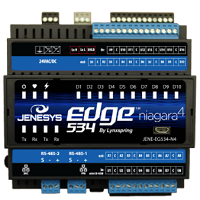 There's A New Programmable Controller From Lynxspring Available Now
Did you know the new JENEsys® Edge™ 534 Controller for Niagara 4:

Is a fully programmable Niagara Edge Controller; Utilizes the same Workbench software, Niagara programming tools and Fox Protocol; Supports standard Niagara 4 drivers—Niagara 4 Network (Fox), BACnet, Modbus, Web & oBIX; Leverages your library of applications, leverages your investment, integrates with Niagara/Fox tools and WorkBench; Leverages your Niagara 4 training; The Niagara stations are portable; Has 34 IOs on-board; Is easy to expand to additional IOs - Up to 306 IOs; Is ideal as a Plant Controller, Device-Level Controller and Field Controller; Fits with a Field Bus and Supervisor; Fast and large memory capacity; Takes Niagara into smaller and mid-sized opportunities; Is a low-cost entry point, perfect for price-sensitive applications; Can be installed quickly and easily; Is ideal for delivering edge connectivity, interoperability, data access and analytics for today's building energy management systems, machine-to-machine applications and IoT environments; Was recognized for the Best Tech Innovation Intelligent Buildings Award at iBCON 2017.
For more information visit http://www.lynxspring.com

---
Free BAScontrol Toolset Now Includes the BASemulator

Contemporary Controls has just released its BASemulator which replicates on a PC the operation of the company's BAScontrol series of open unitary controllers, thereby allowing sequence of operation (SOO) verification without having the actual controller. Using a PC, specifying engineers can now view the same program that will be used on the job to verify that it meets the engineer's intended sequence of operation. For a contractor, programs can be developed, configured and then saved on a PC for eventual downloading to the intended controller at the job site. The BASemulator faithfully mimics the operation of the actual controller including its web pages. It can even be "discovered" by a BACnet client on the same network as the attached PC. Although there are no physical connections to inputs and outputs, inputs can be "forced" via the configuration web pages and BACnet client commands are honored. It is the next best thing to a real controller.

Learn more at https://www.ccontrols.com/basautomation/bastools.php

---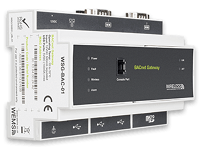 WEMS - BACnet Gateway 100

The Gateway 100 allows systems integrators to add WEMS wireless I/O into 3rd party BMS systems that are BACnet® IP compatible. The modules and sensors communicate to the Gateway using the WEMS protocol, the information sent is translated by the Gateway and communicated back to your BMS via BACnet® IP, where all I/O appears as BACnet® objects. Using a Gateway, systems integrators can combine multiple different wireless frequencies to suit different scenarios and also mix wired comms with wireless communications to create a system that's cost-effective for both the integrator and client. Features; Works with Schneider Electric, Trend, Siemens and Tridium; BMS platforms; 2KM wireless range (line of sight); Works with WEMS MX modular I/O system; Low power consumption, typically 1.5W; Reliable, 100% solid-state

Visit http://www.wems.co.uk
---
Seebo - Smart Home Products
The world is getting smarter, and with Seebo, your home is too. From a smarter way to enter homes, to a smarter night's sleep, Seebo technology enhances products for every aspect of modern living.

Make your products smarter visit https://seebo.com/smart-home-products/


---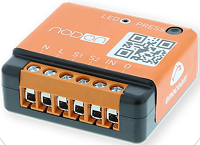 The NodOn® in-wall module
The NodOn® in-wall module can be controlled through an EnOcean® compliant Home Automation Gateway or directly through other EnOcean® controllers, such as the NodOn® Soft Remote, Wall Switch or Card Switch. Mounted behind your existing wired Wall Switch or in the ceiling or an electrical socket, the NodOn® in-wall module allows to make your home smarter (lights, heaters, garage door, etc...) very simply. With its 2300W switching capacity and potential-free input, make your home smarter, without changing any single appliance.
For more information visit http://nodon.fr/en/enocean/module-encastre-enocean-1-canal_16-1?platform=hootsuite

---
EUROICC - Smart Hotel Control

Savings, comfort and safety

Energy consumption (HVAC and lighting) is one of the largest operating costs in hotels.
Guests are away from their rooms more than 50% of the time, frequently leaving utilities running in their absence.
Save up to 30% of annual guest room HVAC and lighting energy use in guest rooms with EUROICC's Smart Hotel Control installed. Thanks to its smart management of rooms energy systems, our solution brings major savings and therefore improves a hotel's bottom line. It is also in compliance with global green building trends. Our solution brings high level of comfort for guests enabling them to easily communicate with hotel staff to create a room environment according to their own needs.

For ore information visit http://euroicc.com/solutions/smart-hotel-control/

---
Smart Wi-Fi LED Bulb with Color Changing Hue LB130

No Hub Required – Connect the bulb directly to your Wi-Fi at home
Manage Remotely – Control your lights from anywhere with your tablet or smartphone using the free Kasa app (iOS, Android)
Color Changing Hue – Fine-tune colors for every occasion and adjust brightness as well as light appearance from soft white (2500k) to daylight (9000k)
Voice Control – Pair to Amazon Alexa and the Google Assistant to enable voice control
Circadian Mode – Dynamically adjust light intensity and temperature to mimic natural light patterns
Save Energy – Reduce energy use up to 80% without brightness or quality loss compared to a 60W incandescent bulb
Compatibility – Compatible with Android, iOS and Amazon Alexa and the Google Assistant

For more information visit http://www.tp-link.com/us/products/details/cat-5609_LB130.html


---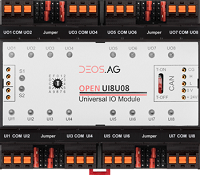 DEOS Controls Releases New CAN Bus I/O Module

DEOS Controls expands its portfolio of CAN bus I/O modules with the new UI8UO8. It features 8 universal inputs and 8 universal outputs and connects directly to the OPEN 810 controller. When combined with up to 9 I/O modules, the OPEN 810 forms a high density I/O controller that is designed to fit a range of central plant applications that require up to 72 inputs and 72 outputs.

For more information visit http://www.deos-controls.com
---


[Click Banner To Learn More]
[Home Page] [The Automator] [About] [Subscribe ] [Contact Us]