---


Delta Controls Inc. O3 Sensor Hub 2.0 - AHR2020 Innovation Award Winner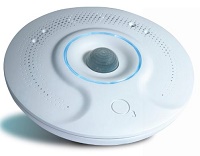 The O3 Sensor Hub 2.0 combines seven different sensors to provide the most accurate view of an interior space available on the market. IoT-enabled to function as a standalone room controller, the O3 Sensor Hub 2.0 combines temperature sensing, occupancy detection, humidity and wireless integration into one. This innovation uses Sensor Fusion to enhance the occupant experience with heightened room control and to reduce false occupancy detections. The O3 is ceiling-mounted to maximize functionality from the best vantage point of the room, enabling it to accurately detect occupancy with simple reads from body heat, keyboard noise or other motion. It also quickly detects when occupants leave the room, resulting in cost savings valuable to facilities management. With the O3 Sensor Hub 2.0, Delta Controls Inc. aims to change how the controls industry looks at occupant satisfaction.

For more information visit http://www.deltacontrols.com


---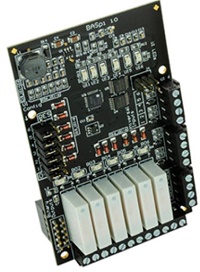 New BASpi-IO with Analog Outputs - Contemporary Controls

The wait is over! Our new BASpi-IO AO2 daughterboard is here. The BASpi-IO daughterboard (HAT) is a 12-point expansion board for Raspberry Pi 3 or 4. Two models exist and differ only in the makeup of their outputs. The new AO2 model offers more flexibility in applications where analog outputs are required. It has 6 universal inputs configurable for: analog input (0-10V), binary input, resistance (1Kohm – 100Kohm), thermistor (10KT2, 10KT3, 20K), pulse input (40Hz max), 4 relay outputs (30VAC/VDC, 2A max), and 2 analog outputs (0-10V). In addition to this new board release, we are also introducing two new firmware features for both BASpi models – email alarms/notifications triggered by Sedona logic and web page configurable schedule with exceptions/holidays triggering Sedona logic.

For more information visit http://www.ccontrols.com


---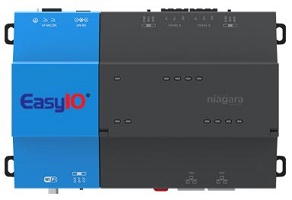 TCOM Drivers are now available at EasyIO
TCOM is a communication driver between EasyIO and the Niagara N4 and AX framework. It simplifies the migration of Sedona Objects to Niagara with auto discovery. There is NO need to create additional objects and NO need to export as BACnet or Modbus, which increases engineering efficiencies by up-to 50%. TCOM provides the capability for the Niagara Server or JACE to tightly integrate with the EasyIO IP controller's data including Sedona Objects, Time Schedules and Historical Data. All of which can be displayed and edited in the Niagara environment. TCOM can integrate directly to Supervisor without an onsite Jace.
The configuration is simple. Point and setup data can be scanned requiring minimal engineering resources. To ensure optimal performance the TCOM driver provides for a "Tuning Policy" which controls the "read/write" of data so you can "fine-tune" your integration network.

For additional information, visit https://www.easyio.pro/tcom.html
---
Speed and Versatility FS-32 at EasyIO
The FS-20 is a high performance server class controller with a 1.2 GHz quad core processor and 512 MB RAM, making it the fastest controller on the market. With 8 GB of flash memory and SD memory card slot, it has abundant data capacity in the server or at the edge. Integration with disparate systems is possible with MQTT, RESTful API and TCOM drivers. A unique feature for BMS controllers, the built-in VPN client/server allows for secure remote connectivity, in line with your client's corporate policy. The FS-20 features live programming via the EasyIO CPT Tools and supports all open BMS protocols such as BACnet, Modbus, Sox, and TCom and can be integrated to leading head ends and enterprise management systems.

The FS-20 has incomparable industry performance, allows for flexible design, and is a natural extension of the already award-winning FS series controllers, permitting secure integra­tion at a BMS and IoT level. Simultaneous use of open protocols, built-in I/O, network-readiness and no additional license fees make this an attractive alternative to traditional building controls.

For more information visit https://www.easyio.pro/fs-32.html

---
New Intelligent Desk Reservation System Enhances Open Workplaces
Comfy, the leading provider of global workplace experience solutions, and Enlighted, the leading provider of Internet of Things (IoT) solutions for commercial buildings, are partnering to deliver smarter workplaces. Their collaboration integrates Comfy's powerful workplace experience platform with Enlighted's award-winning building IoT technology. The first collaborative project is an intelligent desk reservation system addressing the growing need for open, activity-based workplaces. The solution features a new Enlighted desk sensor configuration and is currently being deployed across the global real estate portfolio of one of the world's largest enterprise software companies.
For more information visit https://www.comfyapp.com and www.enlightedinc.com
---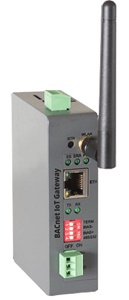 WI-FI BACnet IOT Gateway

A BACnet IoT Gateway that uses Wi-Fi communication to connect from BACnet devices and networks to the cloud.
The BACnet IoT Gateway provides a connection from BACnet devices and networks to the cloud.
The BACnet/IP driver allows the FieldServer to transfer data to and from devices over Ethernet using BACnet/IP protocol.
The BACnet Master-Slave/Token-Passing (MSTP) driver implements a data link protocol that uses the services of the RS-485 physical layer.
SKU: FS-IOT-BACW

For more information visit https://store.chipkin.com/products/wi-fi-bacnet-iot-gateway

---
Hands-on workshop on how to connect the Wize protocol to TTN

Wize is a radio modulation and protocol especially designed to create LPWAN networks. Our goal at AllWize is to provide easy-to-use and affordable tools for the Internet of Things based on the Wize radio protocol.

We believe interoperability and open ecosystems will be key in the future. That's why we use existing solutions and invest in making them compatible with our own.

During our workshop you will learn how to connect a wize-powered sensor to a LoRaWAN Network Server (LNS) like The Things Network (TTN). Now it's possible to use a deep penetration radio like Wize with the great community-oriented routing platform developed by TTN.
For more information visit https://www.eventbrite.co.uk/e/workshop-how-to-connect-the-wize-protocol-to-the-things-network-tickets-77768420439

---
Last Month's New Products
---


[Click Banner To Learn More]
[Home Page] [The Automator] [About] [Subscribe ] [Contact Us]