---
EnGenius℠ Power Monitor Released
First Fully Field-Upgradable Power Monitor Now Shipping

Memphis, TN― October 1, 2012 ― Kele announced that the EnGenius℠, a revolutionary, patent-pending new power monitor has been released and is shipping beginning today. The EnGenius represents the first fully field-upgradeable power monitor that is future-proofed for the changing needs of a building owner. Building automation professionals work daily with building owners to manage energy costs. A demand penalty from the utility company may be charged because too much kW is used at the wrong time of day. Accurate power monitoring is critical to understanding what specific aspect (for example, a chiller) needs to be optimized, ensuring a targeted and prioritized approach to energy savings.

EnGenius represents the next generation of power monitoring. The requirements and monitoring needs change over time. The genius of EnGenius is that, whether it is a firmware upgrade, a communication card, or other feature expansion cards, the EnGenius has building automation professionals and building owners covered. EnGenius makes it easy to install and upgrade as needed. Clayton Plymill, New Applications and Systems Engineer stated, "To make it any easier, we'd have to come install it for you!"
The EnGenius can be configured right from the built-in keypad. Desktop software helps save time and makes it easier to pre-configure prior to installation. For buildings that require multiple power monitors, the desktop software can be used to configure one EnGenius, then apply to all the monitors. That is just one of many ways EnGenius can help cut installation time in half.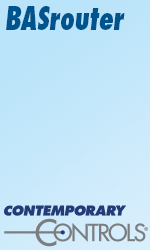 Designed and supported by Kele, the leader in building automation products, services and solutions, the EnGenius is made in the USA in an aerospace quality production environment and represents a stunning value for building automation professionals and building owners.

To learn more about how EnGenius can help make your job easier go to Kele.com/EnGenius. Short introductory videos can be seen at Kele.com/EnGenius-videos.
About Kele:
With nearly 30 years of experience, Kele is the leading supplier of building automation products, services, and solutions in the Building Automation Industry. Customer-focused and committed to product and distribution excellence, Kele works diligently to make it easy for its customers through a broad product selection, excellent customer service, unmatched technical support, reliable shipping, and the best catalog & reference guide plus website in the industry.


---


[Click Banner To Learn More]
[Home Page] [The Automator] [About] [Subscribe ] [Contact Us]