---
Daintree Networks Selected to Participate in United States GSA Green Proving Ground Program
After Rigorous Qualification Process, Daintree Chosen for Wireless Lighting Control Trials

Mountain View, Calif. - October 11, 2012 - Daintree Networks, Inc., a leading provider of wireless control solutions for smart buildings, today announced its participation in two trial projects for the United States General Services Administration (GSA) 2012 Green Proving Ground Program, which leverages the GSA's real estate portfolio to evaluate innovative sustainable building technologies for broad implementation. Tasked in 2007 with a 30% metered energy reduction by 2015, the GSA is actively investigating and implementing energy-saving projects. Lighting is the largest electrical load for the GSA portfolio and accounts for 30% of the total energy consumed by GSA office buildings. As the largest public real estate organization in the nation, the GSA provides approximately 354 million square feet of office space to more than a million federal employees in 2,100 towns (1) , so the potential for savings is significant. Industry averages cited in an article in LEUKOS, The Journal of the Illuminating Engineering Society of North America (2) suggest typical lighting control energy savings of:
• 28% for daylighting
• 24% for occupancy
• 38% for multiple approaches

The GSA's own earlier study of occupant responsive lighting found that energy savings from responsive lighting systems ranged from 27% to 63%. (3)

Daintree's ControlScope™ solution will be used in two GPG office building trials in California. In a Sacramento trial, ControlScope will be used to control existing fluorescent lighting, while in a San Francisco trial, ControlScope will be used in conjunction with new LED fixtures from another participating 2012 GPG vendor. A baseline will be established, and metered energy usage will be monitored by the United States Department of Energy (DOE). Results from the trials will be published in early 2014.

According to Kevin Powell, GSA Green Proving Ground Program Manager, "Technologies that are short-listed for enhanced measurement and verification are chosen because they demonstrate the greatest potential agency wide, to meet GSA's sustainability goals."

Says Daintree's CEO, Danny Yu, "Daintree is honored to have been selected to participate in the GPG 2012 program, and we look forward to working with the GSA in this important effort. We're pleased to be in a position to help the government save energy, and based on our experience in recent, similar implementations, we're confident that we can help GPG achieve dramatic energy efficiency improvements."

While these particular projects are initially limited in scope to lighting control and monitoring, once installed, lighting devices connected in a wireless network provide the infrastructure for control and monitoring of non-lighting wireless devices, such as plug load controllers, power meters, and thermostats. According to Yu, "One of the most compelling features of ControlScope is that it can evolve with the building-or campus, or enterprise-so building managers and owners can take advantage of an ever-growing set of building management capabilities at their own pace. Not only will the trial results further validate the energy savings our existing customers have already achieved through lighting control, but they will lay the foundation for the GSA to realize the value of wireless infrastructure solutions that enable smart buildings."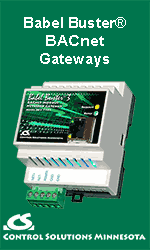 About Daintree Networks, Inc.
Daintree Networks is a market-leading innovator in next-generation commercial and industrial building automation. Daintree provides the industry's leading wireless controls solution for smart buildings, delivering dramatic energy and operational efficiency improvements as well as occupant-friendly work environments, all in a simpler, more cost-effective way than ever before.

Since its founding in 2003, Daintree Networks has been a pioneer in wireless mesh networking and control. The company has brought this extensive experience to bear in developing the market's first truly open, easy-to-install, easy-to-use solution for wireless building control. For more information, visit www.daintree.net.

About the GSA Green Proving Ground Program
The Green Proving Ground program (GPG) leverages GSA's real estate portfolio to evaluate innovative sustainable building technologies. Evaluations, performed in association with independent researchers, are used to support the development of GSA performance specifications and inform decision making within GSA, other federal agencies, and the real estate industry. The program aims to drive innovation in environmental performance in federal buildings and help lead market transformation through deployment of new technologies. Notable findings from all projects will support the evolution of performance specifications for the GSA portfolio and will inform decision making at GSA, other federal agencies, and the industry in deploying the technologies studied. For more information, visit http://www.gsa.gov/portal/category/102491

________________________________________
(1) http://www.gsa.gov/portal/content/105345
(2) http://efficiency.lbl.gov/drupal.files/ees/Lighting%20Controls%20in%20Commercial%20Buildings.pdf
(3) http://www.gsa.gov/graphics/pbs/OccupantResponsiveLighting_508c.pdf




---


[Click Banner To Learn More]
[Home Page] [The Automator] [About] [Subscribe ] [Contact Us]