---
Energy Management for the 99.8%
Berkeley CA, 13 October 2015: EnergyAi® is pleased to announce its participation in Pacific Gas and Electric's "Share My Data" service. PG&E business customers can now authorize EnergyAi® to securely access and analyze their interval meter data to identify opportunities to save energy, costs, and CO2.
"We describe this as energy management for the 99.8%," noted EnergyAi® founder Dave Krinkel. "A 2013 survey found that only 0.2% of U.S. commercial facilities have a building energy management system. But now virtually all PG&E business customers can benefit from the insights revealed by a BEMS. Share My Data enables us to drill down to the 15 minute level to find unusual usage patterns."
Share My Data uses Green Button Connect My Data technology, a secure protocol approved by the National Institute of Standards and Technology (NIST) cyber-security team. A business owner simply logs on to PG&E's customer service portal and authorizes EnergyAi® to access their energy data. Two to four hours later, the owner receives the EnergyAi® Meter Insights report by email.
"Our mission is to provide actionable information at a price point affordable to all energy users, large and small," added Krinkel. "Share My Data is free to PG&E customers. The Meter Insights report costs $20, though you first review the report and if it does not meet your expectations, there's no charge."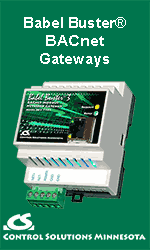 EnergyAi® (www.energyai.com) looks for unusual patterns in meter data for any type of facility. A recent analysis for a small office building revealed that equipment had been left on during weeknights and weekends for 450 hours over the last year. This was quite unexpected, and added about $9,000 to the electricity bill. A simple operational change eliminated most of this excess use going forward.
EnergyAi® is also available to San Diego Gas and Electric customers through its Green Button Connect My Data service. Six other major utilities in the U.S. and Canada will roll out Connect My Data in the near future.
"Together, Connect My Data and EnergyAi® make it incredibly easy for any business to see their operations from their meter's perspective," noted Krinkel. "It also offers ESCo's and other energy professionals an easy way to incorporate interval meter data analysis into their toolkit."
For more information, contact Dave Krinkel (email dkrinkel@energyai.com).




---

[Click Banner To Learn More]
[Home Page] [The Automator] [About] [Subscribe ] [Contact Us]