---
Opto 22 Releases Three New groov EPIC I/O Modules

New I/O modules address demands of specialty and low-cost applications, including dry contact monitoring, temperature control and mixed voltage.

Temecula, CA - October 22, 2019 – Opto 22 announces the release of three new groov EPIC® input/output modules, further extending an already comprehensive industrial I/O portfolio. For system integrators and engineers, the new I/O modules provide more options for bringing existing devices into groov EPIC, as well as meeting precise requirements for temperature control applications. They also include budget-beating designs for mixed signal types, signal isolation, and channel density:

GRV-IDCSW-12 (discrete input, 12 channels, DC contact switch status) monitors the open/closed status of dry contact switches, and provides the necessary excitation voltage to power the circuit. This module is ideal for monitoring distributed IT equipment, benchtop analyzers, motor run/stop relays, or any device that offers only a dry contact for status. Because there's no need to install separate power supplies to drive these dry contacts—since wetting and monitoring are both provided—this module can save considerable time, money, space, and installation effort.

GRV-IVI-12 (analog voltage input, 12 channels, ±1.25 to ±160 V, channel-to-channel isolation): With 12 isolated channels, each configurable to one of eight ranges from ±1.25 to ±160 V, this module eliminates the need to segregate I/O signals over multiple modules, providing significant cost and space reduction for mixed voltage applications. The GRV-IVI-12 has 20-bit resolution and is accurate to 0.1% of the configured range. It includes options for scaling, filtering, averaging, and more, speeding development time and distributing computation functions down to the I/O module.

GRV-IRTD-8 (analog input, 8 channels, temperature/RTD or resistor) increases options for accuracy and I/O density in temperature applications. It provides 8 channels for 2- and 3-wire RTD inputs, with a maximum range of –200 °C to 850 °C. Users can take advantage of multiple fixed ranges or one of two auto-ranging methods to simplify configuration. GRV-IRTD-8 can also be used for high-resolution resistance measurements, with accuracy ranging from 4.2 Ohms at the 8K Ohm input range to 0.058 Ohms at the 10 Ohm range for 3-wire RTDs.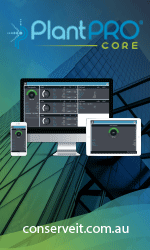 For more information visit http://www.opto22.com
---


[Click Banner To Learn More]
[Home Page] [The Automator] [About] [Subscribe ] [Contact Us]