---
Updated October 1st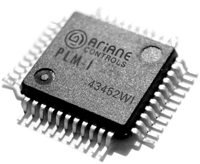 Ariane Controls - New Evaluation Boards
Ariane Controls is please to announce the availability of new evaluation boards for it highly reliable, very powerful but yet inexpensive powerline communication technology. Ariane's evaluation boards can be interfaced with any Personal computer running Windows using a standard parallel port or to any micro-controller through an SPI (serial peripheral interface) port. Using a very robust FSK modulation technique and a highly reliable FEC (forward error correction) and CRC algorithms, messages are guaranteed to reach their destination without possibly being corrupted. Ariane's technology is also extremely flexible since it can carry any protocol, at a user programmable speed and carrier frequency. Medium access control and collision detection is also being used for communication management. Message priority management, acknowledged or unacknowledged communications, packet queuing, repeater mode are just some of the features that are included.
For more information visit www.arianecontrols.com
---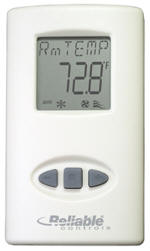 Reliable Controls introduces SMART-Sensor™ LCD
The SMART-Sensor™ LCD is ideally suited for commercial and institutional properties. This multipurpose device features onboard temperature sensing and optional inputs/outputs. The SMART-Sensor™ LCD allows building management personnel to view and edit up to ten points. BACnet® objects connected to the Reliable Controls® MACH-System™ can be accessed directly from the LCD screen. The SMART-Sensor™ LCD: Another innovative and economical product from Reliable Controls® includes:
Large, easy-to-read LCD display®
Powerful, fully programmable interface
Easy three button user interface to display any system point
Display or change BACnet® objects from any Reliable Controls® device
Networkable with existing SMART-Net™ products
On board PC port for network access
Built-in configuration tool
For more information on the SMART-Sensor LCD™ please visit http://www.reliablecontrols.com/products/interfaces/.
---
Circon Programmable Controllers Receive LonMark 3.3 Certification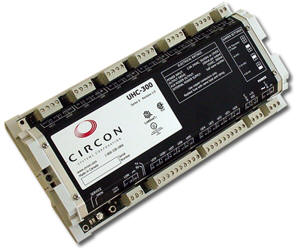 RICHMOND, BC – Circon Systems Corporation, a LonMark® Sponsor and manufacturer of integrated facility automation systems, announced the LonMark 3.3 Certification of two of its Circon Programmable HVAC controllers. The UHC-300 and the UHC-320 comply with LonMark interoperability guidelines and both are designed for use in open system, multi-vendor, interoperable LonWorks® networks.
Circon's UHC-300 and UHC-320 unite a variety of configurable control blocks combined with the power of the Circon BASIC programming language to provide exceptional application flexibility. Use the UHC-300 and UHC-320 to implement tailored control applications for unique or custom HVAC mechanical designs. The UHC-320's 6 universal inputs and 7 universal outputs, and the UHC-300 10 universal inputs and 12 universal outputs, as well as all resident control blocks are easily configured using simple Windows®-based LNS® plug-in software. Flexible alarm, trend, schedule and PID control blocks can be used to quickly create effective control and monitoring solutions. Circon's powerful BASIC programming language can be used, along with the configurable control blocks and the input/output points to implement more complicated control sequences used to control air handlers, heating/cooling plants, lighting or any custom HVAC equipment. For information on both products visit www.circon.com.
---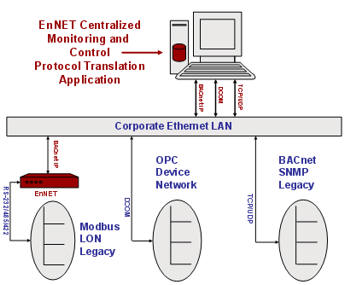 Gridlogix Releases EnNET® CMC Protocol Translator Software
St. Louis, MO. – Gridlogix, Inc., a leading creator of enabling interoperable Web Services technology announced the release of EnNET® CMC for translating disparate control system protocols into industry standard BACnet/IP.
EnNET CMC (Centralized Monitoring and Control) provides robust protocol translation so that legacy building management systems can be managed using any BACnet Operator Workstation. The EnNET CMC Server can easily translate Modbus RTU, Modbus TCP/IP, SNMP, LON, OPC DA and many legacy protocols into BACnet/IP. EnNET CMC is a very easy to use and scalable software alternative to other hardware-based protocol translators and gateways on the market.
For more information on this product visit Gridlogix's website www.gridlogix.com
---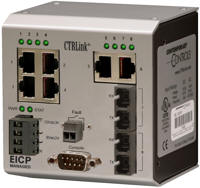 New Ethernet Switches Offer Management Features in A Compact Size
Downers Grove, Illinois - Contemporary Controls introduces the EICP_M series of compact switches that offer extensive management features for industrial applications where 0°C to +60°C temperatures are expected. The EICP_M series is available in an all twisted-pair 8-port model or a mix of twisted-pair and fiber optic ports using either SC or ST-style connectors. Both multimode (1300 nm) and single-mode (1300 nm) fiber optics are supported. Equipped with conventional features common in standard Plug and Play switches, the EICP_M series expands that functionality by adding important management attributes such as VLAN, trunking, Quality of Service (QoS), Simple Network Management Protocol (SNMP) and a progammable fault relay that can be connected to a supervisory system. Individual port parameters and other feature settings are configurable.
For more information on this product line, visit www.ctrlink.com
---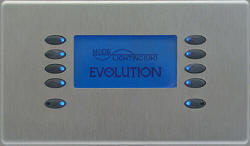 New Evolution lighting and peripheral management system by Mode Lighting
Evolution is a revolutionary control system for both lighting and systems integration. Breaking away from the limitations of conventional lighting control methods, Evolution opens up a world of possibilities. Evolution is offering unparalleled levels of configurability and scalability. Evolution will ensure that your projects meet the needs of your clients whilst being easy to install and maintain. Breaking away from the limitations of conventional lighting control methods, such as zoning and fixed button-to-scene operation, Evolution opens up a world of possibilities, offering significant benefits for designers, architects, specifiers, installers and end users. Feature-rich Power and Processor packs interface to all popular lighting interfaces including DSI, DALI, 0-10v and DMX. Each pack also includes an RS232 interface for interfacing with AV systems, and a real-time clock for scheduled events or seasonal variation. Automatic astronomical calculation is built-in to enable lighting changes to be linked to local sunrise/sunset times. For more information visit www.evolutioncontrols.com
---
All Weather Light Detector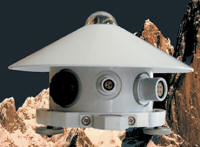 Gigahertz-Optik's WPD series weatherproof detectors are designed for year round outdoor light measurement in solar and solar simulated optical radiation monitoring applications. To withstand the most demanding environmental conditions the entire light sensor is shielded in a rugged metal housing with the front input optic enclosed and sealed under a precision-made quartz dome. Photodiode, filtering and diffuser are temperature stabilized to +25° C (stable to +/- 1° C) by means of a Peltier cooler. The WPD detector operating temperature range is –20 to 50 deg C. The WDP's PTC-0101 Peltier Temperature Controller electronics are contained in a separate compact bench-top or rack-mount housing with cable connection to the WPD detector. Any Gigahertz-Optik light detector elements can be integrated into the WPD housing covering the ultraviolet, visible or near-infrared spectral regions. The WDP series detectors are normally used with a GO optometer or amplifier for direct measurement in any optical unit and datalogging.
For more information visit www.gigahertz-optik.com
---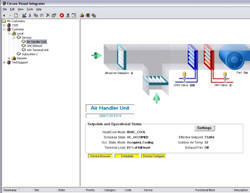 Circon's new Visual IntegratorÒ 3
Circon's new Visual IntegratorÒ 3 is an economical way to assert detailed and precise control over any LonWorksÒ Building Automation network via direct connection, or remotely using the Internet. Powerful graphics creation is performed through an intuitive wizard, using our vibrant images or your own, to provide you with representative floor layouts, equipment layouts or total system analysis. Built in Trending, Scheduling and Alarming allow you to tailor your system or customize it, as you need to.
To learn more about Circon's Visual Integrator or any other of our powerful LNSä based Building Automation equipment, visit our web site at http://www.circon.com.
---
The Watt Stopper's ezDALI Uses DALI Protocol to Provide Digital Dimming and Scene Controls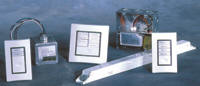 SANTA CLARA, CA - AezDALI, The Watt Stopper's digital dimming and scene controls, use the DALI communications protocol to provide full-featured, individual ballast-level dimming. Users create lighting environments (scenes) via push-button programming for a variety of common activities, then recall those scenes with the push of a button. Comprised of wall-based controllers, a power supply, DALI ballasts, and a communications databus, ezDALI provides 1% dimming for linear fluorescents and 3% for compact fluorescents. Easy to wire, commission and operate, ezDALI does not require software programming or other specialized commissioning tools. Push-button programming enables installers and users to set up and reconfigure the system as needed without rewiring. ezDALI is ideal for conference rooms, lecture halls, classrooms, auditoriums, and executive offices.
For more information, visit The Watt Stopper at www.wattstopper.com
---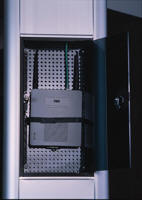 Architectural Column Supports Wireless Access Point
WEST HARTFORD, Conn. – The Vista™ architectural column from The Wiremold Company now offers an option that enables it to support a wireless access point. The Vista AP architectural column is designed to incorporate wireless components in a secure yet accessible unit that is aesthetically pleasing and provides maximum flexibility to meet changing space requirements. Vista architectural columns can be placed anywhere in an open space, providing communications flexibility and adding a unique design element. Columns are available in a nearly unlimited selection of materials and finishes. The modular column is easily relocated to accommodate changing space requirements.
The Wiremold® Vista Configurator, located at http://www.wiremold.com/vista/vista.html enables designers to preview how the various design elements work together, get a bill of material, and request a quote.
---
RFID Tracking System for Elderly & Children



Amtel introduces an Asset Tracking System which utilizes a new wristband RFID tag that can track the movements of elderly patients in an assisted living facility, children in an amusement park or even tourist groups on a bus tour. This tracking system uses RFID controllers which are installed at strategic doors and passageways in the facility. All in and out movements of people wearing these tags are recorded and presented in a graphic form on a computer to security personnel.
For more information visit http://www.amtel-security.com/
---
Traversix Connectivity System enhances security, simplifies remote access

Richardson, TX – Wavetrix announced the immediate availability of its Traversix Connectivity System, the first managed service offering secure, seamless access to remotely-located assets. The Traversix Connectivity System is a "No Touch" solution to securely connect a customer at his PC through the Internet to remotely-located serial devices anywhere in the world. Unlike standard serial-to-Ethernet products, the Traversix Connectivity System initiates only outbound connections from remote locations to a central gateway using communication links secured by SSL and 128-bit AES encryption. This allows operation through firewalls without creating the security risks associated with special configuration of firewalls. In addition, the Traversix Connectivity System centralizes system administration and authentication giving the user, for the first time, a single point of control and management for his remotely-located assets.
For more information about Wavetrix and the Traversix product line visit www.traversix.com.
---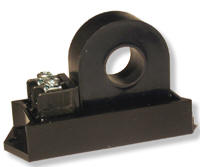 Elkor Technologies Inc. Introduces i-Snail
Elkor Technologies Inc. has been developing building automation solutions for over 15 years. Our comprehensive line of interfacing boards adds functionality and enhances DDC and SCADA systems. Now with the addition of our current measurement devices, Elkor makes current measurement easy. With single phase, three phase, analog and digital outputs, these monitoring solutions fit any installation and budget.
For more information on the i-Snail current sensor visit http://www.elkor.net
---
---


[Click Banner To Learn More]
[Home Page] [The Automator] [About] [Subscribe ] [Contact Us]