---
Updated September 17th
The BuilConn Update
Building-IT Convergence - What Next?
Market Forces Define the Path to Intelligent Buildings
Excerpts from a White Paper by Anto Budiardjo
Click Here to download the complete white paper PDF
This four-part white paper on the future of Building-IT Convergence covers the driving forces, trends and predictions on how our lives will change as convergence takes root globally.
---












Two Major Announcements From Jungo
AudioCodes Introduced the Tulip AC494, a Set of Designs for Analog Telephone Adapters (ATA) Powered by Jungo's Software. The newly introduced reference design from AudioCodes (NASDAQ: AUDC), integrated with Jungo's OpenRG software platform, is a complete hardware and software solution, providing a cost-effective, production ready design for Voice over IP Telephone Adapters.
Jungo's Residential Gateway Software Successfully Completed TR-069 Interoperability Testing in SupportSoft Digital 360° Lab SupportSoft (NASDAQ: SPRT), a leading provider of Real-Time Service Management (RTSM™) software, and Jungo announced that Jungo has successfully completed testing of its OpenRG residential gateway software for compliance with the DSL Forum CPE WAN Management protocol known as TR-069. Passing the interoperability test ensures that SupportSoft ServiceGateway™ works with various DSL Customer Premises Equipment (CPE), that are powered by Jungo's OpenRG software.
---
Register for the 2005 BACnet Conference & Expo October 23-25 in Nashville
• more BACnet products.
• more BTL listing.
• more BACnet Sites.
• more freedom than ever!

The two-day agenda will provide BACnet education – from the basics of BACnet and open systems to advanced spec writing. Topics will include:
The Benefits of Open Standards
End-User's Panel to discuss Real World BACnet Implementations
BACnet Network Design, Testing & Commissioning
Planning for the Future with BACnet
The PICS Statement Simplified
The Meaning of the BTL Listing
BACnet and IT Department FAQs
Basic & Advanced Spec Writing
BACnet Web Services and XML
The Future of BACnet
---
Axeda releases WizReport XL, its new professional reporting solution for Wizcon-based applications
Fully integrated with Axeda Supervisor / Wizcon, this complete solution offers user-friendly, powerful and self-managed reporting for any automated process.
LYON, France – Axeda Systems, the world's leading provider of Device Relationship Management (DRM) and supervisory, control and data acquisition (SCADA) software and services, announced the launch of Axeda® WizReport™ XL 6.0 Professional. This new software is a complementary reporting product for the Axeda Supervisor™ software suite, which includes the renowned Wizcon® SCADA/HMI software and other tools to automate processes such as those found in industry, buildings, water treatment sites and power generation facilities.
---
Honeywell Introduces New Service to Help Cut Energy Costs and Improve Building Performance
MINNEAPOLIS - Honeywell (NYSE: HON) introduced Honeywell MiniRetrofit(tm) Service, a new facility-optimization program that allows building managers to tackle energy-savings projects without an upfront capital investment. Through a multi-year service agreement, the MiniRetrofit(tm) program helps businesses replace aging infrastructure with high-efficiency equipment and systems, thereby decreasing energy use, increasing equipment reliability and improving comfort. The projects, such as lighting, HVAC and insulation upgrades, have little or no impact on the operating budget because they are funded by the energy and operational savings they generate.
---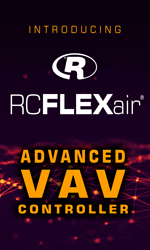 Circon Releases Seven New Space Comfort Controllers!
Vancouver, BC – Circon Systems Corporation, a LONMARK® sponsor and manufacturer of integrated facility automation systems, today announced the release of seven new Space Comfort Controller (SCC) Direct Digital Controls (DDC) controllers providing optimum control for packaged HVAC equipment.
The seven new controllers are:
SCC-310-AHC air handlers
SCC-310-FCC fan coils
SCC-310-GPC general purpose
SCC-310-HPC heat pumps
SCC-310-PRG programmable
SCC-310-RTC rooftop air conditioning units
SCC-310-UVC unit ventilators
In addition to their complete hardware and software compatibility with Circon's SCC-300-AHC, FCC, GPC, HPC, PRG, RTC and UVC products, the SCC-310 controllers include relay-based output points to complement the TRIAC-based output points used in the SCC-300 controllers. By employing relays, the SCC-310s are faster and easier to install when pilot relays would otherwise be required. All controllers, except the SCC-310-GPC, are LONMARK-certified and all are designed for use in any open system, multi-vendor, interoperable LONWORKS® network.
---
Rabbit Semiconductor®, INC. Introduces the Color Touchscreen Application Kit
Davis, CA - Rabbit Semiconductor, Inc. is pleased to introduce the Color Touchscreen Application Kit. The Color Touchscreen Application Kit gives integrators the ability to add a color touch screen to their embedded systems. The color touchscreen, with its numerous customizable features, enhances Rabbit-based systems by providing an intuitive user interface, modern display controls and increased functionality. The graphical user interface can be customized using standard desktop tools. The application kit includes a Reach Technology SLCD controller board, a 5.7" TFT Hitachi color display, Dynamic C® development software and a RCM3720 Ethernet RabbitCoreTM. The application kit also includes a NEMA 4 enclosure that allows for rugged, waterproof installation.
---
Data-Basics Introduces the Next Generation of Mobile Workforce Software, TechAnywhere 2.0
CLEVELAND, OH -- Staying ahead of the curve once again, Data-Basics Inc., a leading provider of enterprise applications for the service, construction and facilities management industries, has rolled out the next generation of its mobile workforce software, TechAnywhere 2.0. This updated component in Data-Basics' SAM Pro Enterprise software suite will be publicly exhibited for the first time at HVAC Comfortech 2005 in Nashville, Tennessee. The TechAnywhere 2.0 tool supplies field technicians with mobile access to work orders using wireless field devices, including Blackberry devices and tablet PCs. With wireless connectivity to vital information, firms will realize greater efficiency in both the field and the back office without adding to a tech's responsibilities. But what sets TechAnywhere 2.0 apart from similar industry solutions is the implementation for tablet PCs.
---
ThyssenKrupp Elevator Acquires R&O Elevator Company
FRISCO, Texas – ThyssenKrupp Elevator, the elevator division of ThyssenKrupp AG and the largest elevator company in North America, announced it has acquired R&O Elevator Company, a Minneapolis, Minnesota-based service repair and modernization company, which has been in existence since 1925. The agreement aligns with ThyssenKrupp's strategy to expand its maintenance, repair and modernization services. Terms of the transaction were not disclosed.
---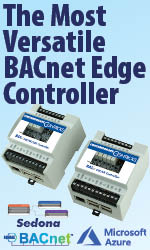 Wireless Connecetivity (WiCon) Americas
Wireless Connecetivity (WiCon) Americas is THE one stop shop for wireless connectivity solutions in the US! It is the ONLY exhibition to cover key technologies in the WiCon space including Bluetooth, NFC, UWB, WiFi, WiMAX and ZigBee. October 5-6th Santa Clara, California.
---
Partners/Information support of "BIG-RU"
This E-mail is to inform you that your logo was added to the new section of "BIG-RU" association web-site - "Partners":
http://www.bacnet.ru/en/partners.htm
---
Siemens Appoints Monkiewicz as Staefa Brand New Business Development Manager
BUFFALO GROVE, Ill. – Siemens Building Technologies, Inc. has appointed Steve Monkiewicz Business Development Manager for the Staefa TALON brand of their HVAC Products division. Monkiewicz' key role is to expand and develop the Staefa TALON network of dealers in North America. Monkiewicz brings extensive sales management, distribution network sales experience, and HVAC application knowledge to this position. Monkiewicz has previous experience as an independent controls and contracting consulting for business improvement strategies and growth techniques, as well as experience at HVAC controls industry manufacturers. For more information on the Staefa TALON brand of Siemens Building Technologies, visit www.staefa.com.
---
Ethernet in Automation Hits the Road - Opto 22's Free "Ethernet in Automation" Seminar Scheduled for Nationwide Tour
Temecula, CA - Opto 22, a developer and manufacturer of hardware and software for industrial automation, remote monitoring, data acquisition, and machine-to-machine (M2M) applications, has announced a nationwide series of free seminars centered on the use of Ethernet in industrial automation, process control, data acquisition, and remote monitoring applications. The full-day "Ethernet in Automation" seminar will cover a variety of topics and will include a preview of several new Opto 22 products (such as the SNAP PAC(tm) family of programmable automation controllers), a demonstration of how easy it is to add Ethernet networking to existing Optomux systems, and an overview and demonstration of the soon-to-be-released ioProject Professional(tm) software suite. Seminar attendees will discover the benefits of deploying Ethernet in their industrial networks, including cost savings via higher density I/O, and the ability to utilize faster, more powerful, latest generation controllers.
---
Recently published Fairmont Press Titles
Effectively Managing Natural Gas Costs by John Studebaker
Emergency & Backup Power Sources Preparing For Blackouts & Brownouts by Michael Hordeski
Web Based Energy Information & Control Systems by Barney Capehart
Bioterrorism: A Guide for Facility Managers by Joseph F. Gustin
To request a review copy of any these titles, or any other Fairmont Press book, please contact Beth Pearce at beth@aeecenter.org
---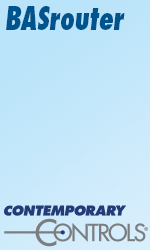 FIATECH Member Meeting: Optional ISO 15926 Implementation Workshop Just Added!
This workshop will begin with a one-hour generic overview of the standard, its scope and implementation, and its practical use. Some demonstration software will be showed. A detailed presentation of the ISO 15926 internals, use cases, its relation to other standards, and a presentation of the projects it is currently applied at will be discussed in greater detail during the remainder of the workshop. It is highly recommended that meeting attendees who plan to participate in the Life Cycle Data Management & Information Integration sessions attend this Workshop. If you would like to attend this workshop the day prior to the start of the FIATECH Member Meeting, please e-mail Janie Bushn at bushn@fiatech.org to reserve your spot. There is no cost to attend this workshop, but space is limited and will be assigned on a first-come basis. FIATECH Member Meeting, October 11-12, 2005
---
Lantronix Launches Industry's First Data-Center Grade Embedded Device Server and Network Operating System
IRVINE, Calif. - Lantronix, Inc. (Nasdaq: LTRX), a leader in device networking and data center management solutions, announced two breakthrough technologies bringing powerful, data-center grade information exchange capabilities to embedded devices arrayed throughout private networks and the Internet. The new XPort™ Architect™ (AR™) embedded processor module, is the first product to take advantage of the company's enterprise-class Evolution™ Network Operating System (ENOS™). Designed to connect devices with secure business and control applications, the XPort AR takes advantage of the same high-level data transport and security mechanisms adopted worldwide by IT professionals. This announcement represents the next step in the progression of the award-winning Lantronix XPort family and extends the line with more memory, processing power and data-center protocols for applications requiring increased on-module intelligence and customization.
---
The 2nd Annual European Connected Home Forum

Creating compelling consumer packages and profitable strategies for the connected home
11th & 12th October 2005, Business Design Centre, London
The 2nd Annual European Connected Home Forum brings together all the key players in the value chain to discuss and debate how to maximise the revenue opportunities presented by the connected home and understand when to form partnerships and when to compete. For more information visit
http://www.the-connected-home.co.uk/
---
Legato Electronics Ltd. Introduces Mascot 2 - Linux DVR
Mascot II - Hardware H.264 Audio Video Recording System
1) Embedded OS
2) H.264 encoding & compression
3) True 704x576 each channel hi-res recording
4) 4/8/12/16 Channel options
5) Supports IP Filtering for remote security
Mascot II DAVR supports true each channel 704x576 resolution recording.
For more information contact sales@adder-dvr.com.
---
ZigBee SOC Demos - Figure8 ahead of competition
September 12th Chipcon / Figure 8 announced the availability of the world's first One-Chip ZigBee solution. The new Chip is a key part of Chipcon's SmartRF®03 product family, and is based on Chipcon's industry leading ZigBee radio transceiver which has already surpassed 1 million units shipped.
---
Hospital Installs Open System From TAC
DALLAS – The Martin Army Community Hospital, at Fort Benning, Ga., is now operating at peak efficiency and providing optimum comfort for patients, visitors and staff. This is because the 200-bed facility, one of the Army's largest and most comprehensive community hospitals, has installed a new building automation system (BAS) from TAC, a world leader in building automation, security systems and energy solutions. Climate Control Systems Inc. (CCSI) of Irondale, Ala., a TAC partner, provided a cost-effective automation solution based on the TAC Vista® system, which relies on open technology to provide an interoperable, expandable and reliable BAS. CCSI worked closely with the hospital to make the installation of the new BAS as smooth as possible and without disruptions at the facility that operates continuously every day. CCSI was also careful to protect system access to the hospital's Ethernet because the entire military base uses this network. For more information about TAC visit www.tac.com
---
Jungo software platform is ICSA certified for corporate level firewall
Jungo's software platfrom has successfully passed ICSA labs' Firewall testing and received Corporate Level certification. Jungo's software platfrom firewall met ICSA Labs' stringent network security tests by passing the corporate level certification criteria version 4.1 designed to protect the network's corporate users.
---
Tridium Announces 2006 Niagara Summit
Conference for Connecting Minds and Machines to be held April 30th-May 3rd at the Saddlebrook Resort
RICHMOND, VA—Tridium, Inc. announced today that its 2006 Niagara Summit will take place April 30th though May 2nd at the Saddlebrook Resort in Wesley Chapel, Florida. An open exchange and conference focusing on Niagara-based ideas, techniques and developments, the Niagara Summit brings together integrators, end-users, consultants, OEM manufacturers, developers and resellers--- the Niagara Community--- to share experiences, hone their skills, share knowledge and network with peers. Held bi-annually, the inaugural event in May of 2004 was a resounding success for both attendees and those suppliers that took advantage of the opportunity to exhibit their Niagara-based solutions and complementary products.
---
Asure ID Exchange Offers Digital Identity and Photo Card Management with Intuitive Card Design, Data Management and Advanced Card Personalization

Gatineau, Quebec – Synercard Corporation, the software product company behind the critically acclaimed Asure ID® suite of trusted identity solutions, today introduced its latest digital identity and photo card management software, Asure ID Exchange. Featuring integrated image capture, universal printing and encoding, enterprise connectivity, real-time security and application compatibility, Asure ID Exchange was designed to save installation and support time while extending the value of third party applications currently used in the industry. The expansion of the Asure ID product offers the industry's first seamless gateway software for plug-n-play, enterprise credentialing, encoding and, biometric enrollment and verification. Utilizing Asure ID's intuitive Live Link module, users can connect, in real time to existing database applications to streamline enrollment and eliminate data redundancy. With only a few simple clicks, organizations can add Asure ID's powerful card management and personalization tools to most any access control, time and attendance, human resources or logical access applications.
---
BTV+ achieves ground-breaking integration of RFID display triggering for digital signage.

MISISSAUGA – BTV+ (www.btvplus.com) recognized as a premier provider of IP Satellite enabled Digital Signage and Interactive Distance Learning systems for business, announced it has achieved a breakthrough in integrating highly effective, low-cost radio frequency identification (RFID) triggering with digital signage display. The RFID display triggering system integrates with BTV+ ADvantage and other digital signage systems to improve the effectiveness of merchandising, information and customer-facing digital displays. The BTV+ breakthroughs add significant new applications of digital signage and dramatically improve the functionality, impact and value of digital signage as an information and point-of-purchase communications tool. The system operates in typical retail and customer/public service environments, uses ISO standards, and is inexpensive.
---
Richards-Zeta, Panduit and Cisco Systems, Inc., co-sponsors at CB Richard Ellis World Conference
Santa Barbara, CA – Richards-Zeta Building Intelligence, Inc., announced that they will co-exhibit with Panduit and Cisco Systems, Inc., at the CB Richard Ellis World Conference 2005, located in the Paris Hotel and Casino in Las Vegas, Nevada September 7-9, 2005, http://www.cbreevents.com/wc2005/. Together, the three companies plan to jointly exhibit in booth's 302/304/403/405, centrally located on the CBRE World Conference floor. CBRE World Conference provides a premier venue for Richards-Zeta, Cisco, and Panduit to demonstrate how the migration of an IP (Internet Protocol) centric world of connectivity in real estate comes together through infrastructure and building intelligence, truly making the vision a reality for today's business enterprise. As joint sponsors, each company will be represented in all press, print and publications throughout the event including multi-media, setting the stage for a continuation of Richards-Zeta, Cisco and Panduit's groundbreaking participation at RealComm 2005. http://www.richards-zeta.com/ConnectedRealEstate/index.html
---












Rabbit Semiconductor Introduces the New RCM3750 10/100Base-T Ethernet RabbitCore Module
Davis, CA - Rabbit Semiconductor is pleased to announce the release of the new RCM3750 RabbitCoreTM module. Features include a powerful Rabbit 3000® microprocessor running at 22.1 MHz, 10/100Base-T connectivity, 512K of Flash and 512K SRAM, 1 MB of serial Flash, 4 serial ports, 33 digital I/O, small foot print, and low power. Extensive demo programs and software application templates make it easy to get the RCM3750 up and running in no time. Available software modules enable rapid development of secure web browser interfaces for embedded system control. The RCM3750 is the perfect solution for Ethernet / Internet based embedded control systems.
---
ASHRAE IAQ 2007 Examines Healthy, Sustainable Buildings
ATLANTA – Healthy, sustainable buildings are those that create high quality indoor environments while minimizing their impacts on the outdoor environment. But achieving both can be a challenging goal. Guidance on how to do so will be presented at the American Society of Heating, Refrigerating and Air-Conditioning Engineers' (ASHRAE) conference, IAQ 2007 Healthy and Sustainable Buildings, which will be held Oct. 15-17, 2007, at Baltimore's Inner Harbor, Baltimore, Maryland.
---
Connecting Building Bathrooms to the Network!
This year at Realcomm we were introduced to the concept of Intelligent Hygiene Appliance Monitoring by Irvine, California based Cognos Systems. The idea is to wirelessly connect all active devices (ones that need attention) found in the typical building bathroom to a network controller. What this means is that all of these devices can be electronically accessed over a building network via the Internet using a simple browser. The devices that one might consider "connecting" are a soap dispenser, paper towel and toilet paper dispensers, trash receptacles, water leakage monitors and, in cases of hygiene management (requiring people to wash their hands), devices monitoring this activity. The way it works is actually pretty simple; wireless devices are attached to the appropriate dispensers, a remote wireless access point picks up the devices and connects them to the network. From this point any property or facility management professional can monitor the status of these devices (are they out of paper?) from any location in the world. This flexibility adds validity to the concept of centralized building operation centers, a concept that many major building owners have moved to or are seriously considering.
---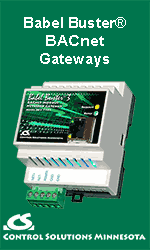 BuilConn Europe 2005 - Agenda Updated
14 Tracks and 40 Sessions, Agenda Updated - IP, Wireless Mesh, Enterprise Integration, and IT Convergence form the basis of upcoming BuilConn conference content.
Sessions focus on meaningful applications and business strategies of emerging technology. BuilConn conference sessions are designed to discuss, educate and explore the full breadth of topics surrounding the subject of intelligent buildings. By partnering with influential industry groups such as IBG, ZigBee and OASIS as well as significant industry adopters to deliver the latest information, BuilConn provides an unprecedented view on the future of buildings.

Tracks at BuilConn will include:
Product Strategies Based on Wireless
Selling the value of Building-IT Convergence
OASIS Standards Driving Growth
Business Strategies to Leverage Wireless
IP Based Intelligent Security for Tomorrow's Buildings
Value of Buildings to Corporations and Enterprises
Device Centric Service and Business Models
Find out more at www.builconn.com
---
Early Registration Deadline is September 16 - FIATECH Fall Member Meeting
Come and join us in celebrating FIATECH's five-year anniversary, October 11-12, in Houston, TX. FIATECH members and invited guests will discuss the technological challenges facing our industry and participate in three breakout tracks focused on 1) the Capital Projects Technology Roadmap, 2) FIATECH projects, and 3) life cycle data management and information integration. Please visit the web site www.fiatech.org for full details on the meeting!
---
Ernst & Young and IDG Ventures Host Venture Forum at Wireless Sensing Solutions Event
Framingham, Mass. – IDG World Expo, the leading producer of world-class tradeshows, conferences and events for IT markets, announced details of the Venture Forum, hosted by Ernst & Young and IDG Ventures Boston, which will take place on September 27, 2005 during Wireless Sensing Solutions® in Chicago. Wireless Sensing Solutions is a two-day conference exploring the recent successful deployments of wireless sensor networking and is scheduled to take place on September 27-28 at the Holiday Inn Chicago Mart Plaza. The one-day Venture Forum provides OEMs, systems integrators and the venture capital community an introduction to some of the hottest players in the wireless sensing market. Six companies seeking initial or follow on venture capital financing will make presentations during the Venture Forum. These companies represent various sectors within the wireless sensing solutions landscape. In addition, several of the leading venture capitalists, advisors and representatives from wireless sensing companies will provide an overview of VC funding activity in the wireless sector; address the current landscape for wireless sensing solutions; offer advice on partnering and creating alliances with larger OEMs and systems integrators; and discuss what the leading investors in the wireless space are thinking about and looking for from prospective investments in the wireless sensing solutions space.
---
IP UserGroup™ goes to Northampton
Taking place at the Moat House Hotel in Northampton on Thursday, 15th September the day will carry the theme "Community & Local Government".
With a full day of Case Studies and Technical presentations the event will provide an excellent opportunity to gain an understanding of networked solutions for local councils and the like. Registration is FREE and the Micro-Show gives you the chance to get "hands-on" with the latest products and talk to the experts in an informal and relaxed environment. For more information visit www.ipusergroup.com
---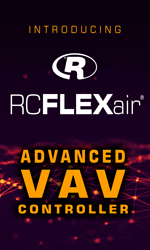 Connected Home 25-26 October 2005 - Olympia, London
The third annual Connected Home will examine the growing connected home industry, how consumers are changing the way they interact with content, and the radical shifts in how media and entertainment are consumed. The event will also investigate how different industries are converging, and how organisations are approaching the technology challenges. Delegates will include worldwide platforms operators, devices manufacturers, content providers, systems integrators and associated companies. For more details visit www.the-connected-home.co.uk
---
Siemens Releases New Master HVAC Products Catalog CD
BUFFALO GROVE, Ill.– Siemens Building Technologies, Inc. has released an all new CD of the Siemens Master HVAC Products Catalog. The new Version 4.0 catalog CD has over 700 pages of HVAC control components; valves, actuators, sensors, thermostats, damper actuators, VFDs, controllers, and accessories. The CD includes many new Siemens HVAC products: SED2 variable frequency drives, RWD controllers, Q Series temperature and humidity sensors, GND fire and smoke damper actuators, and many more. It is complete with product specification information, sizing and selection tools, technical data and application information. It is available free from the Siemens Building Technologies web site: http://www.sbt.siemens.com/hvp/Components/
---
TAC Presents $525,000 to the City of Dallas
DALLAS – TAC, a world leader in building automation, security systems and energy solutions, presented the City of Dallas with an incentive payment of more than $525,000, rewarding the city for reducing electricity demand. The energy reduction is the result of a $9 million performance contract TAC completed for the city that included the design and construction of energy conservation-related projects at six city facilities. The cost of the projects will be repaid with the realized energy savings, which TAC guarantees to exceed $1.2 million annually. The city earned the incentive payment through participation in TXU Electric Delivery's Commercial and Industrial Retrofit Program. Facilities that received energy related improvements include Dallas City Hall, the Central Public Library, the city-owned parking garage in the downtown Arts District, a community recreation center, a branch library and a satellite municipal center. For more information about TAC visit www.tac.com
---
Echelon Partners with Tsinghua Tongfang to Deliver Building Automation Solutions in China
SAN JOSE, Calif. & BEIJING--(BUSINESS WIRE) - Echelon Corporation (NASDAQ:ELON), a pioneer in control networking, and the world's leading supplier of technology for the widely-used LonWorks(R) control networking platform, and Tsinghua Tongfang Co. Ltd., China's largest supplier of building automation solutions and network integration, announced that the companies have signed a Memorandum of Understanding (MOU) aimed at delivering Tsinghua Tongfang branded building automation products and solutions in China based upon Echelon's market leading technology. Tsinghua Tongfang is one of China's leading information technology (IT) companies engaging in personal computer manufacturing, IT system integration, air conditioning and building automation products manufacturing and systems integration. The agreement was signed earlier this month in Beijing at a ceremony held at Tsinghua Tongfang's headquarters.
---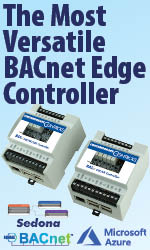 International Frequency Sensor Association (IFSA) Newsletter (ISSN 1726-6017)
http://www.sensorsportal.com No.8 August 2005
This monthly e-newsletter, written by the editors of Sensors & Transducers Magazine (ISSN 1726-5479), delivers the product and research news you asked for, and updates you on happenings in the sensor science and industry. Who should read this Newsletter ? All who are interested in the newest information and trends in sensors, transducers, MEMS and sensor instrumentation, including DAQ. Now IFSA Newsletter is available also in HTML format online:
http://www.sensorsportal.com/HTML/IFSA_Newsletter_August_05.htm
---
ProTeus CMMS Software Chosen by The Milwaukee Journal Sentinel
Mequon, WI - The Milwaukee Journal Sentinel, printer of Wisconsin's best known newspaper is a veteran customer of Eagle Technology, Inc. The Milwaukee Journal Sentinel chose to run ProTeus Enterprise Computerized Maintenance Management Software (CMMS). ProTeus has assisted the facility in achieving its goal of Total Productive Maintenance. The 448,750 square foot facility is located on 42 acres. A maintenance staff of 22 employees manage 2,482 pieces of equipment. There are 247 employees who use ProTeus on a 24-hour basis. ProTeus has made it possible for the facility to go from 87% demand maintenance and 0% preventive maintenance to 84% preventive maintenance, and is now 98% efficient. The facility is considered to have the best equipment performance in the printing industry. The Milwaukee Journal Sentinel uses their ProTeus application to create work orders (preventive and demand) and manage parts, equipment and inventory.
---
Ariane Controls inks deal with JARADA CO. LTD of Korea
Quebec City – Ariane Controls announces that it has signed an agreement with JARADA CO. LTD, a Seoul-based company, for the representation of Ariane Controls and its products in South-Korea. Since its establishment in 1986, JARADA CO. LTD has built systems for monitoring and controlling facilities in all kinds of industries. The company is a leader in that area and is active with local governments. It also counts various active partnerships with corporations like Mitsubishi Electric of Japan. Ariane Controls is a Powerline Communication (PLC) Technology developer offering highly differentiated networking solutions. With its unique & enabling Technology, Ariane Controls provides Components suppliers and Systems integrators (OEM's) with the least expensive, most reliable solutions for residential, commercial & industrial building automation and public utilities applications.
---
Crow Wing Country Selects Honeywell For $1.4 Million Security and HVAC Project
MINNEAPOLIS - Honeywell (NYSE: HON) announced that it has signed a $1.4 million contract with Crow Wing County in central Minnesota to install access control and surveillance systems. Honeywell also will integrate and upgrade the county's heating, ventilation and air conditioning (HVAC) systems at three brand new facilities and one renovated county building, including a judicial center, community services center, jail and central services plant. Honeywell will link the security and HVAC systems together through its Enterprise Buildings Integratorä (EBI), a building management platform that integrates all core building functions. Using EBI, operators can be more productive by viewing and controlling these functions from a single workstation or a remote location.
---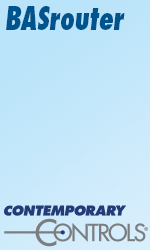 KMC Controls Sponsors Christine Ervin, EGB 2005 Keynote Speaker
New Paris, Indiana - KMC Controls is proud to announce that Christine Ervin, former president and CEO of the USGBC and former Assistant Secretary of Energy, will give the opening speech at the 2005 Engineering Green Buildings Conference and Expo on Monday, September 26.
During Ms. Ervin's five-year tenure at the USGBC, the Council launched the LEED™ green building rating system and the Greenbuild international conference and expo. She will speak on issues related to energy and environmental policy, emerging markets, green buildings, and opportunities for accelerating change. KMC Controls is underwriting Ms. Ervin's session as part of our Gold sponsorship of EGB 2005. This national conference for engineers and facility executives provides a forum for introducing green-building processes and products into the non-residential mechanical engineering community. The 2nd Annual Engineering Green Buildings Conference and Expo will be held in Chicago from September 26 to 28. For more information about KMC Controls visit www.kmccontrols.com
---
IGMP Snooping Makes it Easy to Manage Your Network
Downers Grove, Illinois - Contemporary Controls will now offer IGMP snooping (Internet Group Management Protocol) as part of the vast set of features designed in the company's managed Industrial Ethernet switches (the EISX_M, the EICP_M, and the EISB_M Series). "IGMP snooping is critical for today's EtherNet/IP, IP video, and other networks which utilize a high frequency of multicast messaging," says Bennet Levine, R&D Manager for Contemporary Controls. Levine says IGMP snooping is important in large EtherNet/IP networks. "EtherNet/IP devices utilize multicast messages for their real-time data," he explains. "Without this feature, multicast traffic is treated much like broadcast traffic. It is forwarded to all ports. With IGMP snooping, the group multicast traffic is only forwarded to the group member ports of our switches. These switches are available from 5 to 24-port count with copper or copper/fiber combinations. Furthermore, IGMP snooping automatically ages out all learned multicast-port associations for devices which stop responding to query messages and becomes helpful when devices are relocated from one port on the switch to another. This eliminates unwanted multicast messages flowing to ports where the devices were previously connected. The company's managed Ethernet switches can also function as the query device for the network, allowing the network to operate without a router. They can meet tough environmental conditions and can operate over wide temperature ranges, either from 0º to 60º and –40º to +75ºC. Common applications include commercial and private buildings, urban traffic intersections and in transportation facilities such as airports. For more information on managed Ethernet switches which are marketed under the CTRLinkÒ trade name visit www.ctrlink.com.
---
Governor Unveils New Energy Conservation System for State Offices
Governor George E. Pataki today announced the installation of an innovative new energy conservation system for State offices throughout New York that will save more than $500,000 annually and help meet the Governor's ambitious goal of reducing State energy consumption by 35 percent by 2010. The Web-Enabled Advanced Metering System, known as WEAMS, allows for monitoring of all types of energy use and has already been installed statewide in 50 State office buildings, including the Empire State Plaza complex in Albany. The new system holds the potential to achieve even greater energy savings in the future. The $2.7 million system, provided through an agreement with Select Energy and Power Measurement - leading providers of energy management systems, has been installed in all Office of General Services (OGS) managed buildings.
---
You Can't Get More Intelligent than Einstein
The most modern commercial building in Germany has achieved new levels of flexibility of accommodation coupled with world class energy efficiency and low lifecycle costs, thanks to an open and scalable control system based on Mitsubishi Electric's MX4 SCADA technology. The building, Einstein III in Haidhausen, Munich, offers 37,000sqm of office and commercial space, underground car parking, a stunning central rotunda, private offices and conference facilities. With its level of intelligence, it was only natural to name it after the nation's most famous scientific son. It is designed to be able to adapt effortlessly to the constantly changing requirements of its corporate tenants as they address new development within the markets they serve. For Einstein III to fulfil its promise, high performance building automation technology is vital: all functions have to be integrated into one single control system in which scalability and adaptability are constant watchwords, as are comfort and efficiency. The technical solution was to combine MX4 the SCADA control with European Installation Bus (EIB) and Building Automation Control Network (BACNet) communications in a system that runs to every corner of the building and controls every aspect of the buildings' environmental performance.
---


[Click Banner To Learn More]
[Home Page] [The Automator] [About] [Subscribe ] [Contact Us]