---
Sierra Monitor - Our FieldServer product family just got bigger

As we always look to strengthen our FieldServer product line, we are proud to add two new products to our existing EZ Gateways and Routers: the EZ Gateway KNX to BACnet and the Single-Port BACnet Router.
EZ Gateway KNX to BACnet - The Quick and Easy KNX to BACnet Solution

The EZ Gateway KNX to BACnet (FS-EZX-KNX-BAC) is an easy-to-use, high-performance building and industrial automation protocol gateway for integrators to interface KNX certified products to BACnet management systems in commercial buildings, campuses, and industrial facilities. KNX-certified products encompass a wide range of applications such as lighting control, heating, ventilation and air conditioning control, shutter/blind and shading control, alarm monitoring, energy, gas, and water metering, and audio and video distribution. The EZ Gateway KNX to BACnet integrates such KNX-based devices and systems to both flavors of BACnet-based management systems over BACnet MS/TP or BACnet/IP protocols. KNX to BACnet protocol translations include:

KNX to BACnet/IP
KNX to BACnet MS/TP
The EZ Gateway KNX to BACnet is available in 250 and 500 point count configurations with superior network response times. With the EZ Gateway KNX to BACnet, the integrator or contractor can rely on the product's interoperable and field-tested protocol implementation, and does not need to be a protocol expert. The integrator can also minimize configuration and commissioning time, while also reducing ongoing operating and maintenance costs.

The EZ Gateway KNX to BACnet is approved across a variety of standards, including the UL 916, CE, and RoHS. The EZ Gateway also carries BTL Certification to Revision 12, assuring users that it correctly implements the BACnet features claimed. These approvals and certifications, along with our commitment to KNX interoperability, assure our customers that we carry only the highest quality of standards-compliant products.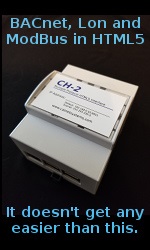 BACnet Router - A Versatile Interoperability Solution

Sierra Monitor's BACnet Router (FS-ROUTER-BAC) product offers a complete BACnet internetworking solution for BACnet/IP, BACnet Ethernet, and BACnet MS/TP networks.

Multiple BACnet routing connections can be established:
BACnet MS/TP to BACnet/IP
BACnet MS/TP to BACnet Ethernet
BACnet MS/TP to BACnet MS/TP
BACnet/IP to BACnet/IP
BACnet/IP to BACnet Ethernet

The FieldServer BACnet Router is available in two models: the dual-port version and the single-port version.

For more information visit http://www.sierramonitor.com/

---


[Click Banner To Learn More]
[Home Page] [The Automator] [About] [Subscribe ] [Contact Us]