---
IndigoVision marks new era of security intelligence at ASIS International 2017 with their most innovative product launch to date.
IndigoVision – leading developer of complete end-to-end video security solutions – announces the launch of Control Center v15.0 at ASIS International 2017 in Dallas, Texas. This is their most innovative software release to date, marking a new era of security intelligence with the addition of Control Center Mobile, CyberVigilant®, and IndigoVision's Artificial Intelligence powered by BriefCam.
IndigoVision's security management solution, Control Center v15.0, is a fully integrated user interface for managing video, access control and alarms. It puts everything in the users' territory at their fingertips. Easy to install and intuitive to operate, Control Center gives users vision, sound and oversight of all cameras, from 1 to 100,000. The introduction of Control Center Mobile allows users' seamless access to Control Center, even if they are on the move.
With the same intelligence as Control Center, Control Center Mobile allows users to connect to their site database with the same permissions, access live video from cameras and to receive, view and acknowledge alarms in real time.
IndigoVision's highly anticipated unique and innovative cyber-security technology, CyberVigilant®, is here and it is fully integrated into Control Center v15.0. With expert knowledge of IP CCTV, Site Databases and the integrated knowledge of Control Center alarm management this intelligent device can detect and monitor system abnormalities to provide a quick response to potential cyber-threats. Users receive notifications direct to the Control Center user interface in the event that a cyber-attack takes place.
Reviewing video footage captured in Control Center has never been more powerful using IndigoVision's new Artificial Intelligence powered by BriefCam. This technology partnership enables users of the IndigoVision solution to quickly and easily review hours of footage in minutes, and rapidly identify people and objects of interest by object type, attribute, direction, color or size. BriefCam's powerful analytics and deep learning capabilities convert raw video into quantitative, actionable insights, supporting a broad set of use-cases across an organization such as uncovering commonly used routes, identifying dwell locations and revealing popular consumer products in a retail setting. Together with real-time, smart alerts, these transformative capabilities can be used to increase security and safety, improve organizational efficiency and enhance the customer experience.
Commenting on this development Marcus Kneen, IndigoVision's CEO, said "Control Center has long been known for its innovation with Control Center being the world's first scalable VMS in 2002. We are delighted to be introducing the next wave of security intelligence to this with Control Center v15.0 featuring the addition of Control Center Mobile, support for CyberVigilant®, and Artificial Intelligence powered by BriefCam."
Since being founded in 1994 IndigoVision have had many great successes with innovation and cutting edge technologies, specifically in airports, casinos, education, government, health and industrial markets. With their commitment to open standards, integration and unique Distributed Network Architecture coupled with this new innovative intelligence, IndigoVision are well and truly bringing their trusted, experienced and field-proven video security solution, Control Center, to a new era of security intelligence, once again making it an industry-leading security solution.
Marcus continued "We are very excited to have entered into a technology partnership with BriefCam. The Artificial Intelligence that it brings to the IndigoVision solution is a great step forward in our security intelligence."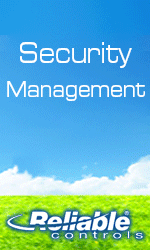 This new era of security intelligence within Control Center v15.0 is aligned with IndigoVision's strategic goal of providing innovative security solutions that keep you safe. Coupled with the Control Center tiered software release this approach is part of a wider commitment by IndigoVision to offer flexible innovative solutions, a stance that is already reflected by their tiered camera and storage offerings.
For more information on IndigoVision, Control Center v15.0 featuring Control Center Mobile, CyberVigilant® and Artificial Intelligence powered by BriefCam, please visit: www.indigovision.com.
About IndigoVision
IndigoVision provides a complete video security solution where performance and stability go hand-in-hand. All of our products are single-mindedly designed towards enhancing your security. The purpose of a security system is to make you safe and feel safe. That includes your person, business, property and budget. We design your system end-to-end, with no single point of failure, so it's reliable. We design it with Distributed Network Architecture so it's flexible. You can add any number of cameras and work stations effortlessly. We make it smart, so your old analogue cameras will migrate to IP and work with our HD cameras. You can integrate other HD cameras where and when you need them or other manufacturers' security systems using our Software Development Kit, such as Access Control, Communication Systems and Perimeter Detection. When you choose an IndigoVision system you are future-proofed: the cameras you buy today we will still support for years to come. Our global support team back it all up so your problem is our problem. That's when you discover that safe is a wonderful feeling.

---


[Click Banner To Learn More]
[Home Page] [The Automator] [About] [Subscribe ] [Contact Us]