---
As the story goes, Scott went to the Niagara conference and met a man (Isaiah Blackburn) with magic beans (Machine Halo Artificial Intelligence (AI) Software Platform). Scott took the magic beans back home with him and planted them in the ground (he proposed camera AI for smart parking applications). The beans caused a ginormous beanstalk to grow its way up to the sky (the customer loved the concept)!

When Scott climbed the AI beanstalk up through the clouds, he found a goose that laid golden eggs (key decision makers who seemed fully on board). But, the clouds rumbled and a giant appeared (a much bigger company). He smelled Scott nearby and chased him all the way back to his house (with better app capabilities and knowledge).

This giant is still alive and well, and reinforces the fact that AI is already here! New technology is being developed constantly, the use cases are endless, and the possibilities will only continue to grow higher and higher through the clouds.

We have been working with AI embedded in digital cameras, turning them into sensors capable of capturing thousands of data points in regards to comfort, security and safety. And yes, integrating them back into the building control systems. If deployed properly, a single camera can replace all of the sensors in a space—heck, let's put two in for redundancy! Eliminating all those sensors, wires, and ugly-looking devices in the ceiling grid not only means huge first-cost savings and lifecycle cost savings, but also a cleaner looking space.

AI in cameras can also help us make things happen for building occupants automatically. We are testing a camera that uses facial recognition to unlock a door in a traditional access control system. This would eliminate the need for a card, allow it to be used for dual-factor authentication, or add access through an app on a new iPhone. And with an iPhone already using facial recognition, this results in triple-factor authentication utilizing two different forms of AI. This is what I call IoT in your face!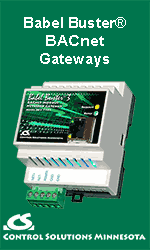 Moral? Fee-fi-fo-fum… don't let smart buildings be so dumb.

Register now for Controls-Con to learn more about AI in buildings and the other latest technologies to take your services to the next level!

Controls-Con will take place May 2nd and 3rd, 2019 at the MotorCity Casino Hotel in Detroit, Michigan. This fast-paced, education-packed event brings together hundreds of integrators, contractors, end users, engineers and more from throughout the United States and Canada to explore the latest technologies and possibilities of Building Controls and the Internet of Things (IoT) in commercial and industrial buildings. Learn more

---


[Click Banner To Learn More]
[Home Page] [The Automator] [About] [Subscribe ] [Contact Us]