---
Opportunities for a Better BACnet

There is a definite parallel to be drawn with the DDC revolution, but Building IoT (internet of things) or BIoT has the chance to be even more pervasive as it will cut across ALL industries.

Ken Sinclair Editor/Owner/Founder
www.AutomatedBuildings.com
sinclair@automatedbuildings.com

@Ken_Sinclair


As published in the current BACnet Journal, helping build a better BACnetIntl
The Edge Revolution coupled with machine learning embedded in Maker Culture (https://en.wikipedia.org/wiki/Maker_culture) will do what the DDC Revolution with programed logic did to pneumatic controls - completely replace an industry while providing a quantum leap in capabilities, connection, control and apparent simplification of everything. This presents amazing opportunities for BACnet to again grow and adapt.

There is a definite parallel to be drawn with the DDC revolution, but Building IoT (internet of things) or BIoT has the chance to be even more pervasive as it will cut across ALL industries. Fully automated 'self learning' buildings do not seem that far off!

How will BACnet be part of this? Will BACnet expand across all industries, or will new standards from other industries and evolving IoT methods prevail? It stands to reason then that with a protocol as robust and capable as BACnet there is a very good chance it will dovetail nicely into the IoT world, so long as we continue to allow the standard to evolve with the Edge and Cloud movement.

The power I found in my youth in the DDC industry of turning what these systems were telling me into logic in a control language to provide amazing energy savings and comfort improvements is now giving way to a self learning Edge revolution.
The Edge revolution sees new powerful mobile phone-like edge devices purposely built for cloud communication with amazing computing power and low cost memory, redefining our DDC systems' capabilities and architecture.
My old pneumatic mind is struggling to understand Machine learning, but I do get it! When combined with low cost power and memory on the Edge, self learning is poised to fuel the next revolution while replacing my old pneumatic mind in the development of control logic.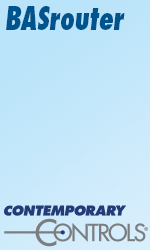 These new edge devices will not come from our industry but will land on us as mass produced devices that the newer generation will re-purpose and reprogram for our industry's use. As in the early days of the DDC revolution, expect chaos plus an incredible amount of DIY IoT solutions. In the future, programming will become less significant, or not at all, and edge controllers will just simply learn what to do.
Working with low cost, high memory edge devices and understanding "maker culture" ushers in a new world and revolutionary way of programming and interfacing. However, we all need to bring our industry expertise and experience to the revolution as this will define the direction and how BACnet fits in this brave new world of automation.

How will you help BACnet grow and adapt and become part of evolving IoT maker culture? We all need to be aware of the speed of the evolution and nearness of the "The Self Learning Edge Revolution." BACnet has a large part to play, and it is the youth of today that will usher it in. Contact me to discuss. Let's continue to make BACnet better than ever!
Ken Sinclair is the founder, publisher and owner of AutomatedBuildings.com, an online magazine and web resource providing the news as well as connection to the rapidly evolving industry that automates and implements truly intelligent, integrated buildings. He has authored numerous industry articles on internet integration and convergence for several international magazines and has provided free automation seminars at each AHR Expo for the last 18 years.


---


[Click Banner To Learn More]
[Home Page] [The Automator] [About] [Subscribe ] [Contact Us]