Testimonial by Gil Schonour, P.E. EMS Engineering
Submitted by Melinda Bartee, Alerton
---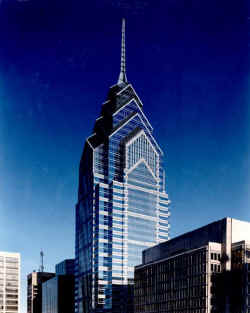 Anyone who's seen a Bruce Willis movie has seen One Liberty Place prominently featured in Philadelphia's skyline. At sixty-one stories it boasts a unique spire that not only makes it Philadelphia's tallest high-rise, but also the cities most recognizable.
Constructed in the mid 80's, One Liberty was one of the first buildings to employ a head-to-toe (or spire-to-basement) DDC control system. This was a bold move that building owners, operators and tenants have never regretted. However the leading edge 80's technology was short lived and as time and technology progressed the building operators became hard pressed to keep the extensive system in service. Unable to obtain replacement components it was obvious that the "rob Peter to pay Paul" couldn't go on forever.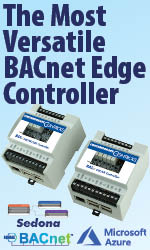 Complete replacement was the only option, however matching the operation and performance of the existing system was not the only concern. 15 years of tenant fit-out renovations demonstrated to building managers the disadvantages of being held captive by a proprietary DDC system. When EMS Engineering, Inc. of Glenside, PA, was hired to design the replacement system part of their mission was to identify and pre-qualify vendors that use an "open protocol", such as BACnet, to accomplish interoperability.
EMS Engineering, Inc. took its responsibility seriously and went about the task of identifying such potential vendors. However they soon learned that it's one thing to say you are BACnet and another to be BACnet so as to allow competition through real interoperability. EMS decided to conduct an interoperability test with three vendors that advertised BACnet communication.
Alerton's dealer Advanced Power Control, Inc. which represents the Alerton product line throughout Maryland, Delaware, New Jersey, Washington D.C. and most of Pennsylvania, was one of the vendors selected.
Each participant installed their software on a separate computer and mounted controllers and gateways on a test-bench. Each vendor's controller was connected to a VAV box and the three systems were interconnected through an Ethernet network. Test criteria required that each system had to 1) recognize each other's system, 2) read system variables (VAV box CFM) 3), read setpoints, 4) adjust setpoints, and, 5) control the air valve and reheat coil.
The results of the test were invaluable. One of the vendors was eliminated from consideration when they failed the first communication hurdle, recognition, while Alerton's native BACnet architecture demonstrated it's inherent advantages. The BACnet architecture, combined with able tech support from Advanced Power Control, Inc., had the system up and running while the other vendors struggled with every aspect of the test.
The project was competitively bid after which the consulting engineer and owner agreed that the Alerton system represented by Advanced Power Control, Inc. offered the best system and represented the best value.
The building owner is confident that Alerton offers an extremely flexible and robust product that will meet current and future building needs. The Alerton's BACtalk system being installed consists of a fiber-optic Ethernet, hosting 30 plus LSi controllers communicating with 1450 VAV's fitted with Alerton VAVSD controllers. There are also 70 plus air handling systems interfacing with the smoke control and fire alarm systems, not to mention the building's exterior ice and snow melting system.
The chilled water plant at One Liberty consists of 3 cooling towers, 10 pumps and 3 Trane Chillers that will communicate with the Alerton BACtalk system via a Trane BCU gateway. Modbus protocol will be used to control the cooling tower fan VFD's, condenser water pump VFD's and free cooling cycle.
EMS Engineering, Inc. of Glenside, Pennsylvania is a multi discipline consulting firm offering a wide variety of mechanical and electrical services. EMS specializes in building automation systems and controls interoperability. For more information call 215-572-6656 or e-mail emsengin@early.com.
One Liberty Place is just one example of Alerton's native BACnet system, BACtalk, being selected for a high-rise building. Alerton has a proven track record of projects throughout world. For more information about the Alerton product line or projects, please visit our web site at: http://www.alerton.com/.
---


[Click Banner To Learn More]
[Home Page] [The Automator] [About] [Subscribe ] [Contact Us]