---
| | |
| --- | --- |
| Cisco Connected Real Estate Whitepaper | Ken Sinclair |
Have you seen the Cisco Connected Real Estate Whitepaper?
Updated whitepaper Cisco Connected Real Estate May 4, 2006
Dear Ken:

First of all - thank for your continued support to the Connected Real Estate program. You provide us with excellent exposure; and we hope that our vision does your e-magazine well in return.

I wanted to inform you about a very new release of our Connected Real Estate white paper (see attached). It is so fresh, it hasn't made it to the public cisco.com website yet----however it got widely distributed internally when we officially launched our global Connected Real Estate program last week -- this is an incredible milestone for Cisco. With this, we now also see specialized vertical teams getting organized (we call them TREC teams: Tourism, Real Estate, and Construction) in our global theaters: Europe, Central and Eastern Europe, Emerging Markets (Middle East and Latin America), and soon also AsiaPAC and the Americas.
Connected Real Estate has hit the ground running.
Down load the up dated Whitepaper www.automatedbuildings.com/news/jan06/reviews/CCRE-WP2.pdf
Our original review follows:
I have extracted a small amount of the words and diagrams from this public pdf to peak your interest. I feel that it is a must read for our industry.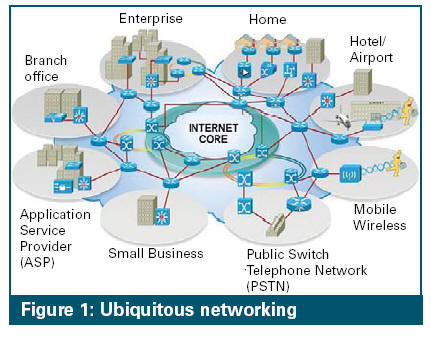 Architecture evolves with every decade, and the results are there for people's enjoyment. International recognition awaits those whose efforts take the art to new levels of attainment. The next revolution is occurring right now: although every bit as elegant as the external aspects of the buildings it complements, it is largely hidden from public gaze.
Cisco Connected Real Estate (CCRE) is the embodiment of that revolution. It harnesses the power of Internet Protocol (IP) to turn traditional building construction and management paradigms on their heads. In so doing CCRE will bring huge financial and operational advantages not only to the construction, real estate and property services industries but also to downstream constituencies – such as hotel operators, multiplexed retail outlets, and corporate tenants – in sectors as diverse as leisure, healthcare, education and retail finance.
By adopting CCRE solutions building owners can offer new services to generate more revenue and reduce capital and operational expenditure. Occupiers can adopt highly flexible organisational models and benefit from faster set up and greater productivity. Guests and shoppers can take advantage of innovative services and enhanced amenities. And all stakeholders can enjoy safer and more secure workplaces and leisure outlets.
1.0 THE CISCO CONNECTED REAL ESTATE OPPORTUNITY
The network as utility
Until recently, the network was acknowledged as merely pervasive but now, with the advent of Internet Protocol (IP), it has become ubiquitous. Today, global business and the public sector cannot operate without it. Real estate – from terraced houses and towering office blocks to shopping malls and sprawling airports – is all interconnected, as illustrated in Figure 1. In fact alongside water, gas and electricity the network has acquired its own utility status.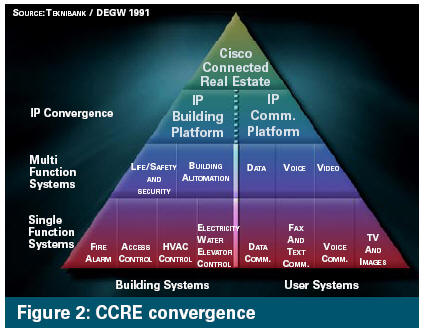 Cisco Connected Real Estate (CCRE) takes that network utility into the very foundation of modern buildings, driven by two rapidly coalescing market forces:
• The emergence of Ethernet-based multi-function building automation systems – bringing together separate applications such as heating, ventilation and air conditioning (HVAC), physical security and access, energy, lighting, and fire and safety.
• The convergence of multimedia voice, video and data services onto unitary IP-based infrastructures –bringing together separate technology-specific and proprietary networks.

As shown in Figure 2, convergence is driving the next evolutionary stage: the development of in-building and on-campus multi-service IP platforms that create value for key stakeholders in the real estate value chain.
The problem that CCRE addresses is that – as shown in Figure 6 – currently most buildings and campuses today are constructed with multiple proprietary networks to run systems such as HVAC, security and access, energy, lighting, and fire and safety as well as separate voice and data telecommunications networks. As a result we see buildings that are complex to operate, with high installation, integration and ongoing maintenance costs, and limited automation functionality. The CCRE framework promotes the convergence of these numerous networks onto the open standard of IP to streamline processes by providing a single connection for all building and IT systems, as shown in Figure 7.

Interested yet? Be sure to download and read this Cisco Connected Real Estate Whitepaper http://newsroom.cisco.com/dlls/2005/whitepaper.pdf
---


[Click Banner To Learn More]
[Home Page] [The Automator] [About] [Subscribe ] [Contact Us]