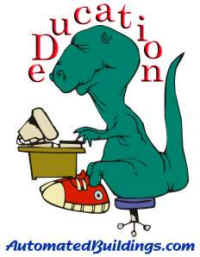 Article as published by

June 2001
Ken Sinclair, AutomatedBuildings.com
Several of my previous columns have become building blocks for this month's online guide to e-Ducation. We have posted some of our Engineered Systems columns as well as linking other significant articles and resources from the industry under a new tab called "eDucate" located on our AutomatedBuildings.com web site.
The rapid changing Automated Building industry has always required that all players be constantly re-educating themselves to keep current, but never has there been a time when this is so important. As the competition for our time is at an all time high, we have attempted to reduce the time to learn as much as possible by organized the Information by Concept, Description, and Discussion.
The major issue with educating ourselves on line is in being able to quickly identify what we know and what we do not. We hope that our format will allow quick identification of the concepts you understand and allow you to move on to those you do not by clicking deeper when more information is required. The third dimension or the depth of the learning data is an incredible feature unique to online learning.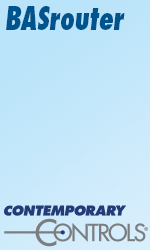 An article Are (W)eLearning Yet? on our site by David Fisher, President of PolarSoft Inc. a Pittsburgh-based Interactive Multimedia and eLearning design company defines "eLearning" as the creation and delivery of learning material by electronic means.
His opening paragraph states:
"The world of Building Automation is full of mounting pressure. Exploding growth and change in technology has turned the traditional thinking about controls and automation on its head. The cost of once exotic technologies is falling and causing dramatic change in how we approach automation, and where we think the boundaries are. Thanks to standards and an expanding global market view, we are seeing more and more integration of once disparate automation systems, and more real interoperability between competitors. Yet these advances come with the cost of ever increasing complexity that always accompanies "flexibility." At the same time, the costs of energy and human talent are relentlessly increasing so there is continuous pressure to reduce costs and increase efficiency."
The article reviews new methods and the problems of eLearning. The use plus an example of a flash graphic is provided to allow us to visualize the lessons. The article ends with:
"So are we eLearning yet? If you aren't, you need to be real soon. The technology and expertise is available to help you learn more, faster and better than ever. If you're responsible for internal or external corporate training and education of any kind, you should be using one or more of these eLearning solutions and developing a long term eLearning strategy. You should also seriously consider outsourcing the development of courseware and form a relationship with an eLearning strategic partner."
This is excellent advice. Who are your e-Ducation or eLearning partners?
Dave is currently working on "The BACnet Primer(TM)" a comprehensive interactive multimedia BACnet eLearning course.
I have assembled 11 trends that are having a significant effect on the present revolution or rapid evolution of large Buildings Automation. I have taken extracts and edited content from articles published on our web site. If you understand that these 11 trends exist and are rapidly changing the building automation industry it will help you understand the radical changes that are now occurring in control products.
Our On Line Training & Industry Information Links hinge on industry resources. Linkage is provided to several web sites that use interactive graphs and html to visualize eLearning. These sites clearly show the way to increasing the speed at which we can absorb information. This of course is critical because we all have to absorb more information to stay in touch with today's world.
The Iowa Energy Center Direct Digital Controls Project is a particularly useful site providing basic as well as a comparison of several automation system architecture. Extract follows;
Introduction to Direct Digital Control Systems

Purpose of this Guide
The purpose of this guide is to describe, in generic terms, the various architectures, hardware components and software associated with Direct Digital Control (DDC) systems. To accomplish this goal, a generic framework of the various components and configurations used in current DDC systems has been defined. This framework is used as a yardstick for several DDC manufacturers so readers may compare the relative features and benefits.
Intended Audience
Due to the complexity and proprietary nature of DDC systems, it has become difficult to stay current with the designs, installations, operation and maintenance of DDC systems. This guide was developed specifically to help building owners and consulting/specifying engineers with these issues.
Check out our new eDucate resource and feedback to me how it can be made better.
---


[Click Banner To Learn More]
[Home Page] [The Automator] [About] [Subscribe ] [Contact Us]