MultiNet and BACnet Help Mounties Keep Their Cool
Tom Zaban, VP Marketing, Reliable Controls

The project marks the first MultiNet installation utilizing ASHRAE standard 135 - the BACnet communication protocol, which allows the integration of different manufacturer's control products into one seamless network.

Reliable Controls (Reliable Computer Systems Ltd.) is a 100% Canadian-owned manufacturer of innovative, embedded microcontroller hardware and software for the building automation industry.
tzaban@reliable-controls.com
---
Within the sweeping red brick and glass facade of the new RCMP "K-Division" headquarters in Edmonton, Alberta, is a labyrinth of laboratories, lecture halls, pistol ranges and offices, all controlled by a sophisticated Canadian-made environmental control system known as the MultiNet Building Automation System. Manufactured by Reliable Controls of Victoria, British Columbia, the MultiNet system was installed by Edmonton's own Serv-All Mechanical Services Limited, a firm committed to total customer satisfaction with over 15 years of growth in the Edmonton community.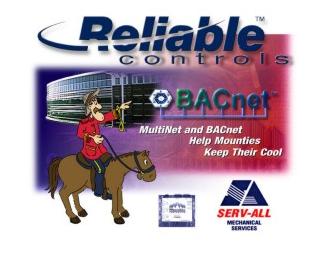 The system commands over 3500 points of measurement and control withinthe new headquarters. These points are hardwired back to 15 MultiNet MNC100 building controllers and 450 variable air volume zone controllers distributed throughout the building. The project marks the first MultiNet installation utilizing ASHRAE standard 135 - the BACnet communication protocol, which allows the integration of different manufacturer's control products into one seamless network. At RCMP "K-Division", the chilled water system and essential cooling loops are monitored and controlled by Tracer Summit BCUs manufactured by the Trane Corporation. All of the 150 chilled water and glycol system temperature/status inputs are fed back to a MultiNet MNC100 controller using the point-to-point (RS232) implementation of the BACnet protocol. The MultiNet system performs cooling demand calculations based on these inputs, as well as measurements throughout the complex, then delivers an enable/disable signal to activate the chiller system. Operator workstations running the MultiNet InControl software import the data from the Tracer system via BACnet and display the information using colourful and intuitive graphics. This allows the operations personnel to conveniently access and use the Tracer information without having to log onto a separate system.
The completed building has been occupied since June, 1998, and the staff working inside are so comfortable that most of them don't even know the control system exists! The MultiNet Building Automation System and BACnet protocol . . . , control technology that helps the Mounties keep their cool, so they can "get their man".
Headquartered in Victoria, British Columbia, Canada,
Reliable Controls celebrates its 13th anniversary in 1999.
---


[Click Banner To Learn More]
[Home Page] [The Automator] [About] [Subscribe ] [Contact Us]