---
All Business at BuilConn 2006 Palm Springs

A perspective and review
Anto Budiardjo President & CEO, Clasma Events Inc.
While technology, convergence and connectivity were the core subjects at BuilConn 2006 in Palm Springs, the mood and focus was all business. Throughout all aspects of the event—from the well-attended business tracks, business-focused keynotes and discussions at the expo to the corridors and numerous networking events—attendees, exhibitors, sponsors and speakers were discussing one key thing: how to deliver convergence-connected buildings.
Cisco Roundtable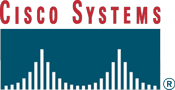 In what is likely to be a turning point for the connected building industry, the Cisco roundtable focused its morning discussion on building owner issues, with a distinct difference. Compared to many other prior discussions on the subject, the owners at the roundtable were all high-level IT individuals including CIOs, CTOs and senior players from owners with multi-billion dollar projects demanding open, converged, connected and IP-based building systems.
Without a doubt, this pre-conference session set the tone for the new Building-IT industry that has gathered at BuilConn. This Building-IT industry represents validation from owners and the IT industry to move forward and deliver converged IP-based building systems, taking into account the needs of the new types of stakeholder in the building owner organizations: the IT and enterprise focused groups.
Keynotes
The Cisco keynote on the first day clarified Cisco's vision that buildings and facilities will be the core of networking. At the heart of this vision is the concept of the network as the 4th utility. By looking at the network this way, the network (and thus Cisco) touches all systems in the building without exception.
Anyone who had previously considered Cisco's entry into building systems as being a "niche play" for them should consider this vision well: buildings are at the heart of Cisco's strategy, not a peripheral market.
This view is furthered in what Cisco calls their Building Information Network, where the network infrastructure (including building control networks) and interactive layers provide a secure and robust platform for all types of applications from lighting, HVAC to instant messaging, IP phones as well as traditional data and information applications.
A new ecosystem is emerging
The progression of all BuilConn events since 2003 shows a trend of defining the players that will take part in this new space of building-IT convergence. What seems to be emerging is a new type of "Super Integrator" that understands business and IT perspectives and the needs of today's and tomorrow's building owning organizations. From a vendor perspective, technology and middleware suppliers seem to dominate in conjunction with IT players such as Cisco, APC and Panduit. As previously mentioned, the buyers are also different, more focused on how their facilities can better achieve the objectives of their organizations.
What of technology?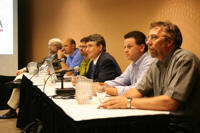 There is always a perspective at BuilConn about core technologies, and in Palm Springs these perspectives were extremely prevalent. Yes, there were repeated statements that technology is not the challenge, and all agreed strongly. This does not mean that technology is stagnant at BuilConn, not by any stretch of the imagination.
The Web Services Workshop was very well attended, with experts from technology players including Microsoft, OASIS, Echelon, IBM and others discussing key directions on how Web Services is to be implemented. Microsoft specifically introduced the group of their intentions in including Device Profile of Web Services as a core part of the upcoming Windows Vista. The debate about REST and the approaches being made by BACnet was also highly debated. oBIX is making significant progress toward having a standard at the F2F meeting immediately following the Workshop.
Wireless is also another strong subject in Palm Springs, with ZigBee and other groups discussing everything from core wireless mesh advances to the need (or not) of standards in the wireless subject. One of the most well attended sessions was on the robustness of wireless for buildings and other M2M applications. Watch out for even more wireless making an impact to buildings.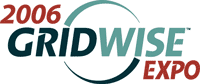 GridWise, Energy Management Systems on Steroids!
Throughout the Palm Springs event, the thread of energy was very strong. The keynotes on Thursday came from Jim Kelly, VP of Southern California Edison, Joe Desmond, California's Under Secretary of Energy Affairs, and Kurt Yeager, former EPRI President and Executive Director of the Galvin Initiative, a group founded and supported by the finances of the Galvin family (of Motorola fame).
The message was clear: the electric system in North America is broken, and the GridWise initiative is a key initiative founded by the Department of Energy to fix this. The GridWise track in Palm Springs was one of the best attended, some even running beyond 7pm!!
M2M moving to Business Mode
While many regard M2M as over hyped, it is clear from the discussions at the M2M Expo side of Palm Springs that M2M is maturing into a business mode. The sessions over the three days were about how to leverage M2M for building new and solid business models, robust ecosystems and a deep understanding of the new service paradigm.
Connectivity is not only a way for devices to communicate with each other; it is enabling connected devices to bring even more possibilities for new revenue models. Connectivity in the M2M sense is about how corporations of tomorrow can interact with a network of customers where they would enjoy an unprecedented level of customer intimacy. Success stories discussed proved over and over the enormous financial benefit of this way of thinking.
Connectivity at the Center of and Enabling business

The collection of BuilConn, M2M and GridWise was given a new moniker in Palm Springs: Connectivity Week. Connectivity is at the core of all the events and conferences in Palm Springs. Firstly, because technically it is about connectivity, the connectivity between devices, systems and people related to smart connected devices whether they are in buildings, other M2M venues or the electric grid. While the applications are different, the core issues of network protocol, data standards, security, reliability and applications are common.
Connectivity is also important because of the potential interconnection between the areas covered in Palm Springs. Building systems is basically M2M for buildings, GridWise is M2M for power and energy distribution, while subjects such as IP and wireless are the way that these applications will in the future need to be integrated together.
The Summary
For years now many forecasted the convergence of building systems and IT. Attendees at Palm Springs can now safely say that they witnessed a critical inflection point of this convergence in May 2006, and the talk about business opportunities filled those that attended with well founded optimism of a new type business and industry. If you were in Palm Springs, you would know what this means; if you were unfortunate enough not to be there, it would be wise to ask a colleague that attended to explain.
Connectivity Week will forge ahead later this year in Europe and Asia, and in 2007, the U.S. Connectivity Week will be in Chicago, May 22-14. The next 12 months will be very busy for many that attended Palm Springs. Forgive them if they don't reply to your calls or emails very quickly!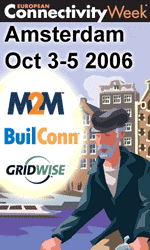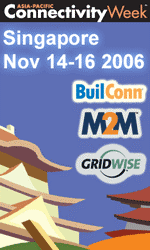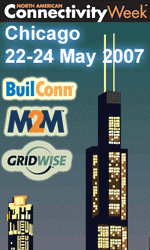 ---


[Click Banner To Learn More]
[Home Page] [The Automator] [About] [Subscribe ] [Contact Us]