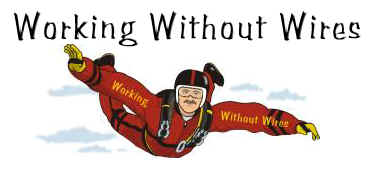 Ken Sinclair
AutomatedBuildings.com
Article as published by



March 2001 in their monthly column Building Automation.
Imagine how this technology could radically change how we commission buildings.
Working without wires is a new concept for our Automated Buildings Industry. Like the skydiver in our article badge the freedom and power is awesome, but a little scary. Our industry has been woven together with wires and only recently have we been getting our minds around a wire-reduced world with the acceptance of several levels of networking. If you think that the networking standards and the Internet/Intranet have had a phenomenal affect on our industry in the last few years, just watch what wireless technology is going to do.
Embarrassed to use my old cell phone in public I final upgraded to the latest and greatest cell phone, which taxes the limits of my sight and manual dexterity. The new flip phone provides email access plus an Internet micro browser. This wireless micro browser provides a powerful link to preformatted web material, which I feel is a harbinger of the wireless future. This overall annoying interface keeps you coming back because of the anywhere access combined with the power of the web. It demonstrates vividly the awesome power of simple menu structure and infinite Internet web server power and capability. It is this power and convenience that convinces me that wireless will rapidly find its way into our automation industry as well as our personal lives.
The cell phone micro browser interface is likely not to be well accepted by those of us who missed the Gameboy generation, except for the most basic of functions, like weather, phone book access, addresses, email control, travel schedules, etc. The existing palmtop technology only slightly improves our field of vision and tolerability. Wireless laptop PC Internet connections are affordable and here now. A small device plugged into your wired Internet connection provides remote connections to any computers with compatible cards within range. The wireless signals can be boosted and extended.
Imagine how this technology could radically change how we commission buildings. A commissioning agent could move through a large building with a laptop with a wireless connection, commissioning end devices, confirming temperatures, flows and many other parameters while feeding Information directly into the controlling system and building web site. Servicing also takes on a new look as maintenance staff could simultaneously interface with the field devices and central controlling systems. As wireless Internet access becomes the norm we will position ourselves near wireless connections in hotels and Internet cafés, etc.
Siemens has introduced a Mobile Internet Pad, the Simpad, which allows instant Internet access and complete mobility. It has a high-quality active matrix touch screen that will change the way people browse the Web. These and other wireless products developed for the home market will rapidly find their way into our large buildings.
Wireless extensions are now available for most standard communication protocols, allowing us to interlink pockets of automation that the cost or probability of wire had previously prevented. Building-to-Building wireless communications are now becoming common. By piggybacking our requirements onto the existing IT solutions, we inherit all this power for virtually no cost.
A Wireless Temperature Sensor, introduced by Johnson Controls/PENN last year, eliminates the need to install wires to attach temperature sensors to refrigeration systems. The Wireless system includes a transmitter, temperature sensor and receiver. The temperature sensor is positioned in a refrigeration case and connected to a lithium battery-operated transmitter attached to the side of the case or walk-in. The transmitter sends a signal to a receiver located in a backroom. Each compact, unobtrusive receiver measures three inches by six inches and accepts signals from up to 300 transmitters. Companies like Zeus Wireless can provide platforms that enable OEMs and Systems Integrators to implement reliable, secure, long-range, and low-cost wireless data networks for commercial and industrial applications. Transceivers provide wireless data links between devices and host computers. Users with Internet access can monitor and manage wireless devices from anywhere in the world. How else is our industry using wireless? Wireless Internet software solutions are being provided for automation service companies. It is becoming a necessity for contractors to move to wireless to enhance customer service, improve profits and provide a competitive edge. Enterprise dispatch and mobile software based on wireless is becoming an essential part of the progressive service company.
Our online magazine AutomatedBuildings.com March 2001 issue theme will be "Control Without Wires." Through articles we will explore the "Wonderful World of Wireless" and how close it really is.
---


[Click Banner To Learn More]
[Home Page] [The Automator] [About] [Subscribe ] [Contact Us]